Description
We get so caught up in our busy lives that we sometimes forget the healing power of nature and the present moment. Events in the House of Two Spirits tipi provide attendees with a chance to escape daily stress and pause for self-reflection in a uniquely beautiful and welcoming setting.
....................................................................
BECOMING THE MAN YOU WERE MEANT TO BE.
Sit in a safe, sacred, circle of men. Be seen, heard, and aspire to be your best version yet.
Becoming the man you were meant to be is our theme for this two-part series led by Chris Christopherson who has spent over 20 years and over 4,000 hours working with men in group and private settings.
Chris will guide the men on a healing journey to reveal and learn who we are through the mirror of other men. Begin to identify the man you were meant to be, to explore your hearts longings, and what it might look like to be your best version yet. What is it today, to be a man? Why do we get so stuck, so angry, so hurt, so lost, what are we really afraid of … relying on "ourselves" to have the answers, that lead to the same result.
By creating a safe and sacred space, through courage of good men, we will sit in community ("the circle"), and we will lean into one another, in meditation, questions, and "real" conversation, to explore how we might evolve to be our best self-version yet as; Fathers, Husbands, and Men.
Where: House of Two Spirits Tipi on a Private Ranch in Old Agoura, CA (Address provided upon sign up)
When: Tuesday, August 20 2019
Time: 6:30 PM – 8:30 PM
Cost: $58
Venmo (to avoid fees): @PamelaRobins (photo of Pamela and her horse)
"I will never forget the first time I sat in a sacred circle of men. I was full of fear, judgement, and a desire to run, yet, I knew I was home. I felt an intuitive sense of depth as well as authentic care and love for my well-being. It was through the courage and power of really good men who shed their armor so that I might do the same -- so that we might learn who we really were, and who we desired to be, as men. I will never forget how my wife and children responded as they experienced their husband and father, showing up differently - more vulnerable and therefore powerful, more willing to be better for them (for himself). When you get filled up from men, it is a super power that can take you to places you've always imagined, or inspire you to imagine places beyond all understanding."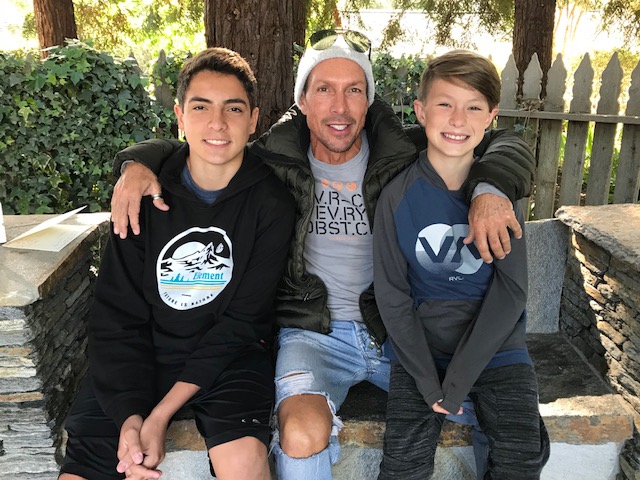 Chris Christopherson draws on pivotal personal experiences and training in a wide mix of communicative approaches to create a sacred space to lead men through transformational evolvement, including group and private settings which include but are not limited to; meditation, nature walks, dynamic growth exercises, powerful fireside chats that are revealing, raw and fluid. Chris has spent 20 years and over 4,000 hours working with men.
Based in Los Angeles, Chris hosts circles of men in a Tipi "House of Two Spirits" on a private ranch in Agoura Hills. "She" the Tipi was a calling by Chris's girlfriend Pamela Robins - her mision is to have a sacred and safe space where people can go to do transformative work, surrounded by the very things that healed her - nature, animals, community and love. Pamela is a Meditation and Sound Healing Teacher and Author of "Meditating with Animals." She is the most loving, compassionate woman a man could be blessed by. For more information about Pamela please visit: www.pamelarobins.com.
Chris is an enthusiastic student of continuous learning and personal growth through; sharing space in circles of men, traditional therapy, intuitive studies and guidance, healing work (breath, movement, sound, and meditation), and nature.
He has a passion for men becoming the best versions of themselves as "Men," and an entrepreneur as a business consultant with emphasis on developing "Leaders." After 27 months caring for and helping his wife of 13 years to pass on from this life due to Cancer, he is blessed to be the Father of and pay witness to the growth of his two Sons, Trystin and Juliun. In addition to the resilience demonstrated by his boys, he credits moving through the pain of losing his amazing wife, and then financial security, to the power of love and support sitting in circles of courageous, committed men. The losses, and circles of men has gifted Chris with deeper wisdom, compassion and understanding of "the stuff" that men (the little boy inside of them) get stuck in, and has devoted himself to sharing tools that can change the lives of; Fathers, Husbands, Son's, and good men.
Chris is a Father above all else, he holds multi undergraduate degrees in Psychology, Biology, and Exercise Science, is a fitness enthusiast; biking, hockey, snowboarding, Spartan racing, hiking, and most anything calling for outdoor movement, he enjoys being kind and holding space for those that need love and support, especially men who aspire to be better versions of themselves.