Description
Please join us on August 28th at Alley for an Assertive Communication Workshop and discussion where you'll learn how to express yourself and get what you want!
You have the power to decide what's best for you, demand to be heard and respected, request what you need to move forward in your career and be able to share with others how you feel.
In this workshop, we will cover:
- Negotiating: Learn the strategic intricacy of the ask.
- Unique Value Proposition: Understanding your UVP and how to use that as leverage on the ask.
- Communication style: Identifying different styles and tips on how to be consistent in person and on social media.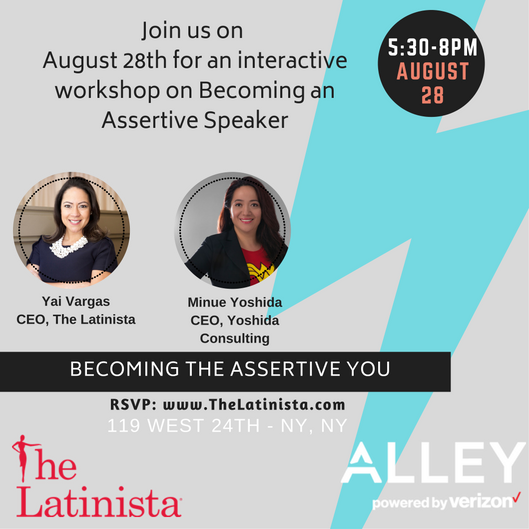 About The Latinista: Have you ever felt like you were lacking the right tools, resources or necessary skills that could help take your career or business to the next level?
The Latinista was founded in 2012 with the mission of helping women like you invest in their career development through dynamic workshops. Today we offer a series of skill-building, activity driven, hands-on sessions, specifically designed to help you identify and sharpen those career and business skills required to achieve your ultimate goals. Our members work in diverse industries and offer unique perspectives.
About Alley powered by Verizon: Alley powered by Verizon locations are developed by Verizon, the world's leading technology company, in collaboration with Alley, a membership-only community workspace for creators. Each location is a curated community powered by the emerging technologies and thought-leadership of Verizon.