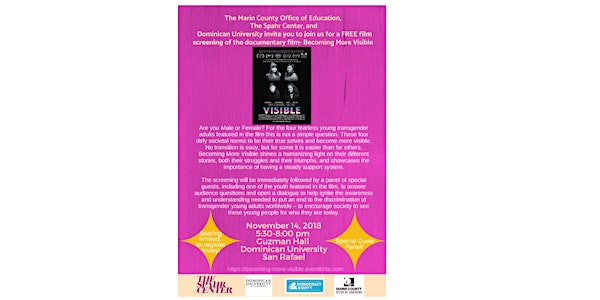 Becoming More Visible - A Film Screening
Event Information
Location
Dominican University of California
50 Acacia Avenue
Guzman Hall
San Rafael, CA 94901
Description
The Marin County Office of Education, Spahr Center and Dominican University invite you to a film screening of Becoming More Visible.
Are you Male or Female? For the four fearless young transgender adults featured in the film this is not a simple question. These four defy societal norms to be their true selves and become more visible. No transition is easy, but for some it is easier than for others. Becoming More Visible shines a humanizing light on their different stories, both their struggles and their triumphs, and showcases the importance of having a steady support system.
The screening will be immediately followed by a panel of special guests, including one of the youth featured in the film, to answer audience questions and open a dialogue to help ignite the awareness and understanding needed to put an end to the discrimination of transgender young adults worldwide – to encourage society to see these young people for who they are today.
Doors will open at 5:30pm! Join us for light refreshments and the opportunity to meet members of the Spahr Center staff and Youth Committee and the panel guests. Screening portion of the evening will begin promptly at 6pm.
Panel of guests to include:
Janna Barkin – local mother and author

River Jackson-Paton PhD- consultant

Katherine- featured in the film

Dr.

Bachicha- MD,

Kaiser Permanente
Date and time
Location
Dominican University of California
50 Acacia Avenue
Guzman Hall
San Rafael, CA 94901