Description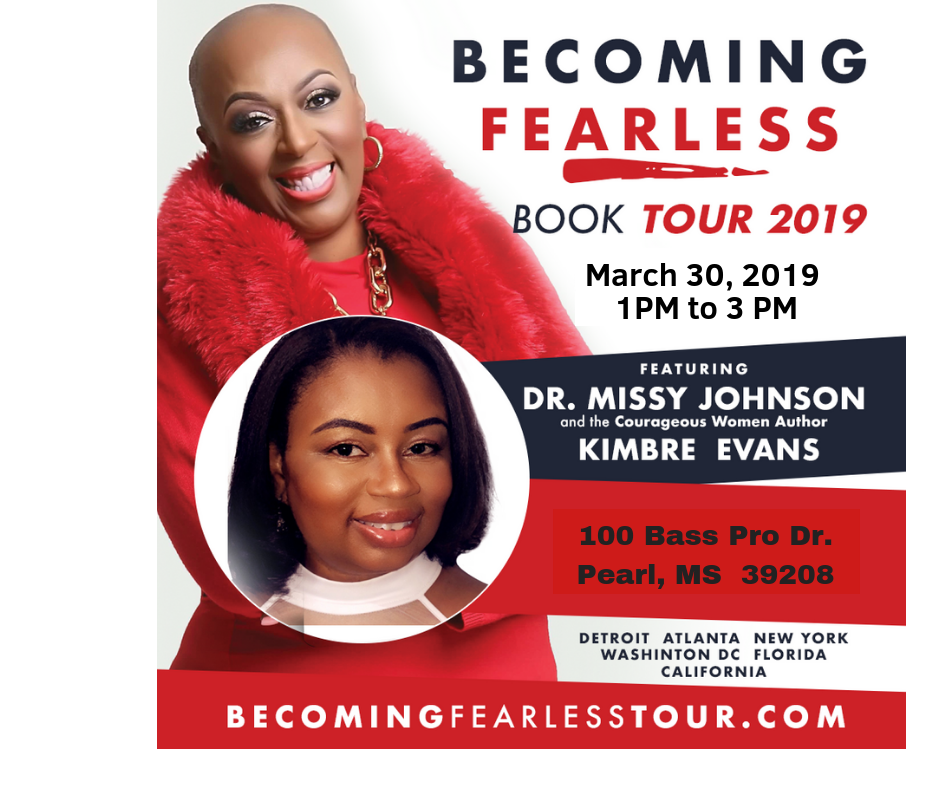 BECOMING FEARLESS BOOK TOUR 2019
MISSISSIPPI HOST: KIMBRE' EVANS
Come celebrate with us for the official launch of the Amazon #1 Best-Selling Book, "Fearless Women Rock: Courageous Women Find Strength During The Storm."
Dr. Missy is the CEO of Fearless Women Rock LLC, a platform created for women to share their courageous stories. Dr. Missy, the visionary of this anthology, is the survivor of a sixty-miles-per-hour car accident, forty-seven days in a coma, and stage-three breast cancer.
Fearless Women Rock Volume I is a compilation of testimonies from women around the country. The stories of these women are powerful and will touch the cornerstone of your heart.
The event is FREE - ADMISSION into the event you must have previously purchased a book or purchase at the event. If you have not purchased, special pricing available on that day.
Book purchase - $15
MEET THE AUTHORS
Kimbré Evans - From Victim to Victorious
Tanya R. Bankston - But I Am Not CRAZY!
Denise Cochran - Nothing Left to Lose
Michelle Curtis-Bailey -The Woman in the Mirror
Martha Dodd -The Evolution of a Woman of Dominion
Staci A. Jackson Smith - The Other Side of Fear – Unwavering Faith
Whitney Johnson - From Raging Storm to Peaceful Waters
Lisa Yvette Jones - From Cancer to Comeback: How My Faith Made Me Whole!
Carla Miles - Face-to-Face With Fear: How to Overcome Fear
Lavonia Perryman - Mama Said There Would Be Days Like This
Brenda Puckett - Insecurities
Shurvone Wright - Never Give Up - Starting Over When You Are Over Fifty
Fearless Women Rock is a covering to guide you through your storms. This is a life-changing book that will break the stereotypes of women who feel they are alone in the struggles of life. It will encourage you to never give up. Quitting is not an option! Note: All authors may not be in attendance and vary by location.