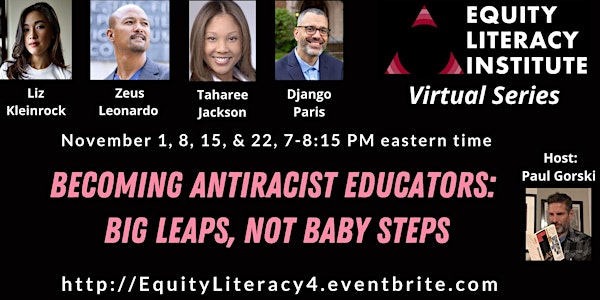 Becoming Antiracist Educators: Big Leaps, Not Baby Steps
A series on becoming antiracist educators featuring Liz Kleinrock, Zeus Leonardo, & Taharee Jackson, hosted by Paul Gorski
Refund Policy
Refunds up to 7 days before event
Eventbrite's fee is nonrefundable.
About this event
What
Becoming Antiracist is a professional learning series and community for educators who see ourselves as "liberal" or "progressive," but who know that's not enough. We want to do better when it comes to racial justice. Big leaps, not baby steps.
The series includes four 75-minute webinars and discussions with educator-activists of color about what becoming antiracist means about how we can move past celebrating diversity and commit more deeply to identifying and eliminating racism, and cultivating antiracism, in classrooms and schools. The four sessions will meet Monday evenings, 7-8:15pm Eastern Time, in November 2021. That's November 1, 8, 15, and 22. (Sessions will be recorded for people who register but aren't able to view them live, so if you can't make it live, don't worry! We will provide password-protected access to the recordings for 4 days.)
Confirmed guests include:
Django Paris, director of the Banks Center for Educational Justice at the University of Washington and co-editor of Culturally Sustaining Pedagogies: Teaching and Learning for Justice in a Changing World.
Liz Kleinrock, current teacher, anti-bias and anti-racist educator, and author of the wildly selling book, Start Here Start Now: A Guide to Antibias and Antiracist Work in Your School Community
Zeus Leonardo, professor in the Graduate School of Education, UC-Berkeley, and author of Race Frameworks: A Multidimensional Theory of Racism and Education
Taharee Jackson, former public and private school teacher and early childhood educator, current Lead Equity Specialist for the Equity Literacy Institute
The host:
Why
One big challenge of racial justice progress in education revolves around people who loudly and explicilty oppose racial justice progress. We believe that an equialy formidable challenge revolve around the tendency for many educators who believe racial equity and justice are important to adopt "DEI" approaches that fall short of transformative antiracist commitments. This is designed as a community to push all of us forward.
This professional learning opportunity, which we're offering in conjunction with the Equity Literacy Institute and in collaboration with educator-scholar-activists of color who have something to say about how a "baby steps" approach helps to sustain racism in education, is designed specifically for this group of educators: those of us who think of ourselves as anti-racist or non-racist, who want to be engaged in transformative racial justice efforts, but who want to be sure we're not doing so in a way that is as transformative as possible.
This opportunity is for people with a serious commitment to doing better. This is not a Diversity 101 workshop. We will not be debating whether white supremacy exists or whether most DEI efforts in schools are inadequate. It does and they are. And we can do better. That's our starting point.
More Detailed "What"
Here's what the opportunity includes:
• Four 75-minute interactive webinars (part presentation, part interview, part Q&A).
• Reading suggestions including books and articles written by the speakers.
We will use Zoom for the sessions. Links will be distributed via Eventbrite the morning of each session.
Here are the principles, values, and commitments guiding this series:
• We will elevate the voices of activists of color and financially compensate (with the fees you pay to join) activists of color who choose to share their knowledge and experiences .
• Celebrating diversity is important, but not enough. Learning about cultures is important, but not enough. Our focus is on becoming better, stronger, more deeply committed racial justice educators.
• We understand that the goal is informed action, not just learning for the sake of learning. The purpose of this professional learning opportunity is not to provide a list of practical action steps: we all need to do that in local community contexts. The purpose, instead, is to prepare ourselves for informed action.
If this sounds like a process you would like to be part of, please join us. And please share with others who might be interested!