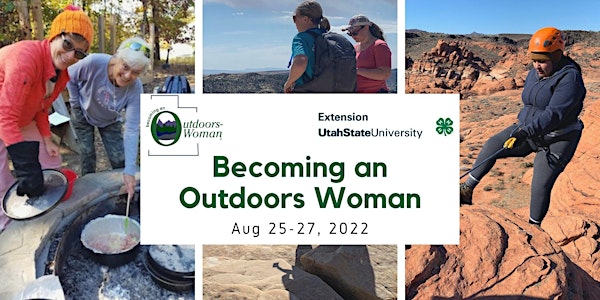 Becoming an Outdoors Woman - Utah
Are there outdoor activities you have wanted to try but haven't had the opportunity? Are you interested in learning new outdoor skills?
When and where
Location
Holmstead Ranch Resort 1000 E Holmstead Ranch Road Central, UT 84722
Refund Policy
Contact the organizer to request a refund.
Eventbrite's fee is nonrefundable.
About this event
Breaking News: Registration is OPEN!!
Utah State University Extension is excited to announce that Becoming an Outdoors Woman (BOW) is coming to Utah! BOW is a nonprofit educational program offering hands-on workshops to adult women ages 18 and older. We encourage a supportive environment conducive to learning, making friends and having fun. No experience is necessary and BOW is for women of all ages and fitness levels.
The BOW Workshop is a three day, multi course event where women have the opportunity to learn a variety of outdoor skills. BOW Utah 2022 will include courses such as: rock climbing, rappelling, firearm safety, rifle shooting, archery, outdoor photography, outdoor cooking, backpacking/hiking, Leave No Trace, camping and many more. (For a full list of courses, scroll down to the course description page below the sample schedule.)
This program is for you if:
you are a beginner who hopes to improve your skills
you know how to do some of these outdoor activities but would like to try your hand at some new ones
you enjoy the camaraderie of like-minded individuals
Location: The Holmstead Ranch Resort [1000 Holmstead Ranch Road (1089 East Baker Dam Road) Central, Utah 84722] For a sneak peek at the Holmstead Ranch, visit https://holmsteadranch.com/
Date: August 25-27, 2022
Cost: $350-$400 depending on chosen accommodations (Includes 6 meals, 2 nights lodging, instruction in 4 classes, use of equipment, course materials, swag)
What to Bring: Equipment for each class will be provided. However, in some classes, such as fishing and mountain biking, you may bring your own equipment if you would like. (Please do not bring firearms.) Bedding and towels are provided. Shortly after we receive your registration, a list of suggested personal items such as appropriate clothing will be sent to you via email. Optional: If you have an item you would like to donate for our silent auction to help raise scholarship funds for women to attend future BOW programs, we would love to have you bring it.
Basic Rules of Utah BOW: Have fun, be safe, no politics, and no alcohol.
Upon registration, you will receive a link to a Google form where you will select your top 3 class choices per each session. (Please see the schedule and class descriptions below.) You will also receive an email shortly thereafter with information about what to bring, details about our silent auction, a medical and liability release form, a map to the facility, and other pertinent information.
If you have questions, please reach out to Andrea. Her contact info is: email - andrea.schmutz@usu.edu , phone - (435)817-6373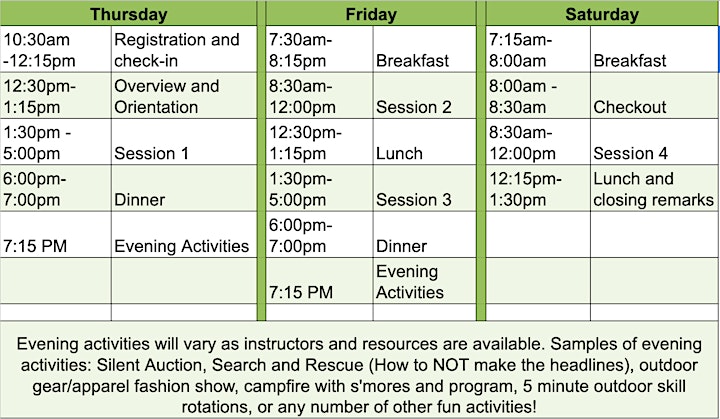 Course descriptions - 2022 BOW Utah
Backcountry First Aid - Learn the skills needed to address injuries that may occur in remote areas where professional help is not available or will be significantly delayed. Participants will learn how to treat minor injuries and trauma with minimal supplies. There will be hands-on exercises, so dress comfortably.
Beginning Archery - How do you hold a bow? What is a "nock?" Can you really hit that target? Absolutely! Our expert instructors will have you shooting bows successfully in no time! Students will be exposed to a comprehensive overview of the sport and you will be taught how to safely use basic archery equipment. This is a fun, hands-on experience that promotes archery as a healthy lifetime activity. Equipment will be provided.
Beginning Mountain Biking - Participants will learn the parts of the bike, riding skills and techniques, how to change a flat tire and riding safety. Environmental concerns, pedaling, steering over obstacles, uphill and downhill techniques, as well as riding ethics, will be discussed. Bicycles and helmets will be furnished, but participants are encouraged to bring their own equipment if they have it. Come prepared to ride. (This class will begin at 6:30am to beat the heat.)
Camper's Kitchen Tool Caddy - This handy cooking utensil tool caddy is an easy sewing project that will let you neatly organize your utensils in one place for simple and easy use, and let each utensil have a designated pouch to prevent scratching and damage. The organizer pouch tote is similar to a chef's knife roll but is perfect for your cooking utensils when your family is on outings to the beach, park/picnic, hiking, BBQs, and camping. It holds the basics of wooden spoon, whisk, tongs, spatula, can opener, knives, veggie peeler, measuring spoons, and more in a sleek and washable pouch.
Camping for Beginners - Everything you have ever wanted to learn about camping and more! Participants will learn about a variety of camping equipment and how to use it. Course will cover camp set up and equipment operation, including tents and stoves and the "Leave No Trace" camping ethic.
Canning and Preserving - In this course you will learn about canning and preserving, how to get started, deciding what to can and preserve, and the various methods of canning. You will learn how to make jams, jellies and pickled products. This course will teach you the importance of reducing safety risks and about all the benefits of taking part in this age-old tradition! Once you finish this course you will be well on your way to getting started in canning and preserving. (Additional class fee of $10)
CPR - Learn how to perform CPR for adult, child and infant, use of the AED, rescue breathing, compressions only CPR, and airway obstructions. A certification card good for 2 years will be issued at the end of the course. (Additional class fee of $30)
Dutch Oven Cooking - Learn the basics of Dutch oven cooking and produce mouth-watering dishes in a camp-like setting. Students will learn how to use these traditional camp cooking utensils as well as receive many great recipes to try yourself.
Firearm Safety - A hands-on experience for the novice and a refresher course for the more experienced shooter, this class covers basic gun safety, identifying, loading and unloading various firearms, ammunition types, and definitions of commonly used terms. A prerequisite for rifle shooting.
Hiking/Backpacking 101 - Despite what the glossy magazine pictures will show you, it isn't required that you spend two months of your annual salary for backpacking or hiking gear. Learn about the basic gear, such as backpacks, tents, sleeping bags and a variety of other backpacking/hiking necessities. We'll talk about how to pack your backpack, trip planning, and tips for hiking with kids. A short hike will be included in this session, if time allows. Please wear proper foot gear. This class is designed for somebody with very little to no backpacking experience.
Intermediate Mountain Biking - We will review safe body positioning and riding techniques and then move on to cover more intermediate skills like climbing positions and technique, wheel lifts, small drops and rollers, and ratcheting. Bicycles and helmets will be furnished, but participants are encouraged to bring their own equipment if they have it. Come prepared to ride. (This class will begin at 6:30am to beat the heat.)
Introduction to Fishing - Learn to fish with the best of them! You will learn the art of bait fishing as well as lure fishing so you will be ready to catch a lunker this coming summer! This class will introduce participants to basic fishing skills and the types of equipment available, including rods and reels. Casting practice and fishing tips will be the focus for the instructional period of the course . And of course….lets Fish! The class is taught outdoors so bring the appropriate attire for the time of year, sunscreen, sunglasses, jacket and water. All equipment will be provided but if you own your own, please bring it with you! For those that would like to try fly fishing, we also will be learning that technique! Can't wait to see you all there!
Knot Tying - Afraid of losing the canoe off the top of the car because your knots look like unruly birds' nests? This class is for you. Discover basic knots and how to match the right knot to each situation. You will learn to correctly tie useful knots used in your household as well as boating, fishing, climbing, and search and rescue. Lots of hands-on practice. Using your new skills, you will make a keepsake that will provide you with a large amount of cord that takes up very little space.
Leave No Trace - We are surrounded by amazing natural areas that we use for exercise and recreation and we all want to make sure that the next generation has the same opportunity to enjoy them. Learn how to minimize your impact so that these beautiful places will be here for generations to come. With just a few minor changes, you can dramatically reduce your impact. We will discuss and practice the seven principles of Leave No Trace. They are easy to follow and easy to remember.
Meditation in Motion/Yoga - We will begin our experience with a short hike enjoying meditation in motion and connecting with the great outdoors. After our hike we will participate in circle yoga to engage with others in a playful, supportive way. No experience necessary.
Navigating the Great Outdoors (using a map and compass) - Technology can help you find your way in the wilderness, but those same devices can break, get lost or fail. Basic map and compass skills are essential for anyone who spends time outdoors. Learn basic navigation skills using a map and compass to find your way. You'll learn to read a map, practice using compass bearings to find your location, identify landmarks and learn tips and tricks for planning a route. By the end of class, you'll have walked an orienteering course across camp with the use of your compass and readings and feel more comfortable navigating the wilderness.
Outdoor Cooking - In this class we will explore the many options for outdoor cooking. You will be given tips and hints that will help you determine which cooking option is best for different types of outdoor adventures. And since this is an outdoor cooking class we will have to make and sample some great recipes!! Handouts will be provided.
Outdoor Photography - Nothing beats being in the great outdoors! Taking your own photographs to capture the moment is an awesome way to preserve that special moment forever. Learn some basic tips to improve your photography immediately. Start by learning about composition and design plus, chasing the light. Everything discussed will apply to any camera (even your phone) because the best camera is the one you have with you. We will move to the outdoors to practice your new learnings. Finally, gather with classmates once again to casually review how to improve photos and discuss other basic photo processing tips to finish that spectacular shot. Participants are encouraged to bring their own cameras (including their phone cameras).
Rappelling - We are going to show you the ropes, tips and tricks on how to use the equipment to lower yourself safely on vertical walls. You will learn the acronym B.R.A.K.E.S and we will talk about the four steps to be aware of for safer rappelling. No previous experience necessary. You will have plenty of time to run a few rappels and take lots of pictures.
Rifle Shooting - Different types of rifles and handguns, their uses and other equipment needs will be discussed during the first part of the class. Students will be coached in safe gun handling, markswomanship techniques, and have the opportunity to practice their shooting skills at a nearby shooting range. Firearms and ammunition will be provided. PREREQUISITE - Firearm Safety Course or Certification in Hunter Education.
Rock Climbing - We are going to provide an opportunity to try outdoor rock climbing. On the way you will learn the essentials to safely enjoy this exhilarating experience, including harness check, figure 8 knot, use of a belay device along with P.B.U.S technique for belaying. We'll also teach the appropriate questions to ask before you or your family goes climbing. You will have plenty of time to climb and take pictures and bond with the fellow climbers.
The Ten (actually Eleven) Outdoor Essentials - Don't go into the woods....unprepared! Do you have the skills to handle the unexpected in the wilderness? Do you know items you should never be without when you go on an outdoor adventure? Let us show you some basic wilderness skills that will help you build the confidence you need to enjoy a hike, a float or any other outdoor experience. We will discuss the basic gear you need to be prepared and basic skills such as fire building and simple emergency shelter building and give you a chance to try your hand at building both. We will also cover the basics of women's outdoor hygiene. Don't let poor planning ruin a trip; the best time to practice these skills is before you need to use them.
Trailering Basics - Have you always wanted to be able to back a boat or trailer and not destroy everything in your path? Come learn the skill of backing a trailer…it's a great skill to know! The class covers how to properly hitch a trailer to a vehicle, safely maneuver around curbs and back a trailer into a parking spot.