Becoming A Person of Influence

Thursday, March 27, 2014 at 3:00 PM

-

Thursday, June 5, 2014 at 4:30 PM (PDT)
Event Details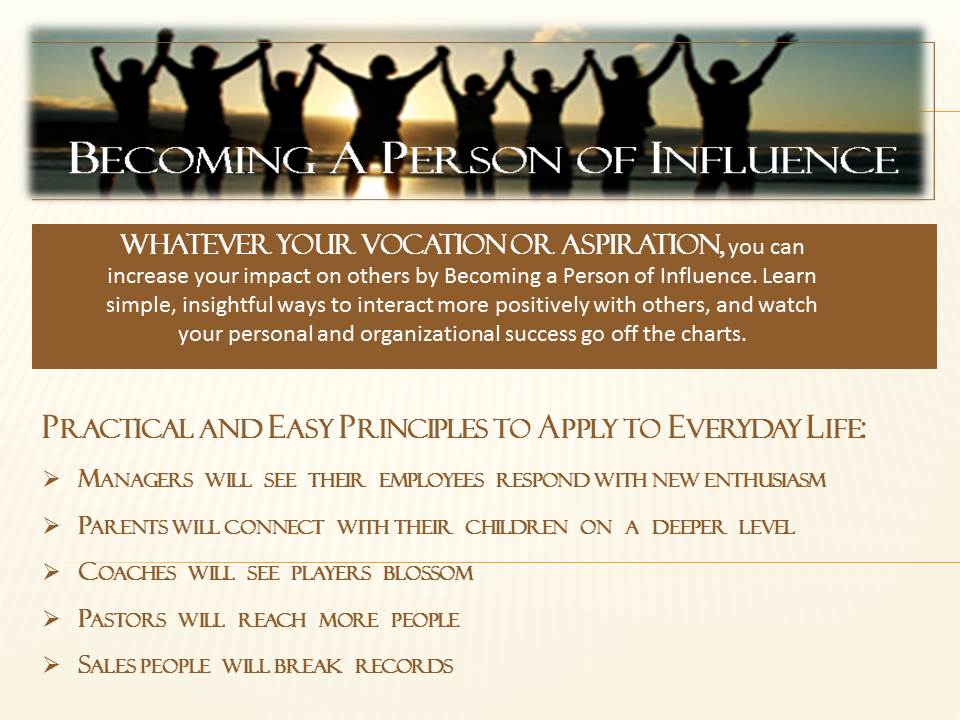 Master Mind Group Description:
"Leadership is Influence-Nothing More-Nothing Less"
Whatever your vocation or aspiration, you can increase your impact on others by Becoming a
Person of Influence. Learn simple, insightful ways to interact more positively with others, and
watch your personal and organizational success go off the charts.
- Managers will see their employees respond with new enthusiasm
- Parents will connect with their children on a deeper level
- Coaches will see players blossom
- Pastors will reach more people
- Salespeople will break records
With influence, you can achieve success at home, at work, and in every other area of life.
Authors John Maxwell and Jim Dornan have spent most of their lives raising up influencers.
With humor, heart, and unique insight, they share what they've gleaned from decades of
experience in both business and nonprofit arenas. Best of all, their insights are practical and
easy to apply to everyday life.


Table of Contents
1. A Person of Influence Has…Integrity with People
2. A Person of Influence…Nurtures Other People
3. A Person of Influence Has…Faith in People
4. A Person of Influence…Listens to People
5. A Person of Influence…Understands People
6. A Person of Influence…Enlarges People
7. A Person of Influence…Navigates for Other People
8. A Person of Influence…Connects with People
9. A Person of Influence…Empowers People
10. A Person of Influence…Reproduces Other Influencers
Sincerely,

Lori Pritchard, BSW, MHA
Certified Speaker, Coach, Trainer
Leadership Development Consultant
760-814-3507

Website: http://johncmaxwellgroup.com/loripritchard
Linked-In: http://www.linkedin.com/in/loripritchard
When & Where

Mira Mesa Library
8405 New Salem St
San Diego, CA 92126


Thursday, March 27, 2014 at 3:00 PM

-

Thursday, June 5, 2014 at 4:30 PM (PDT)
Add to my calendar
Organizer
LP LIfe Coach
       Leadership is the difference maker and the deal breaker. It's how we grow organizations.  It's how we impact lives. But, as you also know, leadership cannot be an idea we simply talk about; leadership is the action we must live out.

        As a John Maxwell Certified Coach, Teacher and Speaker, I can offer you workshops, seminars, keynote speaking, and coaching, aiding your personal and professional growth through study and practical application of John's proven leadership methods. Working together, I will move you and/or your team or organization in the desired direction to reach your goals.

        My goal-oriented outlook on life and my passion for helping others reach their goals led me to join the John Maxwell Team.  Prior to joining the team, I spent 25 years in Corporate America in the Healthcare Management Industry.  I hold a Bachelor of Science Degree in Social Work from University of South Florida in Tampa, Florida, a Master of Healthcare Administration from Capella University in Minnesota, Minneapolis and currently pursuing my Doctoral in Healthcare Administration. 
I conduct leadership and healthcare revenue cycle training throughout the United States. Programs available include, but not limited to:
Medical Collection Skills

Revenue Cycle Annual Compliance

Revenue Cycle Certification Preparation

Revenue Cycle Mastery Skills

Leadership Assessments

Leadership Management and Communications

One-on-One Coaching

Actions Plans for Results

Contact Me.  I am looking forward to assisting you on your journey to becoming a successful leader.
Becoming A Person of Influence