Becoming A Person Of Influence-Mastermind Leadership Course
Description
How to Positively Impact the Lives of Other
Whatever your vocation or aspiration, you can increase your impact on others by Becoming a Person of Influence. Learn simple, insightful ways to interact more positively with others, and watch your personal and organizational success go off the charts.
Managers will see their employees respond with new enthusiasm
Parents will connect with their children on a deeper level
Coaches will see their clients blossom
Speakers will reach more people
Salespeople will break records
With influence, you can achieve success at home, at work, and in every other area of life. This leadership and mentoring course is based on John C. Maxwell's and Jim Dornan's book: Becoming A Person of Influence.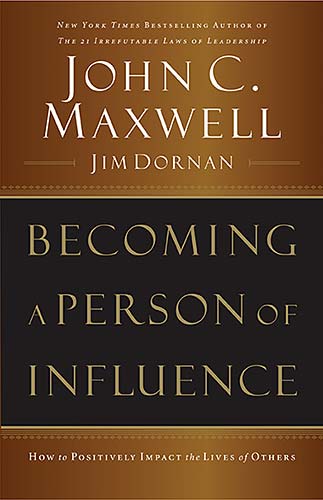 With humor, heart, and unique insight, Colleen Deeb shares and facilitates this course with her experience as a business consultant, business owner and member of The John Maxwell Team. Best of all, its insights are practical and easy to apply to everyday life.
John C. Maxwell has been hailed as America's premier expert on leadership. Each year he speaks in- person to hundreds of thousands of people, while his bestselling books impact the lives of millions more around the globe.
Jim Dornan serves as a coach, strategist, and mentor to some of the highest achievers in the world. He is the founder of Network TwentyOne International, and has more than 30 years of entrepreneurial experience. He regularly trains and equips businesspersons in Europe, Asia, Africa, Australia, and the Americas.
This is an 4-week in-depth study that will afford you the opportunity to join forces and mastermind with a unique group of like-minded individuals who are focused on taking results in every area of their lives to a new level. Having the support and ideas from other focused and driven people allows us to see things differently and to get a new perspective on goals and action plans.

All mastermind sessions will follow a regular schedule:
7:00 PM - 9:30 PM CST on Tuesdays for 4 Weeks starting on 7/24/18
The course is virtual and a link will be sent to you the day of each class for a Zoom Conference Call
The book can be purchased on colleendeeb.com
What you will get when you sign up:
Participation in VIRTUAL Group meeting for 8 weeks.
Handout/guide for each mastermind sessions.
Exclusive video of John Maxwell describing some of the laws!
Personal Growth and Development
Ability to place this course on your resume
If you're serious about your growth, your future and your success, this mastermind group is for you. REGISTER NOW and secure your seat. We're only accepting 8 people in each group.
What exactly is a Mastermind Group?
The term was first coined by Napoleon Hill in his book "Think and Grow Rich" (published in 1937).
HIll thought of a Mastermind as a moment in time "when a group of individual brains are coordinated and function in harmony, the increased energy created through that alliance becomes available to every individual brain in that group." Hill credits Andrew Carnegie with the "alliance" concept. In full, Hill amassed 20+ years of research and studied 500+ successful people. The result: Hill determined that having a Mastermind group was critical to achieving success!
Some Modern Definitions:
"A Mastermind Group is an ongoing gathering of like-minded individuals who share ideas, strategies and challenges and each other for the purpose of inspiring opportunities and each other's success. It's like a think-tank that combines networking, brainstorming and camaraderie. It is your board of advisors.
Key Benefits of a Mastermind Group:
Create real progress in your business and life
Add an instant and valuable support network
Get honest feedback, advice and brainstorming
Borrow from the experience and skills of the other members of the group
Receive critical insights into yourself
Studying a book instead of just reading it and creating an action plan to apply the learned principles to your personal and/or professional life while having the group to support you and hold you accountable for fulfilling your plans and goals
Optimistic peer support in maintaining a positive mental attitude
A sense of shared endeavor - there are others out there!
Sharpen your business and personal skills
Increase your confidence and influence
We look forward to and are so excited to explore and share the following concepts including real workable strategies for the successful integration in your life-no matter what the circumstances are:
How to nuture Other people
How to have faith in people
How to be a better listener
How to understand people better
How to enlarges people
How to navigate for other people
How to be a better connecter with people
How to empower people
What to do to reproduces Other influencers
See you at the course!