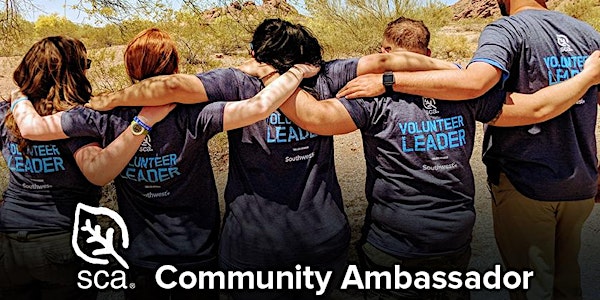 Become an SCA Community Ambassador!
By Student Conservation Association
Description
Join your fellow alumni in leading urban greening projects, creating seed balls with employee volunteers and more!
Who are SCA Community Ambassadors?
SCA Community Ambassadors are the face of SCA. They are a dedicated group of SCA alumni over age 18 who volunteer their time to support community engagement events such as service events or seed ball tabling. Ambassadors accumulate volunteer hours at each event and become eligible to earn special recognition.
What are the responsibilities of an SCA Community Ambassador?
Commit to supporting SCA engagement events in a leadership role including, but not limited to project leader, team captain, and more.

Review a one-hour training in person or by webinar prior to first event (if a new Community Ambassador) and attend refresher trainings as needed.

Represent SCA professionally and enthusiastically at events, demonstrate good judgment and risk management in the field, review materials thoroughly in advance of each event, communicate promptly with SCA staff, and provide notice of changes in availability immediately.
How are SCA Community Ambassadors selected?
Interested candidates can sign up here. SCA will review registrations on a rolling basis throughout the year and reach out to qualified candidates with information on next steps.
Why become an SCA Community Ambassador?
Support SCA's mission to build the next generation of conservation leaders and inspire lifelong stewardship of the environment and communities by engaging young people in hands-on service to the land.

Special recognition through achievements.

Connect and network with SCA staff, alumni, current members, partners, and supporters.
Questions? Please contact events@thesca.org.
About the organizer
The Student Conservation Association (SCA) is America's conservation corps. Our members protect and restore national parks, marine sanctuaries, cultural landmarks and community green spaces in all 50 states.