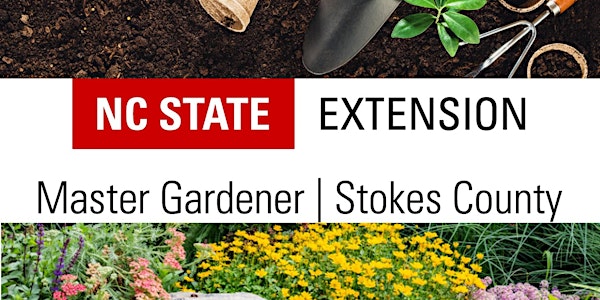 Become an Extension Master Gardener Volunteer – Stokes County
Event Information
Location
N.C. Cooperative Extension - Stokes County Center
700 Main Street
Danbury, NC 27016
Refund policy
Refunds up to 7 days before event
The Extension Master Gardener Volunteer Training Program is an intensive 40 hour course in consumer horticulture.
About this event

The Extension Master Gardener Volunteer Training Program is an intensive course in consumer horticulture (residential lawns, landscapes, and garden cultivation & maintenance). In exchange for their training, Extension Master Gardeners contribute time as volunteers and work through N.C. Cooperative Extension Stokes County Center to provide horticulture-related information to the public through classes, plant clinics, demonstration gardens, and much more.
TOPICS COVERED: Soils, Fertilizers Organic Gardening Botany & Plant Physiology Plant Identification and Propagation Attracting and Deterring Wildlife Native and Invasive Plants Beneficial and Pest Insects Managing Plant Diseases & Weeds and much much more!!!
Classes will be held October 19, 2021, through November 18, 2021, Tuesdays and Thursdays from 1:00 pm - 5:00 pm at the Stokes County Cooperative Extension Office. The $150 will cover the Master Gardener State Program Fee, Extension Master Garder Handbook, and supplies for the class.

The Extension Master Gardener Volunteer Program is not… a garden club or social organization a certification program to be utilized in a job or profit-making venture (including landscape & lawn maintenance contractors; nurseries & garden centers; or landscape consultation services) a generalized class to help you gain more information about gardening, lawn care, or landscape maintenance REQUIREMENTS FOR ACCEPTANCE INTO THE PROGRAM Applicants need not be "experts" in gardening, horticulture, or even have a background in science! Our volunteers come from diverse backgrounds, all of which are relevant to our programming!

Join a network of passionate gardeners across the state who are dedicated to learning and sharing research-based information, enhancing their communities through horticulture, and connecting people with the benefits of gardening. Become a Master Gardener℠ volunteer!

Extension Master Gardener initial training prepares you to be a Master Gardener volunteer. The course introduces a wide range of horticultural topics, with a focus on finding research-based information and sharing the science behind sustainable gardening practices. Initial training includes:
Minimum of 40 hours of instruction
Taught by Extension staff and local experts
Topics include soils and plant nutrients, composting, insects, Integrated Pest Management, lawns, food production, organic gardening, herbaceous, woody, native plants, wildlife, landscape design, and more.
Take-home or in-class, open-book exam

Complete Volunteer Internship
Once initial training is complete, volunteers complete a minimum 40-hour internship to learn even more about horticulture and give back to their community. During the internship, volunteers rotate through a variety of volunteer opportunities that support the educational outreach through the Stokes County Cooperative Extension Office.
Become Certified
Once the 40-hour internship has been completed the volunteer is eligible to become a Certified Extension Master Gardener volunteer.
Maintain Certification
In order to remain active in the program, Master Gardener volunteers must meet annual recertification requirements. These vary by county, with a minimum of:
20 hours of volunteer service
10 hours of continuing education
For additional information, please contact Bryan Hartman the Agriculture & Natural Resources Extension Agent, at bkhartman@ncat.edu or 336-593-8179.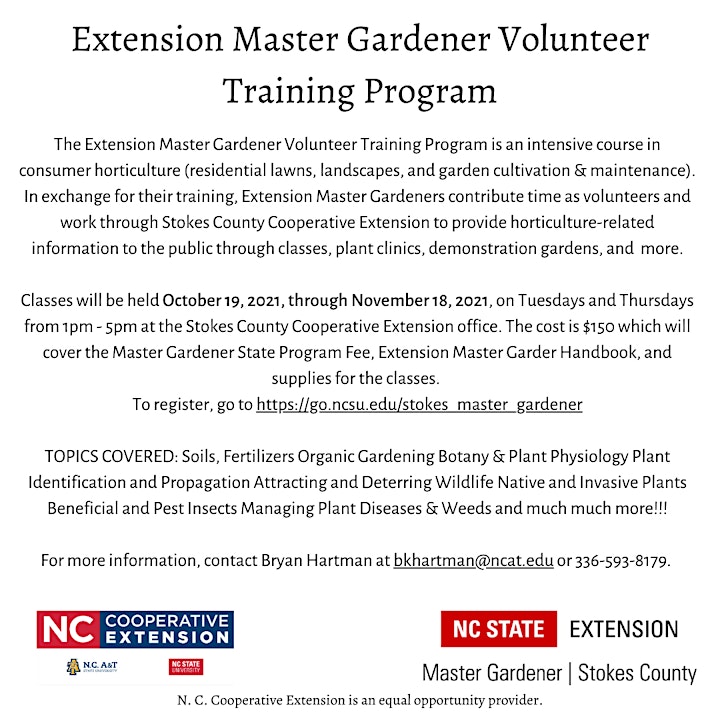 Date and time
Location
N.C. Cooperative Extension - Stokes County Center
700 Main Street
Danbury, NC 27016
Refund policy
Refunds up to 7 days before event