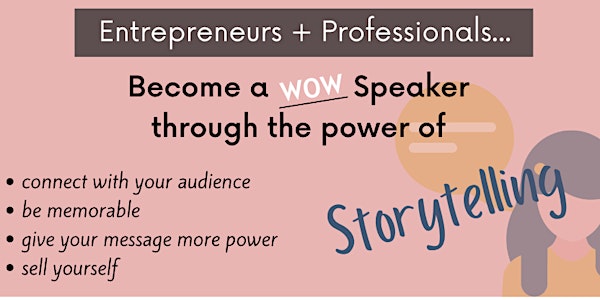 Become a WOW Speaker Through the Power of Storytelling Workshop (evening)
This interactive workshop is a safe + fun space for you to learn about the power of storytelling, practice sharing stories, and network!
About this event
If you're an ENTREPRENEUR - you NEED to be telling stories. Sharing stories about your transformation, your why, and your client stories will allow your audience to know, like and trust you, and thus help your business grow and thrive!
If you're a PROFESSIONAL - stories will make your presentations POP, and will allow you to connect with your colleagues and leadership. Stories help people understand your work and can leverage data. Stories make you memorable at work.
And if you're a social butterfly - storytelling can help you own the room - whether you're at a bar or giving a toast at a wedding.
This 90 min event will take place on Zoom.
Come ENGAGE...cameras ON, ready to shine! Get ready to be in your stretch zone...meet other growth-minded folks and network.
Can't wait to see you there!