Description
SKETCHNOTE NINJA is an enjoyable workshop that teaches you a new way of note-taking.
This introductory hands-on workshop will help you start thinking in images.
Through drawing exercises and practice, this workshop will expand your existing note-taking skills to enhance learning, remembering, creative thinking and communication.
WHAT YOU'LL LEARN:
How to draw basic elements
How to experiment with type
How to capture lectures in real time
The benefits of sketchnoting and remembering more
BENEFITS:
When your whole brain is engaged you create visual maps of what you hear, see and think.
Sketchnotes promotes active listening, visual thinking and the expression of ideas through text and drawings.
No drawing skills are needed. All you'll need is a desire for learning and thinking creatively.
WHERE YOU CAN USE SKETCHNOTES:
In the classroom, at a conference, or communicate a complicated idea, but why stop there. The possibilities are endless.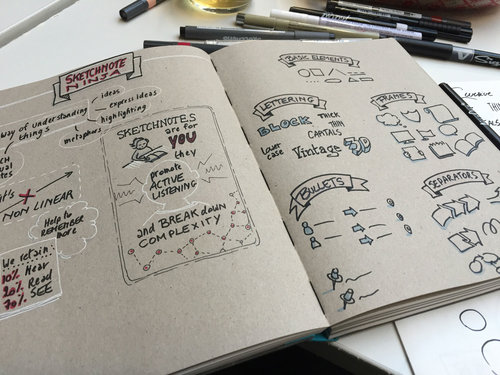 Trainer:
Depending on availability the trainer will be:
Maria: Maria is a visual practitioner with a master's degree in architecture and experience in illustration. She has an avid interest in story-telling, whether it be the story behind a building, person, or idea. Maria is particularly skilled in simultaneously listening and drawing which helps those she works with quickly see their thought process and gain better understanding. She speaks Spanish, English, and basic Dutch.


Mara: Mara is a visual facilitator with a degree in engineering and years of consultancy experience. She is specialized in visualization, communication, and change. In 2014, she founded Visuality, following her drive to change the world for the better. With her analytical thinking, solution focused approach, visuals, and above all 'feeling', Mara's calling is to help put the conditions in place to make people, companies, and projects flourish. She speaks Dutch, French, and English
The language of the training will be English.
This price includes beverages, lunch, set of markers and other supplies.

You'll be invited to become a member of our Visual Ninja community!
The training will only take place if a minimum of 10 participants is reached.