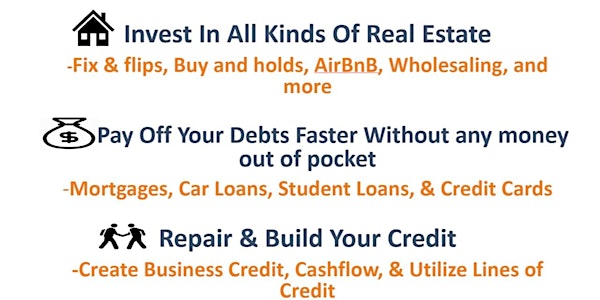 Multiple dates
Become a Real Estate Investor Without Money or Credit - Raleigh, North
Invest In Real Estate! Learn how with no money or credit!
By Royal Solution Seekers (RSS)
Date and time
February 16 · 7pm - December 30 · 1:30pm EST
Location
ONLINE Zoom You will get a text with the Zoom Info Raleigh, NC 27601
About this event
Welcome to our community of real estate investors! Are you a like-minded entrepreneur who is looking to learn more about the world of real estate investing? If so, we invite you to join us for an introductory meeting online.
During this meeting, you'll have the opportunity to learn more about who we are, what we do, and how you may fit in. We'll also share information about our education and training programs, as well as our nationwide community of real estate investors. You'll be able to ask questions and get to know other like-minded individuals who are working towards bettering their financial futures through real estate investing and business ownership.
Some of the topics we'll cover include:
The 4 levels of real estate investing
How to use social media to improve profits
Strategies to pay off your mortgage in 1/3 of the time
How to start earning right away
Wealth building and management strategies
Business and personal development
Property tours
We'll also provide you with access to our leadpipes feature, which gives you access to the names, addresses, and contact information for motivated sellers, buyers, and private lenders in your area.
We believe that education is key to success in real estate investing, and that's why we offer a range of programs and resources to help you build your knowledge and skills. Our goal is to provide you with the support you need to grow and succeed in the world of real estate.
To join us for this online meeting, please make sure to provide a cell phone number. Without this, we will not be able to text you the Zoom ID, and you will miss the meeting. Thank you! If you don't receive our text, please text us at 321-312-0072.
We look forward to meeting you online and helping you achieve your goals!
Jessica Stanford
321-312-0072