Become a Licensed Master Visioning Coach in 8 weeks -- be ready to Vision the Future with companies, communities, small biz and beyond, Train Facilitators & more --take visioning to a new level !

Monday, October 8, 2012 at 5:00 PM

-

Monday, November 26, 2012 at 5:30 PM (PDT)
Event Details
Be a Master Coach in Visioning Life and work in 8 weeks plus your in-field training !
WHY BE A Master Coach?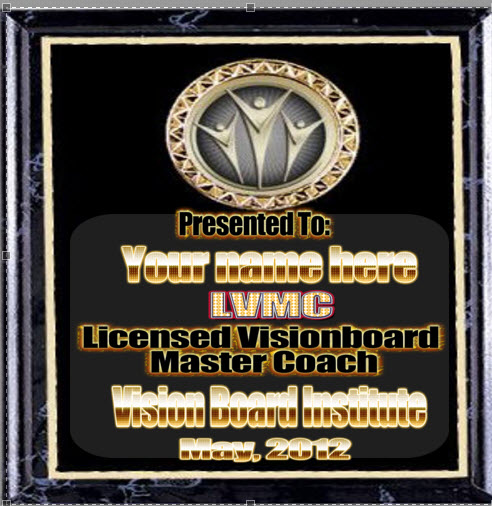 Become a Licensed Master Visioning Coach in 8 weeks -- be ready to Vision the Future with companies, communities, small biz and beyond, Train Facilitators & more --take visioning to a new level !
****It advances your expertise to a professional level so that you can work with small businesses and nonprofit groups in your area in addition to conduct your own classes, courses and coaching with ease.
****You get advanced Master Coach training for 6 weeks with Joyce Schwarz and VIP guests.
***You get turnkey professional materials including power points, videos and audios to use in your own classes and workshops – so you can just follow the agenda and timeline and collect the fees.
****You get sample professional marketing material and learn how to personalize it for you (or for a small extra fee the VBI will personalize the material for your purposes including course agendas, timelines, powerpoints and more.)
*****You get more than $1000 in free publicity including on-site listings, press releases about you, podcasts with you, newsletter stories about you and blog posts introducing you to your audiences.
****You get more than $1000 in ongoing education and training throughout the year from the VBI at no extra cost to you – monthly updates, quarterly coaching sessions and more.
****You discover how to increase your income by up to 100 percent by using the turnkey methods.
****You get to sell the new catalog of VBI products and services and make up to 50 percent on every product you sell that is drop-shipped to your client/customer –no storage of materials, no stockpiles and no requirement that you buy anything – better then a party system.
***You get actual step by step instruction and guides on how to conduct Vision Board Parties, Vision Board classes and workshops and how to do individual coaching.
***You get actual materials and worksheets to use with your clients.
You can get licensed in 6 weeks.
PART #1: 4 week program, 60 minutes per week

 

per week via teleconference audio program.
PART #2  4 week group coaching

practicum

: via teleconference in the class and Joyce gives you input and coaching advice and grades your skill levels).  

How to design a VISION PATH for your client – 8-12 week program for reaching their vision.
HOME STUDY SYSTEM IS ALSO STARTING June 1. 2-12 available as recordings so you can listen at your convenience and fill out a simple recap certifying you listened to that audio. You can also

 

 demonstrate group coaching skills through simulation exercises that are explained in the class directory.
WHAT IS COMMUNITY VISIONING: Community visioning is key in helping local public officials and community leaders create a flourishing future for their cities, and is essential for the effective planning of these strategies. Visioning involves collaborative goal setting to motivate actions - of planners, citizens, and officials - in order to set up a strategic plan for the successful development of the community. Key topics are usually *Transformational change *revitalization *role of citizens and organizations and civic leaders.
WHAT IS A VISIONING PROCESS:

 

The Visioning Process
Visioning is series of individual activities that make up a complete process. The process is divided into six primary activities, some of which consist of multiple tasks, that take place over the course of 10 meetings. The meetings are facilitated by a MCLV along with someone from the community or corporation (often from HR or
The goals for each phase, the meeting sequence, and the products of each phase are illustrated in the chart below:
1. VISIONING EXPLORATION SESSION
During this planning phase, the MCLV organizes the leadership group and  clearly explains the visioning and planning process. Group techniques used include:
a) Group visioning prep session and b) Vision Board Creation and small group c) Vision Card readings.
2

. Community and Leader Co-visioning
The purpose of this activity is twofold: to understand the needs and desires of residents and to engage them in the visioning process. The MCLV recruits a focus group and then does the same process (see above) as it did with the leaders to compare the results). \
Online Or In-person Survey
To better understand the needs and desires of the residents in participating communities, the MCLV can also use a random survey online or  in-person at a retreat or a special survey session on key issues that evolved from both the leadership and community visioning sessions. (this is optional) .
Comparison of Co-visioning and survey (if applied)
This comparison is done with a combined group of leaders and citizen visioneers – or in the case of a business or organization it would be a combined group made of the Board and the members or Management and employees 
This combined session allows for this visioning committee to adopt a common Vision Statement and Begin to plot a Visioning path for the future. 5 key goals are identified on the Vision Path Map..
3. VISION PATH PLAN AND Goal Setting/Design Workshop
Project Goal Setting
The purpose of this section of the process is to use the Vision Statement and Power words that evolved from the first two parts of the work done by the Visioning Committee and to actually:
a)set goals and b) to solicit vision leaders for the Vision Path Map implementation.
4)REVISIONING DESIGN WORKSHOP
The purpose of the revisioning design workshop is to create a  unified vision path with leaders and the community visioning group.
Tools and techniques include: Vision Boards and Maps for trial and implementation including but not limited to:
a) Team Building  b) Economic Development (customer acquisition and income streams), c) New Product and service offerings d) Research and Development and e) Ongoing Motivators and  f) Re-visioning check sessions. recommendations for each proposed enhancement. 
5) Vision Path VIP Review
Based on community and leadership input and recommendations made during the above process, a Concept Plan and Concept Vision Board is presented to the steering or leadership committee via Vision Boards, Mind Maps and/or Immersive Videos. 5.
6) Plan Presentation
Once the committee has approved the plan, the visioning group under the tutelage of the MCLV present the concept plan to the community, membership or employees and other key responders. The concept plan is packaged as a series of presentation boards which, along with an estimated training process recommendation
6. VISION Implementation Planning

 

VIP
In this final phase the MLCV works with the Co-committee to plan a 6-18 month implementation of strategies for realizing the key visions on the vision map. The MCLV recommends actions and in-person or tele-class or teleconference programs for measuring progress and re-visioning along the path. The MCLV works with the leadership to determine funding options (grants, real-time training, retreats etc ) to fund and apply the mapping process.
It is during this phase that the Master Coach in Visioning Life & Work becomes the resource to the community and leadership groups. The onus on implementation is  now on the individuals and teams working together with the Master Coach as a resource and as a Guide to keeping the processes on track.



A 150 Page Master Vision Board Coach Guide

:
§                                                                                       Guides you step by step how to deliver all of the modules that will create success for you and your businesses.
§                                                                                        
§                                                                                       VISIONING COURSES/WORKSHOP MODULE A)
§                                                                                         ****A) small group workshops
§                                                                                        ****B) How to coach one to one for people in such areas as: writers, teens, startup (small biz) companies, corporations, nonprofits
                   MODULE B)  How to market yourself as a Master Coach in Visioning – how to a) set up your Linked in and Facebook pages, b) how to create a brochure you can hand out (using our template) c) how to create business cards and d) how to find Visioning facilitator and Consultant gigs in your area and via Skype.
Including: a) how to pitch via letter b) how to pitch using an RFP (request for Proposal) and c) how to pitch using in-person meeting.
MODULE C – ORGANIZING AND PLANNING YOUR CLASSES AND WORKSHOPS:
§                                                                                       
STEP BY STEP WRITTEN AND AUDIO
§                                                                                        GUIDES TO:
§                                                                                        
§                                                                                       ****D) How to set up ½ day, 1 day and 4 week in-person courses that you can sell
§                                                                                       ****E) How to use the process with your one-to-one clients
§                                                                                       ****F) How to use the process with groups (from 5 to 100.
§                                                                                       DETAILED TIMELINES for introducing, promoting and enrolling students or clients into your courses or one to one coaching.
§                                                                                       BONUS  1 hour AUDIO How to be a Successful Master Coach –including tips from 1 top master coaches and facilitators.
§                                                                                        
§                                                                                       MODULE D:CREATING INCOME AND UPSELLING TO A HIGHER LEVEL
§                                                                                       WHAT TO CHARGE AND HOW TO MAKE ADDITIONAL INCOME STREAMS:
Templates and actual Fee schedules showing you how to charge and what to charge for your classes, workshops and live presentations.
HOW TO USE PAYPAL for billing for your courses
HOW TO USE EVENTBRITE AND BILL FOR YOUR COURSES even if you can't take VISA/MASTERCARDS NOW
HOW TO USE NEW MOBILE  SYSTEMS FOR CHARGING ON-SITE for services at events/conferences, expos, conventions and prior to your live classes.  Yes, how to turn your mobile phone into a payment system at no extra charge to you.
HOW TO UPSELL YOUR CLIENTS AND GROUPS - -80 percent of all sales come from back of the room – what you can sell and how you can upgrade using the Vision Board Institute new product catalog (available on April 30, 2012 – LVMC's will get to preview it at the end of their 4 weeks).
§                                                                                       MODULE E – MARKETING, PROMOTION AND PUBLICITY:
§                                                                                       SAMPLE EMAIL TEMPLATES and TWITTER AND FACEBOOK event listing samples to make registration and promotion easy for you.
§                                                                                       SAMPLE PRESS RELEASES FOR YOUR CLASSES AND WSORKSHOP
§                                                                                       SAMPLE CALENDAR NOTICES FOR YOUR COACHING, CLASSES AND WORKSHOPS
§                                                                                       100 WAYS TO GET free publicity and promo for you and your classes, coaching and presentations.
§                                                                                       APPROVED WORDING AND LOGOS AND PICTURES TO PUT ON YOUR WEBSITE
§                                                                                       SAMPLE BROCHURE TO HAND OUT
§                                                                                       SAMPLE ONE SHEET FOR EACH SEASON OF THE YEAR to promo your services/classed/coaching
§                                                                                       SAMPLE NEWSLETTER you can personalize
§                                                                                        
§                                                                                       MODULE F:  WHAT A MASTER COACH DOES AND HOW:
§                                                                                        
§                                                                                       Checklists for before, during, and after the workshops, classes, courses
§                                                                                        
§                                                                                       EXAMPLES AND CASE STUDIES OF HOW TO FILL YOUR CLASSES AND EVEN GET OTHERS TO HELP FILL THEM FOR YOU>
§                                                                                        
§                                                                                       ACTUAL COURSE MATERIALS YOU CAN USE TO TEACH  ½ day class, 1 day class and 4 week advanced course—including a) handouts for each of theses options and PowerPoint you can present along with bonus video links.
TESTIMONIALS– actual testimonials from others who have taken VISION BOARD INSTITUTE classes and workshops to use in your promotional materials.
HOW TO GET YOUR OWN TESTIMONIALS– a secret form to fill out to get advanced testimonials
What you get SUMMARY:
§                 A renewable annual license  to deliver VISIONING YOUR LIFE and SECRETS OF VISION BOARD CREATION tone to one with clients and small groups LIVE without any additional royalty  fees. License fee is $95 annually to renew your license please advise us 60 days in advance if you do not want to renew. You need to renew annually to update  your listing and for your star level to upgrade. You get a new star each year you are a LMVC.
§                 Special permission to use the  LICENSED MASTER VISIONING COACH logo
§                 Exclusive licensee discount (30 percent off) any classes in the box and additional courses and workshops offered by VBI (Vision Board Institute and CENTER FOR VISIONING (CFV) just being launched to use for yourself or to resell to your clients/classes and workshops.
***SPECIAL DESIGNER WALL PLAQUE engraved so that you can display in your office or home that you are a LICENSED MASTER VISION BOARD COACH – delivered to your premises within 30 days after you finish the requirements.
Plus, receive these EXTRA BONUSES and ongoing support: Learn

 

Joyce's system for community vision board creation and for getting publicity for free updated annually.

 
When & Where

via teleconference sign up and get #




Monday, October 8, 2012 at 5:00 PM

-

Monday, November 26, 2012 at 5:30 PM (PDT)
Add to my calendar
Organizer
THE VISION BOARD INSTITUTE founded by Joyce Schwarz offers the following services:
*Creation of Giant Vision Boards for Charity Benefits & Corporate events (call for details and price list)
*Accreditation as a Certified Vision Board Coach joyceschwarz@gmail.com
*Vision Board creation classes and workshops for corporations, churches, nonprofits and community groups and private parties & events, joyceschwarz@gmail.com