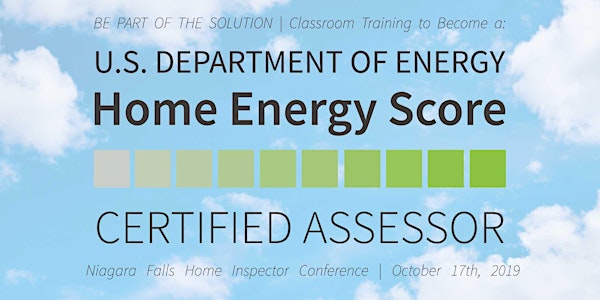 Become a Home Energy Score Certified Assessor - Niagara Falls Conference
When and where
Location
The Conference & Event Center Niagara Falls 101 Old Falls St Niagara Falls, NY 14303
Refund Policy
Refunds up to 30 days before event
Eventbrite's fee is nonrefundable.
Description
The Home Energy Score is coming to the State of New York in a BIG way!
New programs from NYSERDA will be promoting the Home Energy Score throughout the state of New York starting Winter of 2019!
---
Separate your business from the competition with the U.S. Department of Energy's Home Energy Score. Complete the U.S. DOE's Home Energy Score training in record time during a one-day classroom setting with Home Energy Score experts Brent Loya! The instructors will walk through the online simulation with you step by step, providing individual attention as needed throughout the day to each student. This training takes many inspectors up to 20 hours to complete at home, so this one-day class offers a great head start into a program that is increasingly seen as a "must-have" for buyers across the country.
As part of this training package, attendees will automatically be registered for the last step of the DOE's required training process – a mentored Home Energy Score through I.D. Energy's award-winning Virtual Mentorship Program and will receive DOE required quality assurance on your first 5 professional assessments, access to online software and mobile apps, tech/program support, and access to the I.D. Energy Exclusive Marketing Suite once completed with the training and certification.

Receive 8 ASHI CE Credits for the Training

Attendees will need to bring: A decent/up-to-date laptop computer.

Cost: $450 Before October 1st - EXTENDED TO OCTOBER 4TH!- $500 after and up to the day of class!

Use PROMO CODE: "MAIDOFTHEMIST" TO GE AN ADDITIONAL $50 OFF!!!


Cost Includes One Day Classroom training, Virtual Mentorship, and Initial 5 QA Scores - Full Fast Track Training Program.

More Info: About the Niagara Falls Conference

For more information about the Fast Track Training and/or the Home Energy Score visit: www.EnergyScoreUSA.com


Questions? Email: info@idenergy.org or Call 866-499-4921
---
The DOE requires all assessors to;
-Complete SIM Online Training - Special Classroom Training: Complete the online training in a one day classroom trianing with Home Energy Score training experts. This training takes many inspectors up to 20 hours to complete at home online. Attending this class will also earn you 8 ASHI CE Credits.
-Complete a Mentored Home Energy Score - Included with the cost will be your Virtual Mentorship. Once you complete the Sim Online training you will perform your first Home Energy Score Assessment. Once completed you will review this assessment and photos with a DOE approved Mentor on an online webinar.

-Receive QA Oversight on your Initial 5 Scores After Being Mentored - After your mentorship, once you are approved, the DOE requires that your first or initial 5 scores after being mentored receive full QA oversight. I.D. Energy's DOE approved auditor team will give you detailed feedback and quality assurance on these reports.
Within this cost you will also;
-Receive access, profile, and instructions for Paperless Inspectors online Home Energy Scoring tool and Mobile apps for entering your data, photos, and generating your reports directly through the DOE.
-Receive access to I.D. Energy's Exclusive Marketing Suite which includes hi-res logos, realtor presentations, resources for clients, realtors, and inspectors.
-Technical and Program Support - We are here to make sure you are supported and successful.
---
Classroom Sim Training - What to Expect:
The "Sim" training has proven to be a time-consuming endeavor (sometime up to 20 hours), which is why we have created the class to give you a major turbo booster! We will collectively walk through the online simulation step by step guaranteeing you to complete the training. The educators will do our best to give one on one attention as needed through the class to each student and will give in depth information and experienced examples on how to be successful. This will be a full 8+ hour day.
What to Bring:
-Laptop Computer with Wi-Fi – Make sure to have "Firefox" as your web browser. It has proven to run the "Sim" the most efficiently.
-Don't forget your Power cord.
-Using a mouse will make your life easier than using just the touch pad on your lap top to toggle between the sim and other references on your screen.
-Water Bottle, Coffee, Snacks.