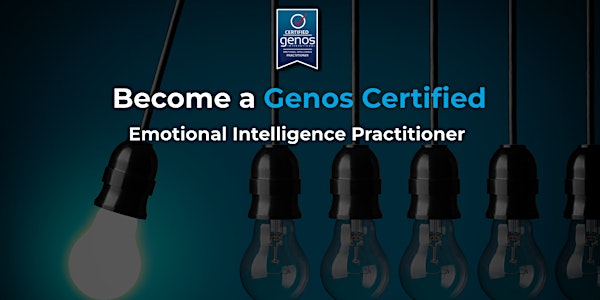 Become a Genos Certified Emotional Intelligence Practitioner - Dec 2022
Become a Genos Certified Emotional Intelligence Practitioner - December 2022
Refund Policy
Contact the organizer to request a refund.
About this event
365 days 4 hours

Mobile eTicket
Hosted and sponsored by ET Potential, an Authorised Distributor of Genos International.


HRD Corp Claimable
This Programme is an approved HRD Corp (Malaysia) Claimable course. HRD Corp Training Programme Approval No:10001158139.

Breaking News!
Genos International awarded Training Industry's Top 20 Assessment and Evaluation Companies recently on November 1, 2021.
This is the fifth year in row that Genos International made it on this pretigious list.
Selection of each year's Top Assessment and Evaluation Companies List was based on the following criteria:
Diversity of assessment capabilities.
Quality of evaluation techniques.
Industry Visibility, innovation and impact.
Strength of clients and geographical reach.
Company size and growth potential.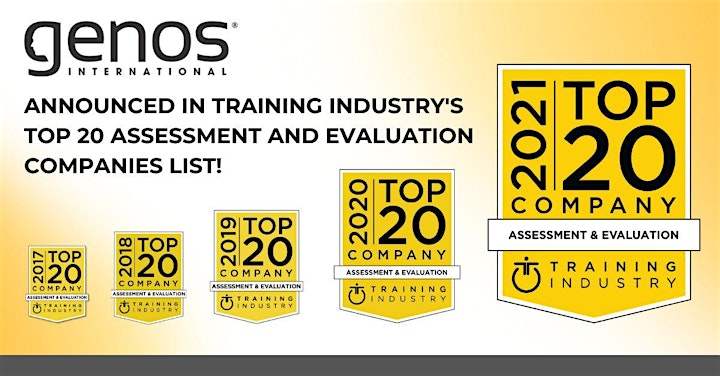 Emotional Intelligence Practitioner Programme - December 2022
Friday 09 December 2022
Friday 16 December 2022
Friday 23 December 2022
All sessions 9:00am - 1:00pm MYT
Participants must attend all three ONLINE sessions
If you're a leader, coach, consultant, trainer, learning & O/D professional, human resource sonsultant, or an organisational psychologist, the Genos Certified Emotional Intelligence Practitioner Programme will dramatically enhance your credentials and credibility by making you an expert in applying Emotional Intelligence (EI) in the workplace.
Learn from world-renowned experts who develop and apply emotional intelligence solutions in global organisations every day.
As a Genos EI Practitioner you will be able to:
Work with and sell the full suite of Genos Emotional Intelligence products and programmes as a formally Certified EI Practitioner.
Provide an expert perspective on the business case for. and benefits of, Emotional Intelligence in the workplace.
Apply the Genos Model of Emotional Intelligence in client solutions to raise employee engagement, enhance resilience, improve teamwork, raise leader productivity and create a positive climate for change.
Powerfully debrief Genos Emotional Intelligence assessment results with individuals and teams.
Access Genos University and Member Portal FREE for life.
Deliver 5 'Out-of-the-Box' 1-day training programmes: Engaging Leader, Resilient Leader, Mindful Leader, Emotionally Intelligent Leader and Applied Emotional Intelligence. Access scripts, workbooks and best practices.
Position the unique features of the Genos approach to assessing and developing Emotional Intelligence in comparison to other EI approaches.
Support clients in identifying, recruiting and developing emotionally intelligent people using our unique Genos EI Selection Report.
Deliver compelling keynote presentations on all aspects of Emotional Intelligence.
Build your reputation as an Emotional Intelligence expert using Genos content and marketing best practices.
If you're an independent coach, consultant or trainer: use the Genos 'Fast-Start Programme' to quickly develop 'residual revenue', income not dependent upon man-days.
The Business Case for Emotional Intelligence
The World Economic Forum has strongly identified the Top 10 Skills you need to thrive in the Fourth Industrial Revolution (IR4.0) in 2020 as well as Top 10 Growing Skills Outlook for 2022.
The WEF Jobs of the Future Report, from which these skills were identified, talks about emotional intelligence as a core competency for people entering the workforce and people in the workforce in the future. This encapsulates being able to:
manage ourselves through complexity, high workloads, stress and high work demands
tune in to the needs of others in the workplace
respond when we experience strong emotions
express ourselves effectively, and
navigate through difficult conversations.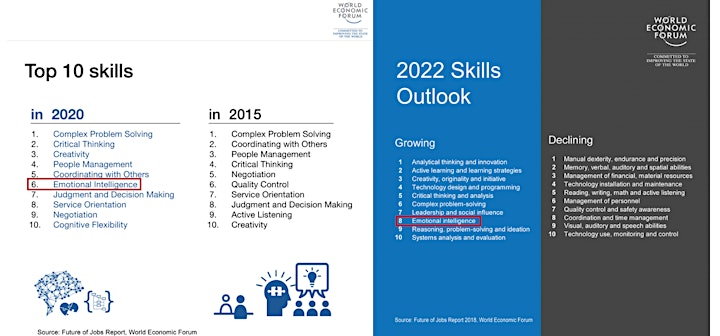 Harvard Business Review (HBR) has also recently highlighted How Emotional Intelligence Became a Key Leadership Skill.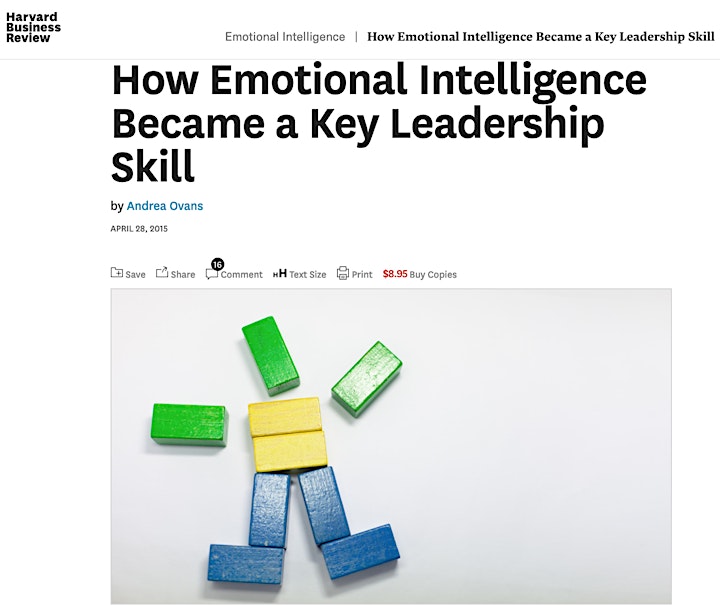 A recent Capgemini Research Institute Report titled Emotional Intelligence - The Essential Skillset for the Age of AI highlighed the benefits to organization and the workforce.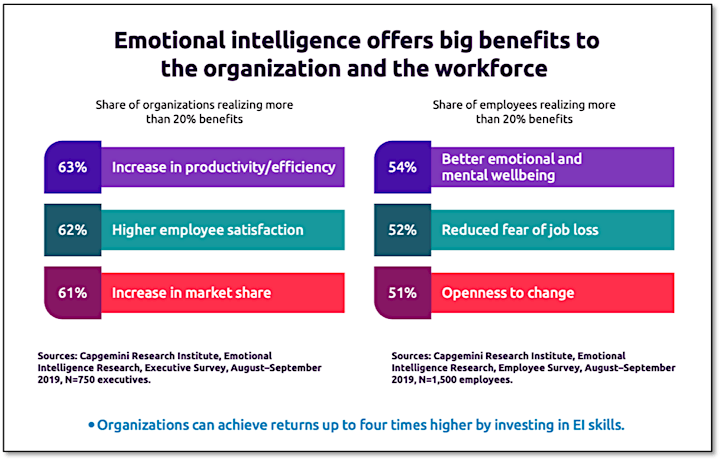 4 Steps to Become a Certified Emotional Intelligence Practitioner:
STEP 1: Pre-Programme Assessment & Debrief
Experience what it means to be a client - complete your own EI assessment and have it fed back to you in a one-on-one debrief, so that you're also working on your own development as you progress through the programme.
Work with a Genos Master Trainer to understand truly powerful coaching debriefs.
STEP 2: Attend 3 LIVE Half Day Online Sessions for a Deep-Dive into Every Aspect of EI
Receive a comprehensive e-copy Certification docments to support you through the course.
During two powerful days of learning, attendees will walk away with a unique aspect of implementing Emotional Intelligence in your organisation or with your clients.
Learn from internationally recognised experts and Master Trainers who work with Fortune 500 companies every day during interactive and engaging sessions.
STEP 3: Deepen Your Expertise with Genos University
With your lifetime membership to Genos University, our online support resource for Certified Practitioners, you'll learn about all aspects of the Genos business from our expert team members and from other Certified Practitioners.
Genos University is a unique development portal available to you 24/7.
STEP 4: Earn Your Formal Certified Practitioner Qualification
To achieve formal certification, you'll debrief the results of a fictional candidate with your Master Trainer playing the part of the candidate.
The Master Trainer will provide you with feedback on your competence with our 8-step coaching model, and will provide necessary support to get you feeling completely confident of your ability to effectively debrief reports.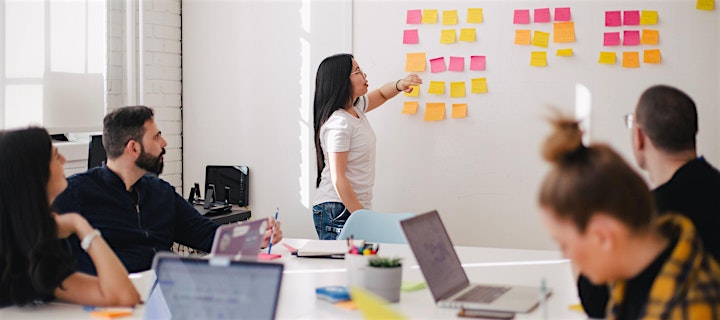 The Most Comprehensive and Award Winning EI Certification in the Market
You will learn:
The Neuroscience of Emotions
The Genos EI Model & Behaviours
Full Suite of EI Solutions for Hiring and Development
Psychometric Properties and Research
EI Workplace Behaviour Reports
Interpreting and Debriefing Results
Powerful Group-based Debriefs
Integrating EI in Selection & Talent Management
Best Practices for Marketing Your Genos Business
Using Genos EI Selection Assessment in Hiring
How to Deliver The Compelling Add on Programmes
The Mindful/Resilient/Engaging/Emotionally Intelligent Leader
The 6 Skills of Emotionally Intelligent Leaders
Leadership Feedback Report
Psychometric Properties
EI Leadership Report Options
Competitive Advantages of the Genos vs. other EI assessments
Using the Genos Survey System with Ease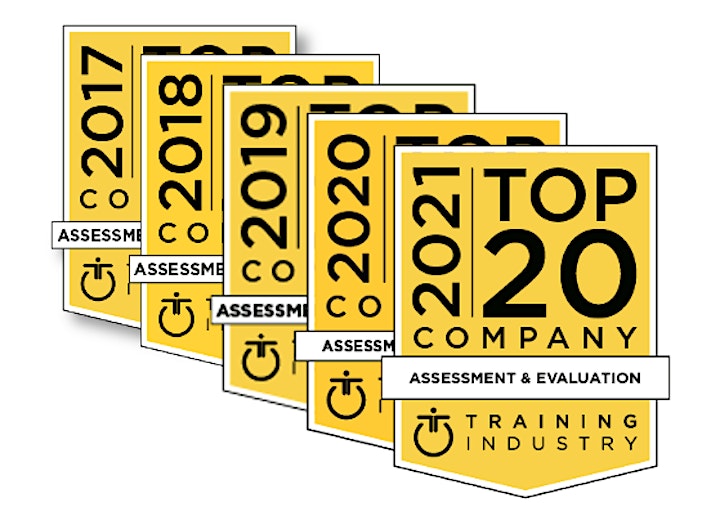 Genos EI Solutions have been awarded Top 20™ Assessment and Evaluation Companies for five (5) years in a row (2017 - 2021) by prestigious Training Industry, Inc.
Selection to Training Industry Top 20™ Assessment and Evaluation Companies List was based on the following criteria:
Diversity of assessment capabilities
Quality and innovativeness of evaluation techniques
Company size and growth potential
Quality and number of clients/users
Awards, recognition and competitive differentiation
"Among Genos International's accomplishments are a series of leadership enhancement programs and a unique emotional intelligence assessment, the Emotional Aperture Measure."
"Genos International was selected among the Top 20 Assessment and Evaluation Companies based on the breadth of their delivery modalities, their standing as an overall innovator among assessment and evaluation companies, and the quality and overall degree of innovation incorporated into their evaluation techniques."
- Training Industry, Inc.

Genos is an official Business Soultions Provider of the International Coach Federation (ICF).
ICF certified coaches can earn 14 Continuing Coach Education (CCE) Hours in total by completing the Genos EI Certification Programme:
10 Core Competency Hours
4 Resource Development Hours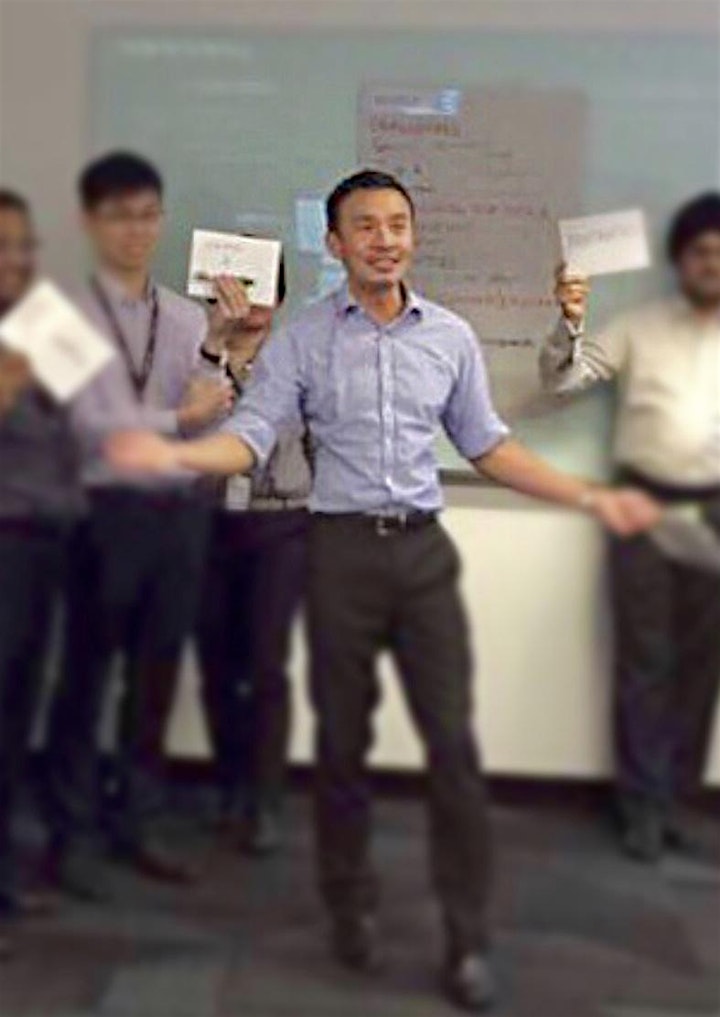 Your Master Trainer: Eric Toh, MBA, PCC
Eric is an experienced executive coach (PCC) and facilitator with over 25 years international commercial in-house experience in Asia, Europe and Australia. He is passionate about learning and leadership development and has been working in this space for ten years focusing on Change, Culture and People.
Eric is now an executive coach and facilitator working with professionals at all levels particularly on organisational performance, as well as personal development. Much of his current work is on the current digital transformation, the fourth industrial revolution (IR4.0) and the future of work, which he believes is still about People. Eric cherishes being able to inspire leaders and professionals be the best versions of themselves through this time of change that all organisations are encountering.
Eric is a Professional Certified Coach (PCC) with the International Coaching Federation (ICF). He is also on ICF's Global Diversity, Equity & Inclusion (DEI) Cultural Committee. Eirc has an MBA from the USA and a BSc (Honours) from Australia and started his career with KPMG Management Consulting where worked in-house at senior levels in London & Australia.
Eric recently co-hosted the Resilient Asia Challenge a 5-week LIVE webinar series to address resilience and wellbeing during the COVID-19 lockdown with over 600 participants. He has been Key Note Speaker at several ICF's AGMs and Summits.
As an accredited Master Trainer for Genos Emotional Intelligence Practitioner Certification, Eric consistently receives positive reviews for his work.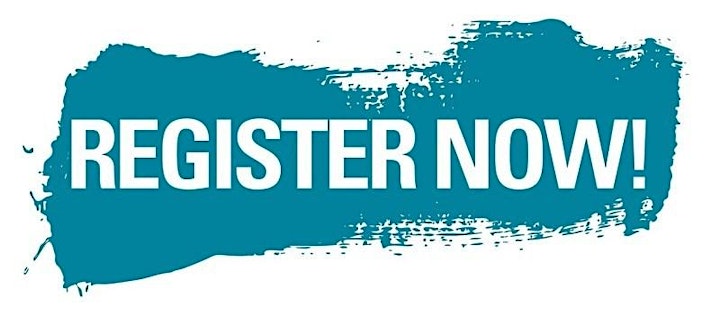 The Next Upcoming Programme:
Friday 09 December 2022
Friday 16 December 2022
Friday 23 December 2022
All sessions 9:00am - 1:00pm MYT
Participants must attend all three ONLINE sessions via Zoom.
What does the package cost?
USD1,300 - Eventbrite Registration
MYR6,000 - In Person (Download Registration Form)
MYR5,000 - Online - (Download Registration Form)
10% Early Bird Discount (5pm MYT, two weeks before programme starts)
20% Discount for ICF Members & Certified/HRDF Trainers
(Discounts cannot be combined)
Early Bird = Early-Bird
ICF & Trainers = ICF-Trainers
Package includes complimentary 2 Genos Assessments to use within 12 months (for full price, non-discounted registrations only).
Information & Registration: