Multiple Dates
Become a First Ladies of Poverty Foundation Partner
Become a leader in your community by investing in and owning your own wealth building community center and resource hub.
About this event
Become a leader in your community by investing in and owning your own wealth building community center and resource hub.
Most Resourceful & Effective Program of Any Wealth Building Community Center
Our Success Continues to Grow
1,500+ first generation minority wealth builders supported in building wealth
6 x Award-winning organization (picked up our 6th award in 2021!) with local, regional and state recognition
20+ Business & Investing Trade Programs that We Offer
90% of our partners have multiple income streams with one community center
99% of our partners work majority virtually from anywhere
75% of our partners are able to travel the world at least twice a month
100% of our partners have access to our FLP Funding Program for a chance to win grants and funding to expand their business
100% of our partners have access to business coaching to continue to grow their business
A New Member Every Day
At First Ladies of Poverty Foundation, we have at least one NEW Member join of our community centers everyday with a 100% retention rate as of June 2021.
The Best Culture Around You For You & Your Members
Your success is our success.
Our culture is defined by Purpose, People, Impact and Community Development. We are a community of hardworking professionals and first + second generation wealth builders who yearn to attain financial success by doing meaningful work right in our own communities.
Low Royalty Fees & High Commissions: More money in your pocket as your profits grow.
Marketing Support: We conduct an analysis of area demographics, market factors, and competition in your desired territory. We'll also assist you in creating marketing assets and optimizing your digital presence.
Personal Support: You'll meet your personal support team at corporate HQ partners quarterly retreat during for in-person comprehensive training. You will also be given a dedicated partnership consultant from day 1, to help you every step of the way.
We Give You The Tools You Need to Thrive
After 16 years in the industry, we know how to support our partners in achieving their goals. You set the bar for what success means for you, and we will help you get there with all the tools, training and support you need to get started and sustain success. Your success is our success.
#1 Brand for First Generation BIPOC (Black, Indigenous, People of Color Wealth Builders) : We have already begun building a world class business to support your goals. Our organization is state and nationally recognized, multi-award winning and ranked the #1 Place to Work by JoinRise.Co with features in top news publications.
Low-Cost Investment: First Ladies of Poverty (FLP) Foundation offers very affordable ownership and monthly partner fees versus other industries.
Simple Process: We will guide you through every step to becoming a happy and healthy FLP Foundation community center owner.
360 Support: We're here for you through the life of your center with customized support for each stage of your growth.
Ready to learn more or get started? Register for an upcoming workshop today!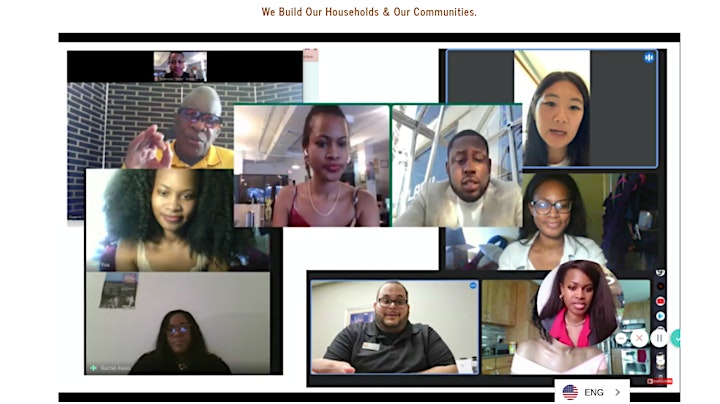 Organizer of Become a First Ladies of Poverty Foundation Partner
GENERATIONAL POVERTY ENDS HERE.
A Community Center & Resource Hub Providing Award-Winning Entrepreneurship, Business & Investing Trade Programs For First Generation Wealth Builders
Are you the first (or one of the few) in your family to start building wealth or thinking about the process of building wealth?
First generation wealth builders (FGWBs) and second generation wealth builders (SGWBs) are terms popularized by our Founder and CEO Shatoyia Jones to describe individuals in two different circumstances of building wealth. First generation wealth builders are individuals who have no financial inheritance, no inherited assets and are the first in their family to start and continue the process to building generational wealth in their families. FGWBs are usually starting with a net worth of $0 or even less in some cases and/or are living a paycheck-to-paycheck lifestyle. They are looking to improve their financial situation and leave a legacy for their loved ones. SGWBs usually have some financial inheritance or some type of inherited assets but don't know how to manage, sustain or grow their inheritance and are looking to learn how to do so.
Relevant, accessible, and engaging, our weekly masterclasses include but are not limited: to all things financial literacy, planning and management, business and entrepreneurship, investing and wealth building, retirement and estate planning. Browse our curated list of premium masterclasses and jump-start your journey to generational wealth building today no matter what stage you are in--starting where you are with what you have.
Learn More: https://youtube.com/playlist?list=PL3XubfvOj6g3oyqZNJpF9ogaoEBk8rasU
The 5 Stages to Building Generational Wealth with Little to No Money: https://www.firstladiesofpovertyfoundation.org/watch/the-5-stages-to-building-generational-wealth-starting-with-little-to-no-money
Our Programs*
*online and offline programming available, updated every 3 months
Schedule a virtual appointment to speak with one of our representatives about starting or continuing your business and wealth building journey today!
For partners, sponsors or other business inquiries: firstladiesofpovertyfoundation@gmail.com