About this Event
FOR LANDSCAPE, LAWN, IRRIGATION AND TREE COMPANIES
It's no secret that labor is your biggest headache, but what if you could turn it into your biggest strength and advantage?
In this exciting workshop, you'll learn the strategies needed to attract the right people.
Plus, you'll learn how to develop, inspire, retain and fully engage your employees so that you can build a business that is predictable, scalable, and highly profitable.
To attract the best, you must develop a buzz in the industry as the go-to company for motivated employees.
Why is this so important?
This makes it so much easier to recruit a great team, and this allow you to build a self-sustaining company with higher profit margins, and more freedom for you to work "on" your business.
This 1.5 day interactive workshop will show you how to build the company of your dreams, so you can enjoy the life of your dreams.
You will also learn how to work with Gen X, Millennial and Gen Z so that they excel and refer their friends.
About your host and presenter: Jeffrey Scott has worked in the industry for 30+ years and has consulted with 100's of companies across the nation and Canada. He has published 3 books including "Become A Destination Company®.
Schedule:
January 15, 8:30 to 4:30pm (inc. breakfast, lunch)
Evening Networking Reception (food, drinks)
January 16, 8:30 to 12noon (incl. breakfast)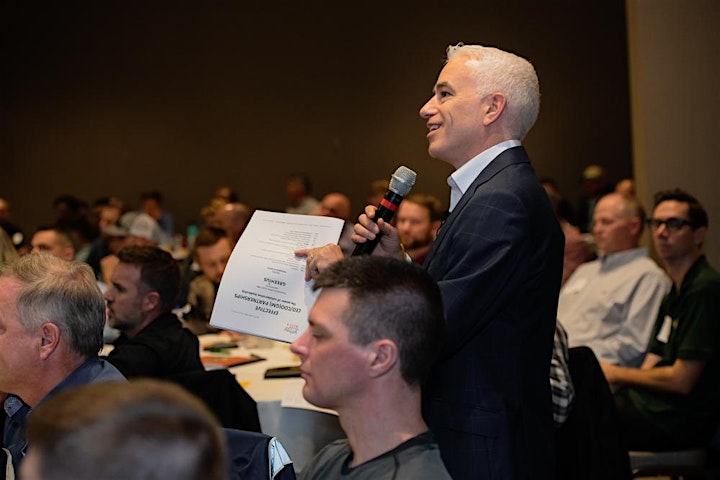 You'll learn how to:
Attract career-minded employees so that you can overcome the frustrations of constant turnover, and gain momentum building your business. You'll learn the 5 steps to attracting the best (of any generation), so you can shift from mindless recruiting to business and team building.
Onboard new employees, and engage them in career growth. You know that on-boarding is important, and career ladders are helpful, but you may not be sure of the most effective way to do them—especially in the heat of the season, and especially if you lose employees as quick as you hire them. We'll walk you through the latest ideas and exact process (with our "10 Engagement Secrets") to onboard effectively and fully engage new hires and current employees (regardless of their "generation").
Build a purpose-based culture that drives excellence, consistency, and growth—Learn how to bring your culture to life, in a unique fashion so that you will stand out from the competition, and so that your company stands out as the "go to employer" in your area.
Implement a systems way-of-life, with better people and production systems, with full employee buy-in, so that more employees follow your systems, more consistently, for greater efficiency and productivity. You will learn my Million Dollar Systems Blueprint, and you will learn which systems to implement first, and how to do it step-by-step in order to create a process-driven company.
Organize your leadership roles for ownership thinking, so that your company will be more self-run, and poised for higher growth, without you having to drive every decision. This will allow you to better steer growth, with less stress and headaches, in a way that will free you up to work "on" the business.
Use "Open Book" management, to achieve higher engagement and better profits. You will learn the best ways to provide your employees with company financial information—to the degree you are comfortable—which will enable them to make more profitable decisions for your business. This will allow your incentive systems to gain more traction with higher margins.
BONUS, You will leave this workshop with:
1. A Destination Company® Workbook and Tool Box, so you can implement all the ideas you learn
2. Proven Incentive systems ready to implement.
3. A Destination Company® Assessment to use with your team back at work, to get everyone's buy in and uncover high-priority weaknesses.
TESTIMONIALS for DESTINATION COMPANY®
J. Landon Reeve, Chapel Valley, MD "I like this a lot! You have hit on the main ideas perfectly."
Paul Fraynd, Sun Valley Landscape, NE and NALP Board Member, "Jeffrey nailed it!"
Shayne Newman, Yard Apes, CT and NALP Board Member, "Now is the perfect time for Jeffrey's blueprint for building a Destination Company®, His approach is simple and genius."
Heidi Heiland, Heidi's Lifestyle Gardens, MN, "Jeffrey has identified the barriers to success, and transformed our old fashioned systems into a better way to approach our people issues."
Jay Murray, TLC Landscapes, ON, and President of Greenius, "Jeffrey really understands how to take a business from good to great"
Event Details:
For those that are from out of town and need accommodation, we have contracted a group rate at the Sheraton New Orleans Hotel.
Book your group rate for Jeffrey Scott Group
Louis Armstrong New Orleans International Airport (MSY)
Hotel direction: 15 miles W
Easy Uber or Lyft to hotel
Estimated taxi fare: $36 (one way)
Parking
Valet Parking available for all hotel guests.
Overnight Guest Rate: $46 + tax | Daily Parking Rate: $24+tax