| | |
| --- | --- |
| Become a Certified Vision Board Coach VIA LIVE Phone teleworkshop July 1 | |
Event Details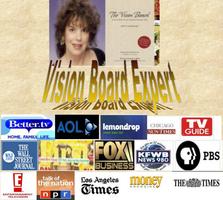 Become a Certified Vision Board coach in 4 weeks via telecourse -- use your phone, no computer needed.
Next class starts July 1 (tuesday) and continues weekly every Tuesday (5-6:30 PST) through July 22. (If u miss a class u can listen to the recording of the class later). All 4 recordings are included in your class package. 
YOU GET $500 in free bonuses (scroll down to see value) including
***60 page training manual--retail $99.00
***180 page workbook (for reference and use in teaching classes) retail $149.00
***Listing on www.visionboardinstitute.com website (free) upgrade available at nominal fee to include your photo etc) Value $75.00
****Membership in the secret Facebook group for more than 100 other Certified Vision Board Coaches around the globe to maintain and share best practices and latest news on visioning and vision boards including how to teach and what to charge etc. 
****Plus one hour coaching privately with Joyce Schwarz via phone and email = value $200.00
*************
Small class 6-8 people max and conducted by Joyce Schwarz, best-selling author THE VISION BOARD book and well known as the Hollywood and VIP Career Change Coach and strategist worldwide. 
As seen on E Entertainment TV, Fox News, TV GUIDE, PBS, NPR, Wall STREET JOURNAL and more.
We now have coaches worldwide across the USA, across Canada, UK, Mainland China, Singapore  and more
You can make up to TWO THOUSAND a month by adding this credential to your resume. We will show you how to make Five Hundred dollars in half day on a Saturday.
WHY TAKE THIS COURSE?
We show you:
a) how to market
b) how to teach
c) You get a hundred page bonus WORKBOOK normally worth more than a hundred dollars.
d) Plus you get the four ninety minute audio tapes of your classes to download -- if you can't attend the class live you can listen to the audio the next day.
CLASSES are very small -- limited to four to six people max. VERY interactive -- you roleplay and Joyce helps you learn to teach this so that you can help others make their dreams come true -- what a wonderful way to make extra income.
To see a free chapter of Joyce's bestselling book THE VISION BOARD go to http://tinyurl.com/seeinsidebook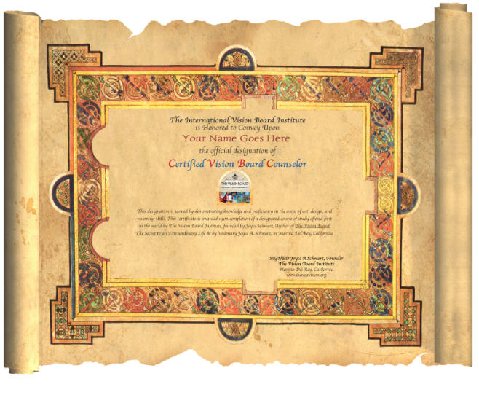 EARN THIS GORGEOUS CERTIFICATE by completing four 90 minute classes in the Certified Vision Board coach course. Next 4 week class starts 12/12/13 at 5 pm PST which is 8 pm PST. Take the course via phone. When you sign up here or call Joyce Schwarz at 310-822-3119 and sign up via credit card via phone directly with her you will get your welcome package including: 
All classes are recorded so if you miss a class you can hear it the next day or at your leisure. You get to keep the MP3 audios! 
IF you cannot attend the class at 5 pm time you have two choices -- you can a) sign up for this course and listen to the audios the next day at your convenience or b) sign up for the home study course which is 8 weeks long and you do at your own leisure  via audio and a new option (there is an 8 week workbook class where you fill in the workbook and do it on your own schedule) Call Joyce Schwarz about these options at 310-822-3119
WHEN YOU SIGN UP -- even before the start of the class you get: 
a) Your 60 page PDF Coache's Training Manual (FREE for students)
b) The call in number for the 4 week course
SCROLL DOWN FOR ENDORSEMENTS AND FOR SPECIFICS ABOUT WHAT IS IN EACH WEEK OF THE COURSE 
Class #1 Visioning' (ancient art of visioning secrets revealed)
Class #2 Vision Statements and Mottos 
Class #3 Vision Board Creation TRUTHS no one told you before
Class #4 How to make $ with your Vision Board Coach credential including up to $500 for 1/2 day doing group workshops! 
SEE WHAT JUST SOME OF THE more than 140 Certified Coaches worldwide have to say about how happy they are with the course (if you can't read these endorsements because type is too small see them and more at www.visonboardinstitute.com ! :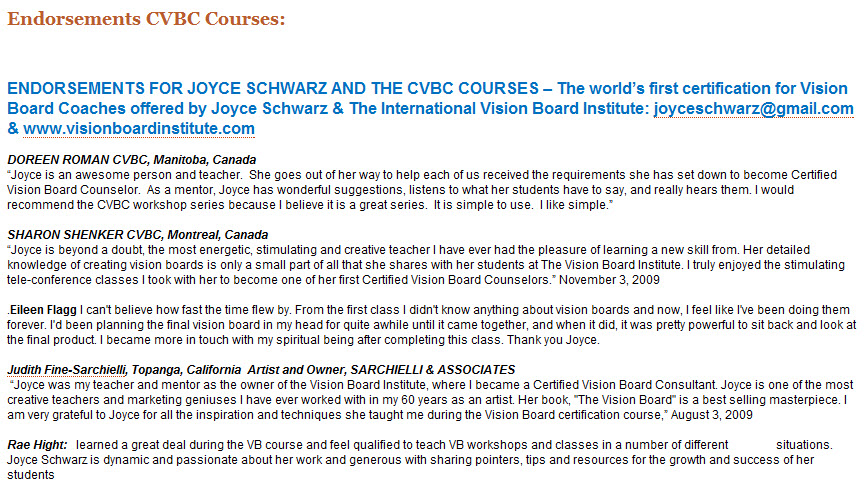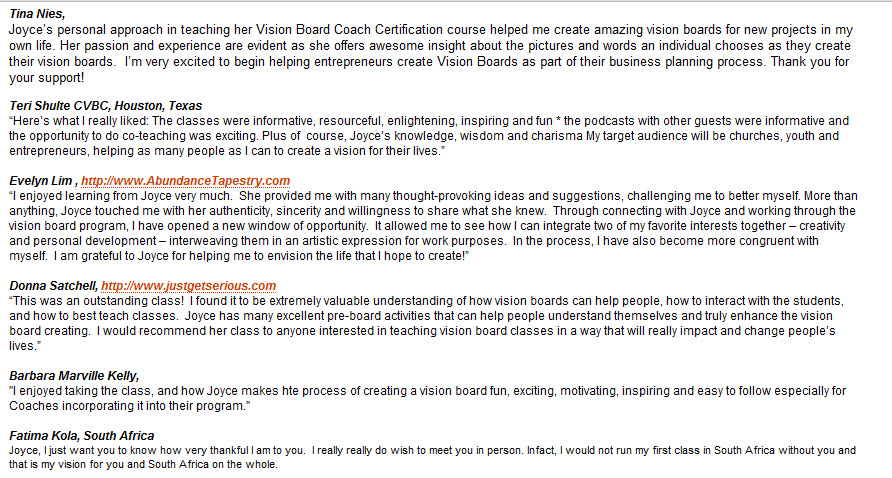 SEE WHAT THE CVBC COURSE COVERS AND WHAT YOU'll DISCOVER THAT WILL HELP YOU CREATE A NEW INCOME STREAM AND MAKE CASH EVERY WEEK BY Vision Board Coaching one to one or in a group setting. 
EVEN FIND OUT HOW TO MAKE $500 per 1/2 day by doing Vision Board Coaches for companies! 
CLASS #1 VISIONING -- discover the secrets of the ancient art of visioning and why this is the one step that most vision board instructors never REVEAL to you -- and the main reason that vision boards do NOT WORK! 
  PLUS  what is visioning? Why is it so important to find out your power words and defining images? What are the three things that you must show your students how to do to help them realize their dreams! 
CLASS # 2 WHY A VISION STATMENT is so important How can you use this new knowledge to coach companies at as much as $100 per hour to create their own visoin statement like FORD CORP and the UN and how it magnifies your vision so that it is 300 percent clearer than before! what is a vision statement, why does it work better than a mission statement. have. What is the power of a personal and company motto? Find out how you can help your students change their lives in 90 seconds with a new motto!  
CLASS #3 VISION BOARD CREATION -- and Vision Board ACTIVATION -- what no one else will tell you about how to LIVE YOUR VISION TODAY...why Joyce knows the BEST way to do it even if you don't have the money or the time! WHAT MUST GO ON YOUR VISION BOARD? Why most vision boards don't work. Why pretty pictures are NOT important. 
CLASS #4 HOW TO MAKE MONEY WITH YOUR CVBC CERTIFICATE -- how to make $500 for a 1/2 day class. How to promote your certificate for little or no $ What you should know about how to set up your own online classes and how to do LIVE workwshops in your area or at national conferences. HOW TO BECOME A STAR as a Vision Board Coach in your region. INSIDE SECRETS no else will tell you except JOYCE!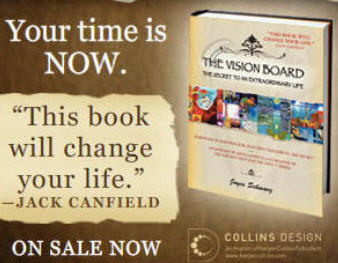 SIGN UP TO BECOME A CERTIFIED VISION BOARD COACH TODAY-- call Joyce Schwarz at 310-822-3119 or email: joyceschwarz@gmail.com 
Where

via teleconference sign up and get number
14004 Palawan Way
Marina del Rey, CA 90292


Organizer
THE VISION BOARD INSTITUTE founded by Joyce Schwarz offers the following services:
*Creation of Giant Vision Boards for Charity Benefits & Corporate events (call for details and price list)
*Accreditation as a Certified Vision Board Coach joyceschwarz@gmail.com
*Vision Board creation classes and workshops for corporations, churches, nonprofits and community groups and private parties & events, joyceschwarz@gmail.com