Become a Certified Vision Board Coach 4-week Telecourse Starts Tuesday December 18 @ 5 pm PT via 4 week (90 minutes each week) teleclass Get accredited in 4 weeks via teleclass with bestselling author Joyce Schwarz as seen on FOX TV NEWS

Tuesday, December 18, 2012 at 5:00 PM

-

Tuesday, January 22, 2013 at 5:00 PM (PST)
Event Details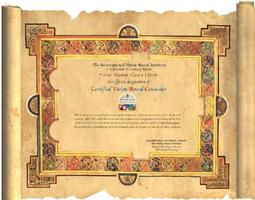 Sign up now to become a Certified Vision Board Coach -- next four week class starts December 18 and then take time off for Xmas and New Year's and then resume on January 8 (second class) third class January 15 and final class January 22.SCROLL DOWN TO SEE just some of the more than 100 endorsements we have for the Certified Vision Board Coach program! 
YES, you can make up to $500 and more per 1/2 day. One of our coaches Nicole Rhoades made $2500 in the first few weeks of 2012 alone! To get more info: email: joyceschwarz@gmail.com or call 310-822-3119 to talk with Joyce directly so she can give you a great deal and take your credit card via phone. scroll down for more info on the course syllabus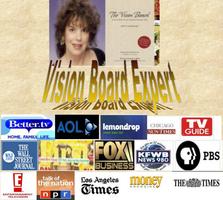 As you can see the Certified Vision Board Coach class has been featured on national and international media including FOX NEWS, PBS, TV GUIDE and more. Joyce Schwarz and THE VISION BOARD INSTITUTE, www.visionboardinstitute.com are the only people/group accredited to offer the CERTIFICATION OF CVBC (Certified Vision Board Coach). 
Become a Certified Vision Board Coach in 4 weeks via LIVE 90 minute teleworkshops with best-selling author Joyce Schwarz via phone.
No computer is necessary you can call in to a teleconference number (you get the number after you sign up) and then listen and participate in the call LIVE. You can even listen on your iPod, mobile phone or iPad
If you miss any of the four 90 minute calls they are all recorded and you get them to download and keep forever. If you live outside the USA you'll get the audios the next morning to listen to them that week. And you can participate via email in the class too. We'll even mention your name i.e. Mary from Scotland etc...
There is also a way to listen to the calls after via phone and I'll explain how you access the playback via phone after you sign up. 
WHAT THE FOUR WEEK CLASS COVERS
The four week course covers the following topics. Classes are kept small 4 -6 people max so you get lots of individual attention during the class. And Joyce remains open for quick phone calls from you in-between and for emails from you too. 
WEEK #1 DISCOVER THE POWER OF VISIONING for life and work
Visioning is a self-exploration process that can be done with individuals or in groups. You can do it for yourself and your business and life or practice these principles with your clients as a coach/student or in your workplace. 
Discover how VISTA, WORLDBANK and the United Nations use visioning to set goals, realize dreams and to help people embrace hope again after tragedy, job-loss or even death in the family. VIsioning is also used on a daily basis to create the best possible lives daily, weekly, monthly and beyond.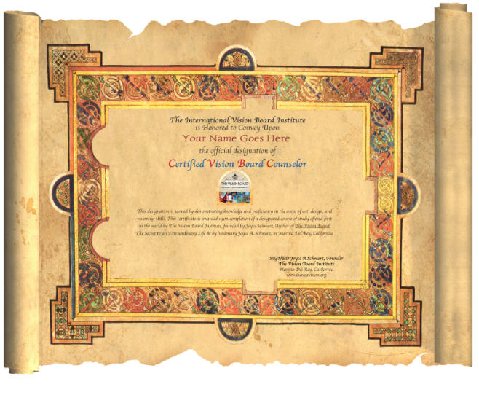 In Week #1 you will also learn these proprietary techniques Joyce Schwarz only with the CERTIFIED VISION BOARD COACHES: 
a) Passport to Possibility -- how to find out where you or your client is/are now so that you can create a vision path
b) Passport to Opportunity - how to help your clients and yourself get to where you want to go when you have a specific life or work objective ie TRAVEL TO PARIS for a Second Honeymoon
c) How to find your power words in 15 minutes or less
d) How to do the PICK THREE EXERCISE that lets you vision anywhere without any magazines, or any computer or any glue! 
DISCOVER THE GRABS FORMULA FOR SUCCESS -- Gratitude , Receive/release, Ask/Acknowledge/action, Be authentic, believe and share. 
WEEK #2 WHY A VISION STATEMENT IS CRUCIAL for life , work and family. 
You've all heard about mission statements (which some from the top down in corporations or in other institutions) but we go beyond the old fashioned top down Mission statement to explore and tap into the power of a VISION STATEMENT. What can you vision for your future and how to create the vision path to that vision!
In this class you will also learn CVBC proprietary techniques for: 
a) How to begin to live your VISION TODAY -- yes, even before you do a complete vision board.
b) How to change your motto (or your client's) and change your life
c) How to find DEFINING IMAGES anywhere and everywhere and tap into those that are RIGHT for you! 
d) How to determine if your vision is coming from the inside out -- from your values!~ 
WEEK #3 CREATING THE VISION BOARD and activating your vision and empowering and updating the vision****
In this week you'll discover how to create a vision board using our specific CVBC methods. 
WEEK #4 HOW TO MARKET YORUSELF AS A CERTIFIED VISION BOARD COACH -- bonus 50 ways to promote and market yourself fo rlittle or no cost. 
PLUS examples of how our coaches make at least $50 an hour to teach private course and up to $500 for 1/2 day. 
You'll also learn: 
a) How to take your power words and turn them into defining images
b) How to complement your defining images with inspirational quotes and other memorabilia -- ie ticket stubs, maps etc
c) HOW TO USE THE GRABS formula that is the 5 step secret formula that Joyce shares in her book and with her CVBCs to make sure that the vision board is as powerful as it can be! 
d) How to move away from magical thinking -- and magic wands into using both your left (analytical) and right (intuitive) brain power for your and your clients/students etc. 
e) Hand made versus digital boards -- why use what and when and where to find digital software for making vision boards
f) How to activate your vision board and how to help people who come to you when their VISION BOARD IS NOT working -- how to do a vision board analysis.
g) The 10 steps that you must do to create a powerful vision board (only revealed to CVBC grads)
CLASS #4 HOW TO PROMOTE and market your Certified Vision Board Coach Certificate
You will get a whole PDF on how to promote and market your CVBC certificate including more than 50 tips on how to: 
a) Teach a 3 hour class (I give you a whole suggested agenda)
b) What to charge for a 3 hour class
c) How to expand the class to a whole day class with little or no extra work
d) How to make $500 doing vision board consulting in 1/2 day when working with groups or organizatons
e) How to use your vision board skills to help raise funds for your local church, charity or nonprofit.
f) How to employ the vision board creation techniques and life and work visioning into your coaching practice if you are a coach or into your own life.
GRADUATION REQUIREMENTS are simple: 
1) You make a Business Vision Board (Joyce explains how) for your business about how you will use Vision BOards and/or visioning to do your business or LIFE better. If you do not have a business Joyce will work with you on how you can use this for your own life in creating income streams or in living a more powerful life
2) Fill out a simple FINAL FORM graduation form with 8 questions including questions about what you learned and how it changed your life! 
You also get:
a)   free listing on thewww.visionboardinstitute.com website
b)   Option to upgrade to a larger listing with your picture and your bio ($99 extra permanent listing)
c)   60 page instruction manual
d)   How to teach a 3 hour class handout/outline
e)   50 tips on how to promote our CVBC certification
f)     FREE monthly infocalls for CVBC grads 1 hour on the last Weds of each month
g)   Free promotion on Facebook
h)   Free admission to our LINKED IN GROUP which offers discussions on best practices
i)      Free 5 minute phone calls with Joyce anytime you want during her office hours 11 am to 2 pm Monday to Friday – from anywhere in the world. 
ENDORSEMENTS: 

ENDORSEMENTS FOR JOYCE SCHWARZ AND THE CVBC COURSES – The world's first certification for Vision Board Coaches offered by Joyce Schwarz & The International Vision Board Institute: joyceschwarz@gmail.com& www.visionboardinstitute.com
DOREEN ROMAN CVBC, Manitoba, Canada   
"Joyce is an awesome person and teacher.  She goes out of her way to help each of us received the requirements she has set down to become Certified Vision Board Counselor.  As a mentor, Joyce has wonderful suggestions, listens to what her students have to say, and really hears them. I would recommend the CVBC workshop series because I believe it is a great series.  It is simple to use.  I like simple."
SHARON SHENKER CVBC, Montreal, Canada 
"Joyce is beyond a doubt, the most energetic, stimulating and creative teacher I have ever had the pleasure of learning a new skill from. Her detailed knowledge of creating vision boards is only a small part of all that she shares with her students at The Vision Board Institute. I truly enjoyed the stimulating tele-conference classes I took with her to become one of her first Certified Vision Board Counselors." November 3, 2009

.Eileen Flagg I can't believe how fast the time flew by. From the first class I didn't know anything about vision boards and now, I feel like I've been doing them forever. I'd been planning the final vision board in my head for quite awhile until it came together, and when it did, it was pretty powerful to sit back and look at the final product. I became more in touch with my spiritual being after completing this class. Thank you Joyce.
  
Judith Fine-Sarchielli, Topanga, California  Artist and Owner, SARCHIELLI & ASSOCIATES 
 "Joyce was my teacher and mentor as the owner of the Vision Board Institute, where I became a Certified Vision Board Consultant. Joyce is one of the most creative teachers and marketing geniuses I have ever worked with in my 60 years as an artist. Her book, "The Vision Board" is a best selling masterpiece. I am very grateful to Joyce for all the inspiration and techniques she taught me during the Vision Board certification course," August 3, 2009

Rae Hight:   learned a great deal during the VB course and feel qualified to teach VB workshops and classes in a number of different                situations.  Joyce Schwarz is dynamic and passionate about her work and generous with sharing pointers, tips and resources for the growth and success of her students
 Dr. Sheri Wallace, Gainesville, Florida
The CVBC program offers the added benefit of assisting me in developing products and programs and marketing them effectively, while having access to the creative products of others in the program._ I believe there is a lot of value for the money spent on the program I enjoy the creative aspect of the course networking with others, and the opportunity to co-teach.  I've only had one private session so far with Joyce, but am overwhelmed with the wealth of information she willingly shared and all the ideas I got to follow up on.  I look forward to further consultation at the end of the class would recommend the CVBC series to anyone who is serious about doing this work and who is willing to have their creative spirit ignited.  The opportunity to be part of the network and have access to the ideas and products of the other CVBC—and to have them market my products—is priceless."

Tina Nies,
Joyce's personal approach in teaching her Vision Board Coach Certification course helped me create amazing vision boards for new projects in my own life. Her passion and experience are evident as she offers awesome insight about the pictures and words an individual chooses as they create their vision boards.  I'm very excited to begin helping entrepreneurs create Vision Boards as part of their business planning process. Thank you for your support!
Teri Shulte CVBC, Houston, Texas
"Here's what I really liked: The classes were informative, resourceful, enlightening, inspiring and fun * the podcasts with other guests were informative and the opportunity to do co-teaching was exciting. Plus of  course, Joyce's knowledge, wisdom and charisma My target audience will be churches, youth and entrepreneurs, helping as many people as I can to create a vision for their lives."    

Evelyn Lim , http://www.AbundanceTapestry.com
"I enjoyed learning from Joyce very much.  She provided me with many thought-provoking ideas and suggestions, challenging me to better myself. More than anything, Joyce touched me with her authenticity, sincerity and willingness to share what she knew.  Through connecting with Joyce and working through the vision board program, I have opened a new window of opportunity.  It allowed me to see how I can integrate two of my favorite interests together – creativity and personal development – interweaving them in an artistic expression for work purposes.  In the process, I have also become more congruent with myself.  I am grateful to Joyce for helping me to envision the life that I hope to create!" 
Donna Satchell, http://www.justgetserious.com
"This was an outstanding class!  I found it to be extremely valuable understanding of how vision boards can help people, how to interact with the students, and how to best teach classes.  Joyce has many excellent pre-board activities that can help people understand themselves and truly enhance the vision board creating.  I would recommend her class to anyone interested in teaching vision board classes in a way that will really impact and change people's lives."

Barbara Marville Kelly, 
"I enjoyed taking the class, and how Joyce makes hte process of creating a vision board fun, exciting, motivating, inspiring and easy to follow especially for Coaches incorporating it into their program." 

Fatima Kola, South Africa 
Joyce, I just want you to know how very thankful I am to you.  I really really do wish to meet you in person. Infact, I would not run my first class in South Africa without you and that is my vision for you and South Africa on the whole.
Rebecca Zuber, create.possibilities@me.com
What a wonderful class! Joyce Schwarz is a master at teaching and mentoring the Vision Board. I was able to understand and grasp the techniques of CVBC in depth , in a thoroughly enjoyable class.The Vision Board is exciting and broad in its application to various areas of our lives.Thanks to Joyce's attentive and skilled  guidance, I now have a valuable professional tool to se and impact others.I am now certified in Vision Boarding , and look forward to applying  all that I have mastered from the best.Highly recommended


Georgette Cohen,
I am ever so grateful for the opportunity to learn from Joyce Schwarz's Vision Board Counselor Training Program.  Joyce taught us with the wisdom, savvy and insight that she has gained throughout the years.   Her sharing of personal stories, in conjunction with the exercises, added the practical component to what can be viewed as a very spiritual, yet insightful program.  I feel inspired to begin teaching and sharing these techniques with others – as soon as possible.  Thank you, Joyce!   


Kelly Williams,
Initially, I didn't know what to 'expect' from Joyce Schwarz's Certified Vision Board Counselor Training.  Thus, I attended as an 'empty vessel,'-open, eager, anticipatory…ready to be 'filled.' Quickly, I realized that J.S. is a 'sharp' woman who 'knows her stuff'…and she 'doesn't apologize' for who she is and what she's experienced. Her style is rapid, fiery-yet 'balanced' with keen sensitivity and heightened intuition. When you meet up with Joyce, be 'prepared' for the 'emergence' of your 'boldest, baddest (this means good!!) self! She won't 'let you off of the hook' by staying mired and stuck in 'stories that no longer serve you!' She 'forces' you to create a new story…to formulate a 'new vision' of love, courage, passion and abundance. For me, my 'deepest lesson' I've walked away with from the training is that I AM the Alpha Wolf-a Creative, Wild Woman who now feels more prepared to 'stake her territory and find/create her tribe!'  Joyce Schwarz is a force to be reckoned with! 


Katina Stapleton: Other the past year, I have used my own vision board as an inspiration to become more active in the Lupus community. I thought to myself, "wouldn't it be great if I could teach others living with lupus to develop vision boards of their own?" I had no idea how to get started, so I contacted Joyce Schwarz, author of the Vision Board for advice. Joyce was so encouraging of my dream that I decided to sign up for her Vision Board Institute's vision board coach certification course.  It was one of the best ideas I have had in a long time. Attending Joyce's course has given me the confidence and skills to launch my Butterfly Lessons Vision Board workshop series for women with lupus this fall.  
 
Carol Dodsley UK: Joyce is an incredibly inspirational tutor and shares her passions and experience with ease throughout the course.  I love the way everyone taking the course is invited to participate in helping others to learn & to share their ideas with the class too.

Trinity Thomas:
 Joyce Schwarz's Vision Board class not only brought the process to life for me in an experiential way, but empowered my own visioning process. Her brilliant work on "the Who of the How" is an opportunity opening concept. Her ability to hear what isn't said as well as what is during her coaching led to revelatory moments for me and many other students. I particularly appreciated Joyce's final comments in this course, that she is "holding out her hand" to us; her teaching model feels like the classic "wind beneath my wings" model. Joyce's deep understanding of the process of focusing on one's authentic talents, refining goals, and knowing they can be achieved comes from her own authentic ability to create her life and her many years of re-careering and executive coaching. A Vision Board class with Joyce is a chance to give yourself the personal epiphany you've been waiting for, to learn to use powerful creative principles on your own 
Mikki St. Germain
Thank you Joyce Schwarz for an Amazing Class with The Vision Board. It has helped me to succeed in my own journey for my future and given me the vision to what direction I truly desire to travel. I know with your knowledge and teaching, I will be able to offer to my clients another avenue of learning about themselves to grow, change and move forward. I extremely enjoyed your class and feel privlaged to be part of your group. Thank you again , 
"Joyce is one powerful, inspiring, visionary woman. In her CVBC training course she gives you effective tips and techniques to create a vision board (or several of them) so your dreams will come true. Joyce impresses me by how she accomplishes so much and yet always is generous, compassionate and helpful. I'm so excited as I'm now watching my goals become a reality, with the help of my  vision boards."
-      
 Connie Bennett, CHHC, CPC, ACC, Author, Sugar Shock! (Berkley Books) and Beyond Sugar Shock (Upcoming/Hay House),
www.SugarShockBlog.com
 and 
www.BreakFreeWithConnie.com
TO SEE MORE ENDORSEMENTS and articles and TV shows email: joyceschwarz@gmail.com or 310-822-3119
as seen on FOX TV, FOX BUSINESS News, E Entertainment TV, WALL STREET JOURNAL and more! 
When & Where

Conference Call from Joyce's Office
14004 Palawan Way
Penthouse 6
Marina Del Rey, CA 90292


Tuesday, December 18, 2012 at 5:00 PM

-

Tuesday, January 22, 2013 at 5:00 PM (PST)
Add to my calendar
Organizer
THE VISION BOARD INSTITUTE founded by Joyce Schwarz offers the following services:
*Creation of Giant Vision Boards for Charity Benefits & Corporate events (call for details and price list)
*Accreditation as a Certified Vision Board Coach joyceschwarz@gmail.com
*Vision Board creation classes and workshops for corporations, churches, nonprofits and community groups and private parties & events, joyceschwarz@gmail.com