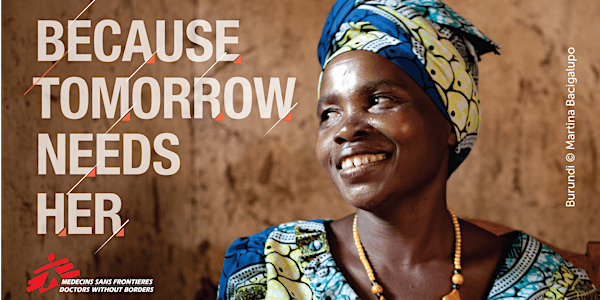 Because Tomorrow Needs Her: Panel Discussion in NYC
When and where
Location
Robbins Auditorium Albert Einstein College of Medicine 1300 Morris Park Ave Bronx, NY 10461
Description
6:00 PM Reception - Forchheimer Main Street Cafe
7:00 PM Panel Discussion - Robbins Auditorium
Albert Einstein College of Medicine
1300 Morris Park Ave
Bronx, NY 10461
Join Doctors Without Borders/Médecins Sans Frontières (MSF) for a special photo exhibit and panel discussion related to Because Tomorrow Needs Her, a multimedia project about the efforts undertaken by MSF to improve the access to and quality of women's health care worldwide.
Click here for public transporation and driving directions, and parking information.
Following the reception, Denise Grady of the New York Times will lead a discussion between MSF field workers and the director of Albert Einstein College of Medicine's Global Women's Health Program, who will all share stories of women they've been able to help, those they haven't, and what still needs to be done.
This event will correspond with an exhibition of photographs by international, award-winning photojournalists covering women's health in developing countries. The exhibit will be on display from May 5 to May 31, from 9:00 AM to 9:00 PM, on the first floor of the Forchheimer Medical Science Building.
#TomorrowNeedsHer
Panelists:
Veronica Ades, MD, MPH, is a board-certified obstetrician-gynecologist. During her fellowship in reproductive infectious disease at the University of California-San Francisco, she lived and worked in rural Uganda, and conducted research on placental malaria in HIV-infected and –uninfected women. Dr. Ades has worked with MSF on assignments in Aweil, South Sudan, in 2012 and 2016, and in Irbid, Jordan, in 2013. Dr. Ades is currently an assistant professor of obstetrics and gynecology and director of Global Women's Health at the New York University School of Medicine (NYUMC). Her clinical work is at the New York Harbor VA and at Gouverneur Health. At NYUMC, Dr. Ades has created an educational and research partnership with Korle Bu Teaching Hospital in Accra, Ghana. She is also the director of the EMPOWER Clinic for Survivors of Sex Trafficking and Sexual Violence at Gouverneur Health on the Lower East Side. She also runs the EMPOWER lab at the NYU College of Global Public Health, where she has active research projects on family planning in Latina women, domestic violence in Latina women, and the reproductive health survivors of torture and survivors of sex trafficking and sexual violence.
Darin Portnoy, MD, MPH, is an associate professor at the Albert Einstein School of Medicine and faculty for the residency program in family and social medicine and attending physician at Montefiore Medical Center in the Bronx. Darin is the former international vice president of MSF. Prior to this, he served as president of the board of directors for MSF-USA, and on its board of directors. He has worked with MSF since 1997 in Central Asia, Central America and throughout Africa with multiple assignments to South Sudan and Liberia, including a response to the recent Ebola epidemic. Since 2011, he has been a member of MSF-USA's board of advisors. In addition to work with MSF, he serves on the board of directors for Drugs for Neglected Diseases Initiative (DNDi) in its North American office, and is on the advisory committee for the health and human rights division of Human Rights Watch. He practices now at Montefiore's Family Health Center in the Bronx. He previously worked in rural Colorado, caring for ranchers, farmers, and migrant workers. Prior to that, Darin worked for five years with the United States Public Health Service as an Indian Health Service doctor on the Navajo Reservation.
Lisa Nathan, MD, MPH, is an assistant professor in the department of Obstetrics & Gynecology and Women's Health, and is the director of the department's Women's Global Health program. Dr. Nathan first began working in Africa prior to medical school, when she did volunteer work and research with HIV+ orphans in Kenya. During her OBGYN residency, she travelled to Benin to assist in a fistula surgical repair mission. She has since worked and consulted on fistula repair initiatives in Kenya, Benin, Uganda, Ethiopia, and Rwanda. Based in Rwanda since 2009, her work mainly focuses on maternal morbidity and mortality prevention. She has established a maternity center and mobile reproductive health program serving over thirty local villages.
Aerlyn Pfeil is a certified professional midwife from Portland, Oregon. In 2011, after working as a home birth midwife, she joined MSF and went on to work in South Sudan, Haiti, Senegal, the Somali region of Ethiopia, and Papua New Guinea. In addition to performing clinical maternal health work, she has trained midwives and community health workers and treated survivors of sexual violence. Pfeil has also trained MSF staff on gender issues and the delivery of medical and psychological care for sexual violence survivors. In 2014, she served as medical team leader for MSF's treatment and training program for survivors of family and sexual violence in Papua New Guinea.
Denise Grady, moderator, is a science reporter for the New York Times.