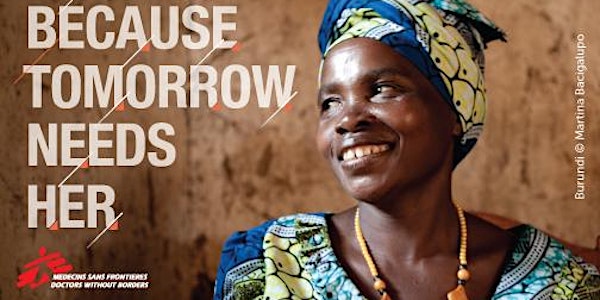 Because Tomorrow Needs Her: Chicago
When and where
Location
Schubas Tavern 3159 N Southport Ave Chicago, IL 60657
Description
Local MSF aid worker Rebecca Singer will discuss the challenges that keep women in developing countries from getting the health care they urgently need.
Because Tomorrow Needs Her is an urgent call to all involved and all who care that more needs to be done to address the specific medical needs of women and girls around the world. We know how to save their lives, yet 800 women die every day from pregnancy-related causes. We know how to ease their suffering, yet many victims of sexual violence go without any medical or psychological care. Millions of newborns die in the first weeks of life from preventable causes. And while we know how to keep HIV-positive mothers from passing the virus to their babies, every day 700 children come into the world with HIV. The project includes photos and videos by award-winning photographers.
Rebecca will give a multimedia presentation about these issues and others, and also share her experience treating women and children in Liberia, Kenya, Chad, Zimbabwe, Papua New Guinea, and the Democratic Republic of the Congo.
A Q&A will follow.
This is a FREE event, but seating is limited so please register in advance!
You may cancel your reservation if you are no longer able to attend.
About the presenter:
Rebecca Singer is a doctorally prepared nurse with over a decade of experience in humanitarian response and development work. She spent nearly five years with MSF, providing services to survivors of sexual and family violence in Liberia, Kenya, Chad, Democratic Republic of Congo, Zimbabwe, Papua New Guinea. Most recently, she was in Tanzania, working with Burundian refugees. She also worked with survivors of torture who had immigrated to the United States, ensuring that they had adequate health care. Ms. Singer has worked with several development organizations dedicated to improving coffee farmers' lives. She was the executive director of Coffee Kids until March 2015. Before becoming a nurse, Ms. Singer worked in community relations and as a communications manager for a membership organization. The experiences shaped Rebecca's embrace of direct patient care and advocacy with a community approach.
For more information about Because Tomorrow Needs Her, visit womenshealth.msf.org