Date and time
Saturday, October 26, 2013 · 9:30am - 4:30pm EDT
Location
abc carpet & home 888 Broadway New York, NY 10003
Refund Policy
Contact the organizer to request a refund.
Description
Beauty Wellness Wisdom
wellness schedule
9:30am
Welcome
Organic, Fair Trade Coffee and Lov Tea
Organic Avenue Juice Tasting

mainstage, deepak homebase
9:45am
Self-care is Sexy
Opening Talk with Headlining Speaker, Kris Carr
11:15am
Journey of a Medicine Man by Dr. Frank Lipman
and conversation with the Wellness Coaches
12:15pm
Vani Hari, the Food Babe interviewed by
Melisse Gelula, Co-Founder of Well+Good
12:45pm
A Heartfelt Guided Meditation by Agapi Stassinopoulos

1pm
Optional Lunch Break
A limited number of prix fixe lunch reservations are being held at abc kitchen and abc cocina. Please see below for reservation details.

mainstage, deepak homebase
1pm
Reclaiming Our Sacred Beauty by Demitra Vassiliadis

1:30pm
Ayurvedic Knowledge with Dr. Pratima Raichur

2-2:30 & 2:30-3pm -- 2 sessions
Yoga in the Workplace with Amanda Harding & Alternative Apparel
mezzanine, embody, abcDream (3rd flr), abcmkt (lower level)
1pm-3:30pm
Wellness Consultations with Dr. Frank Lipman's Coaches
Eyecare Treatments by Anti-Aging Skincare Guru, Tracie Martyn
Mini Makeovers with Rose-Marie Swift
Private Consultations with Dr. Pratima Raichur and Rosemare Sepulveda
Aroma Sessions with Hope Gillerman
Hand & Arm Massages by the Team from Intelligent Nutrients
Trunk Show with Melissa Joy Manning
Mini-facials with the Team from Tata Harper
Ingredient Sleuthing and Detox Sessions with Adina Grigore, S.W. Basics
Naptime at abc: Preparing for a Restful Sleep with Agapi Stassinopoulos
*upstairs in abcDream, 3rd Floor
Choclate Tastings with Raaka Chocolate
*downstairs in abcmkt, lower level
mainstage, deepak homebase
4pm
Closing Meditation and Reflection with Gabrielle Bernstein
abc kitchen and abc cocina reservations limited reservations are available for 1pm shared, family style lunch; $55 prix fixe; tip & tax included
please call (212) 475-5829 to reserve
Our Beauty Wellness Wisdom day will include additional workshops and demonstrations by Organic Avenue, Sort of Coal, Lov Tea, Raaka Chocolate, Kopali Chocolates, Alternative Apparel, and
H Gillerman Organics.
Schedule subject to slight time changes and additional programming;
all participants will be emailed accordingly.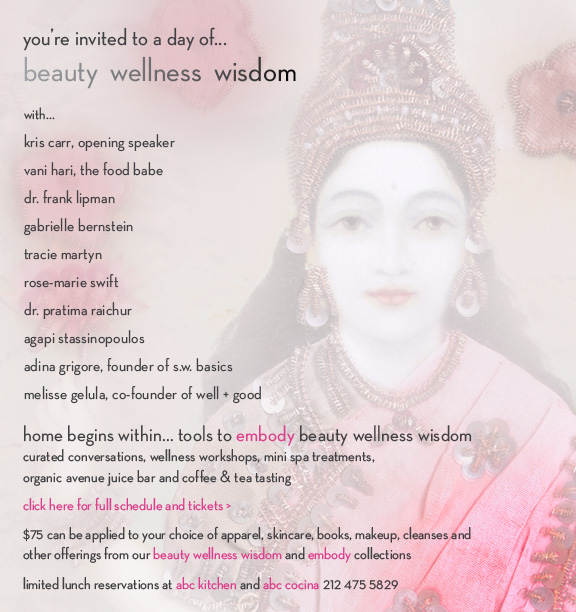 Speakers in Residence for Beauty Wellness Wisdom, Fall 2013
kris carr, opening speaker
Kris Carr is a New York Times best-selling author, speaker and health advocate. She is the subject and director of the documentary, Crazy Sexy Cancer, which aired on TLC and The Oprah Winfrey Network. Kris is also the author of the award-winning Crazy Sexy Cancer book series, which have been translated into 12 languages. Her latest books, Crazy Sexy Diet and Crazy Sexy Kitchen, will change the way you live, love and eat! Kris regularly lectures at hospitals, wellness centers, corporations such as Whole Foods, and Harvard University. Media appearances include: Good Morning America, Today, The Early Show, CBS Evening News, Access Hollywood, The Doctors, Super Soul Sunday and The Oprah Winfrey Show. As an irreverent foot soldier in the fight against disease, Kris inspires countless people to take charge of their health and happiness by adopting a plant-passionate diet, practicing self-care, and learning to live and love like you really mean it.
frank lipman, md
A leader in the field of integrative medicine, Dr. Lipman became board certified in internal medicine after serving as chief medical resident in his final year of residency at Lincoln Hospital in New York City. He now practices an originative blend of what has been coined "good medicine," combining each of his areas of expertise including: internal medicine, acupuncture, herbal medicine, functional medicine, nutrition, biofeedback, meditation, and yoga.
vani hari
Blogger, investigative journalist, and food activist, Vani Hari is impassioned by knowing how food affects health. She established her website, FoodBabe.com, to spread information about what is really in the American food supply, helping her global readership make informed food purchasing decisions. Vani's activism brought national attention at the Democratic National Convention when she used her status as an elected delegate to protest in front of the U.S. Secretary of Agriculture on the issue of GMO labeling. She has been featured nationally on Dr. Oz, Good Morning America, CNN, NY Times and USA Today.

melisse gelula
Melisse Gelula is the former editor-in-chief of SpaFinderLifestyle.com, spa beauty editor at Luxury SpaFinder Magazine, and travel editor at Fodor's Travel Publications. She has an MA in English Literature from the University of Toronto and has completed six years of training as a psychoanalyst. Melisse has written for such publications as Departures, Martha Stewart Living, Organic Spa, and Budget Travel and has been featured as an industry expert in the New York Times and on CNN.com, the Travel Channel, E! News, and more.

gabrielle bernstein
Featured on Oprah's Super Soul Sunday as a next generation thought leader, Gabrielle Bernstein is making her mark. Gabrielle is the New York Times bestselling author of the book May Cause Miracles. Her earlier titles include Add More ~Ing To Your Life and Spirit Junkie. Forbes named Gabrielle one of the top 20 Best Branded Women and YouTube named her one of their next Vloggers, Gabrielle is also the founder of the social networking site HerFuture.com for women to inspire, empower and connect.
agapi stassinopoulos
Greek born, Agapi Stassinopoulos is a best-selling author and speaker who inspires audiences around the world. Her most recent book, Unbinding the Heart, has been featured on Oprah.com, HuffPost Live, CBS's The Talk, and The Martha Stewart Show, among others. She uplifts and warms the hearts of audiences from the American Heart Association, Women's Conferences, Entrepreneurial Organizations, the Girl Scouts of America, TED, and many more. Agapi has written two more books on the Greek Archetypes, Gods and Goddesses in Love, and Conversations with the Goddesses, which were turned into PBS shows. She developed a curriculum on Heartfelt Leadership for the Wharton Business School that shares the tools to bring conscious leadership into today's workplace. Her passion is to help others unlock their gifts to fully express themselves and help her fellow human beings live a fulfilling life.

rose-marie swift
Combined with extensive research of organic ingredients and her two decades of professional experience as a make-up artist, Rose-Marie launched the rms beauty line in 2008 as the first truly organic color cosmetics brand anywhere in the world. As an outspoken advocate for protecting ourselves from toxic chemicals found in products we use on our bodies daily, Rose-Marie is frequently interviewed for health and beauty publications.
tracie martyn
British-born New York beauty expert, Tracie Martyn is the authority to whom numerous designers, actors, and models, including Diane Von Furstenberg, Kate Winslet, and Georgia Jagger, entrust their faces as the premier choice for a non-invasive, yet effective approach to beauty. Her powerful range of luxe, all-natural skincare is scientifically formulated for fast results targeting wrinkles, lack of elasticity, sun-damage, large pores, hyperpigmentation, and other concerns. Tracie's eponymous line, petrochemical free blends of organic botanicals with natural cosmeceuticals, provide an easy to use and enjoyable beauty ritual and has been featured in Vogue, Vanity Fair, InStyle, Elle and Harper's Bazaar, as well as on the Oprah Winfrey Show.
dr. pratima raichur
Visionary and pioneer of the Ayurvedic Skincare field, Dr. Raichur combines the wisdom of Ayurveda with her expertise as a chemist, botanist, aesthetician and ayurvedic doctor to compose a holistic system for skin wellness and her remarkable line of pure, organic products, PRATIMA. Dr. Raichur is also an international lecturer and the author of the best-selling book, Absolute Beauty.
amanda harding
amanda harding is the co-owner of Prema Yoga Brooklyn where she teaches weekly Vinyasa flow classes as well as private/corporate clients across NYC & Los Angeles through her company, Karuna. She is the creator of a program 'Yoga on Set' which provides weekly yoga sessions to the cast and crews of NY based film, television and photo shoots. Currently one of Lululemon's Brooklyn Ambassadors, she has been featured in Vogue, Origin Magazine and holds yearly sold out retreats to such locales as Tulum, Costa Rica, the Berkshires, Australia and more. Heavily influenced by Tibetan Buddhist philosophy as well as the Bhakti yoga tradition, Amanda teaches a disciplined and vigorous mindfully creative class incorporating the fluidity of dance and music/chanting with heavy emphasis on alignment, breath, patience and fun. She is dedicated to bringing the benefits of yoga infused with spaciousness of the mind, body and heart to as many people as she can.
adina grigore
Adina Grigore is founder and CEO of the all-natural, sustainable skincare line S.W. Basics. She's worked in the wellness industry since 2007 as a private holistic nutritionist, personal trainer at Equinox fitness, and jill-of-all-trades at the raw-food meccas Pure Food and Wine and One Lucky Duck. She started S.W. Basics to provide products that are gentle for even the most sensitive skin thanks to their minimalist formulas and whole, high-potency ingredients. It's an approach that has earned Adina and S.W. Basics the praise of celebrities like Gwyneth Paltrow, Isla Fisher, and Hayley Williams of the band Paramore; as well as features in Vogue, O Magazine, W, Martha Stewart Living, InStyle, Us Weekly, People StyleWatch, Goop, Daily Candy, and many more.
About the organizer
abc carpet & home is a New York City design destination, a portal into collective creativity, integrating healing, education, theater, art and other forms of interconnectivity. With beauty + design as tools, abc guides a conscious participant to creatively commit to nurturing the planet and its communities while actualizing home as a sacred space.