Description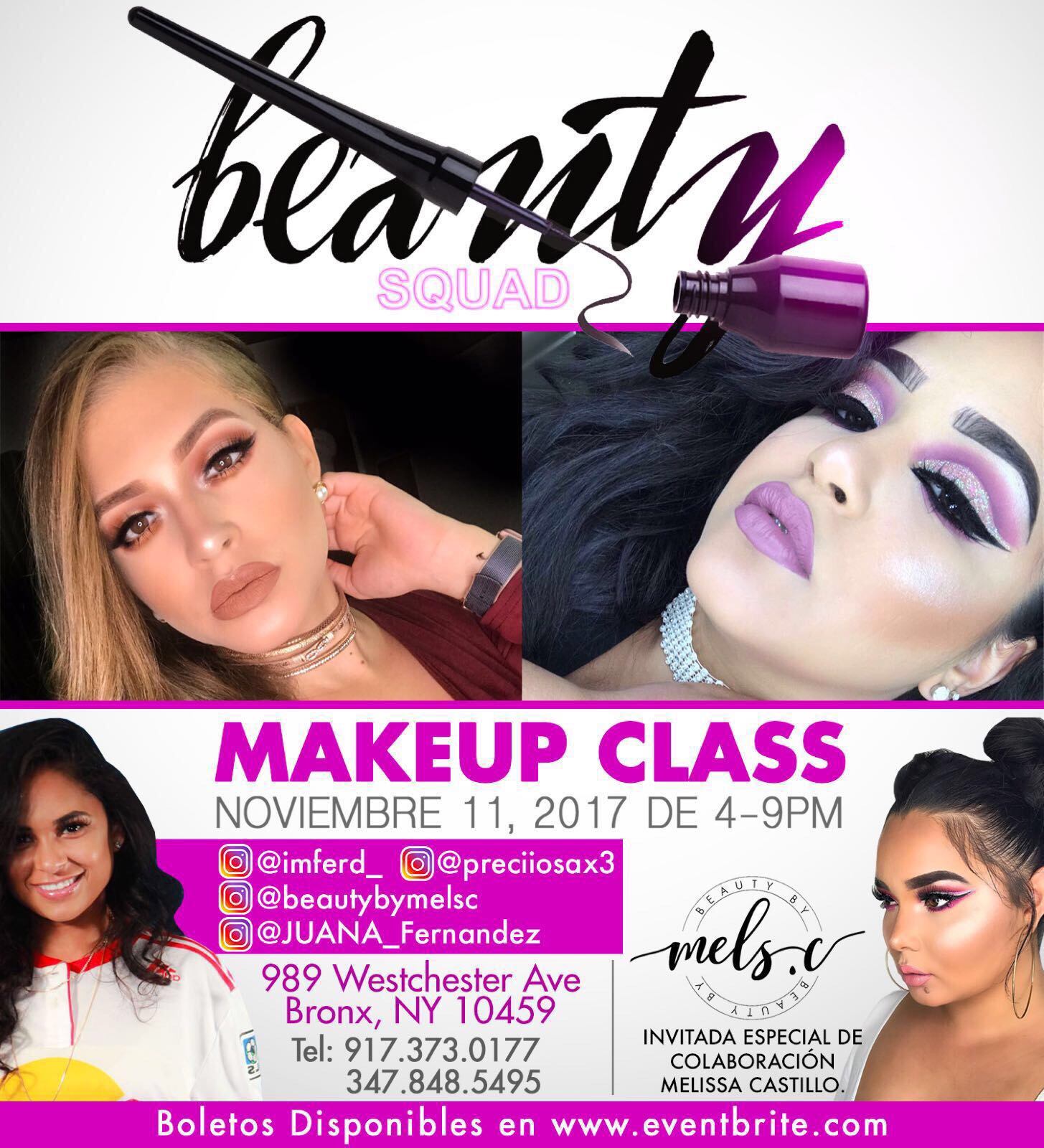 Beauty Squad presents to you a collaboration with Beautybymelsc: A Makeup Class full of fun, while learning how to apply your makeup. Be ready to learn those tips and tricks that you need to know to better your makeup skills. Tickets are SELLING FAST !! Makeupbymelsc along with Imferd_ & Preciiosax3 will be creating a makeup look on our gorgeous model Juana Fernandez, as you all watch and apply the same skills on YOURSELF as we go along together. We will be teaching YOU, how to apply your makeup STEP BY STEP as you follow along. WE WON'T LEAVE YOU BEHIND. We will help you create a BEAUTY ROUTINE that you can follow daily for work or play. You will defitnely learn how to accentuate your best feautres, choose the right colors, & apply with ease. We will be having games & giveaways. Food & Drinks will also be served. So come prepared to laugh, learn, & have lots of fun together!
---
ALL THE MAKEUP PRODUCTS & MATERIALS THAT YOU WILL USE OR NEED THE DAY OF THE CLASS WILL BE PROVIDED TO YOU!! SO THERE'S NO NEED TO BRING ANYTHING, JUST YOUR BEAUTIFUL FACE.
---
This is a makeup class for beginners who would like to sharpen their skills and learn new beauty techniques. So don't miss out on this beautiful oppurtunity to improve and also follow your passion with makeup!
MAKEUP CLASS WILL COVER:
Skin Preparation ( Moisturize Dry & Oily Skin/Primer)
EyeBrow Techniques (Achieve those FLEEKY brows)
Shadow Blending & Transitional Colors (Choosing the right Colors)
Foundation (Full coverage)
Contouring
Highlighting (Shine Bright like a Diamond)
Blush & Bronzer
Baking (Setting your face)
Mascara, & False Lashes
Types of brushes & MUCH MORE !!
CANCELLATION NOTICE: There will be NO REFUND!
Please Arrive on time & Get ready to have fun & learn with the BEAUTY SQUAD !!
DRESS CODE: Please wear all Black Everything !
Follow Us On Instagram: @Imferd__ @preciiosax3 @beautymelsc