About this Event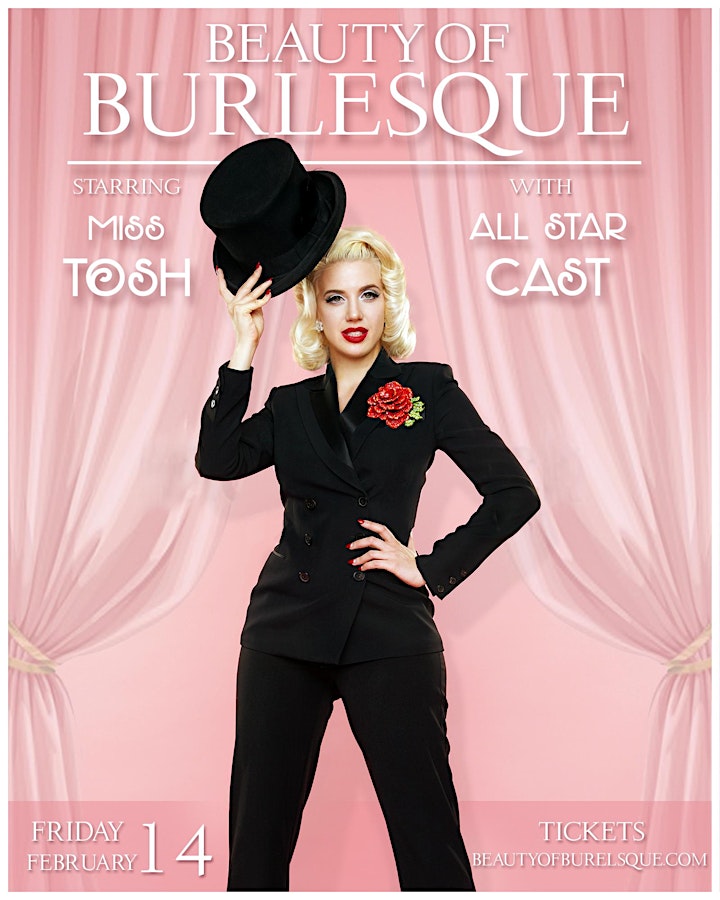 Beauty of Burlesque
14 Febuary | 21 + | 6PM - 10PM
Celebrate love with a glamorous Valentines Day performance at the Historic Globe Theater. A full length revue featuring burlesque star, Miss Tosh and cast of world class Varietease entertainers. A full length burlesque revue that brings the golden era of Hollywood to life on stage. Let us set the mood as you enjoy the show seated at a romantic candle lit table. We are sure to leave you dazzled and in the mood for love.
21 & OVER ** two drink minimum **
Starring Miss Tosh
Eva Zigfield
Minxie Mimieux
Zachariah the Witch
Loretta E.
Pansy
Mila Spigalon
Atomic Cherry Bombs
The Beauties of Burlesque
+ Surprise Guests
Meet & Greet :
Beauty of Burlesque Meet & Greet Experience invites you to have an exclusive one on one photo opportunity with Miss Tosh & cast after the show. Purchased in addition to your show ticket.
Ticket Type:
VIP Opera Box: Perfect for parties up to 8 guest. Enjoy a birds eye view from your very own decadent opera box that was once frequented by Charlie Chaplin and Marilyn Monroe! Talk about glamour ! 1 Bottle of Champagne + Dessert Platter + Meet & Greet
VIP Champagne Banquette : This section is perfect of larger parties or small groups looking for luxury private seating. Located on the mezzanine level with a birds eye view of the show. 1 Bottle of Champagne + Meet & Greet
VIP Luxury Sofa : Enjoy luxury private seating on leather sofas. Located center stage with the best view of the show. 1 Bottle Champagne + Meet & Greet
VIP Center Stage : The section offers the best seats in the house with a gorgeous view of the entire show! Cocktail seating front and center at the end of the VIP catwalk stage.
Front Row: You will feel like you are apart of the show with an up close view of our dazzling entertainers. This section is cocktail seating front row along the VIP catwalk stage.
GA Second Row :General Admission offers candel light cocktail table seating right behind the VIP section.
GA:Great for small and large parties. This section has romantic cocktail table seating located on the floor of the historic Globe Theater .
Mezzanine:Get a birds eye view of the show from the beautiful Mezzanine balcony.