Beauty is Skin Deep

Friday, March 4, 2011 from 7:00 PM to 10:00 PM (EST)
Event Details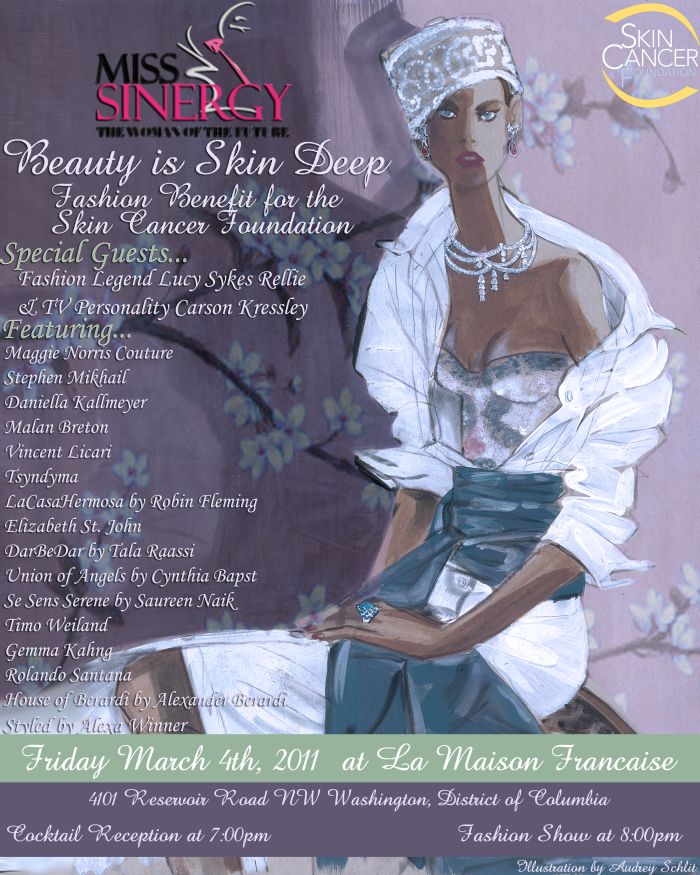 Miss Sinergy Announces 2nd Annual Charity Fashion Show, "Beauty is Skin Deep" to raise awareness for the Skin Cancer Foundation

WASHINGTON, D.C. - Miss Sinergy will be hosting its second annual fashion show, "Beauty is Skin Deep" on Friday, March 4, 2011 at the Embassy of France, located at 4101 Reservoir Road, N.W. Washington DC 20007.  The show will benefit the Skin Cancer Foundation in order to raise awareness on the most common form of cancer found worldwide.  "Beauty is Skin Deep" will bring together the expertise of internationally famous designers including Potomac native and headliner, Daniella Kallmeyer, Maggie Norris Couture, Malan Breton, House of Berardi, Timo Weiland, Tsyndyma, Vincent Licari and Alberto Parada to name a few. Notable Manhattan socialite Alexa Winner will be styling the show.

Local news anchor at WTTG, Will Thomas, will play master of ceremony for this premiere fashion event.  Other celebrity guests will include Princess Margaret-Anne Mazzi of Uganda; Viscount Saava Wampamba; Lucy Sykes Rellie; former fashion director of Marie Claire magazine; Carson Kressley, star of the popular Bravo television show "Queer Eye for the Straight Guy;" Sloane Momsen, actress; Hilary Rhoda, supermodel and face of Estée Lauder cosmetics; and Karie Erskine, wife of Washington Capitals' defenseman, John Erskine, and model for this event.

Miss Sinergy is an event planning company for charities and non-profit organizations. The Miss Sinergy competition is held annually as a means to crown and promote a charitable ambassador who creates and champions the platform of her own choice during her twelve month reign.  This year, women from all over the United States competed for the title of Miss Sinergy, and were voted on based off of their contributions and desire to aid national and international charitable causes affecting the quality of life around the world.

The current Miss Sinergy is Megan McConville, a 23 year-old graduate of George Mason University in Health and Human Services.  As a global nomad Megan spent the majority of her life living abroad with her family.  She spent her early childhood growing up in Nigeria and South Africa, and her middle school and early high school years in Indonesia.  In 2001, Megan moved back to the Northern Virginia area.  In college, Megan was a member of the GMU Women's Track Team; active in the Leadership, Education, and Development office; became a resident advisor; assistant coached the Mason Life Special Olympics team; and was an active member of the Chi Omega fraternity.

The Skin Cancer Foundation, founded in 1979, has set the standard for educating the public and the medical profession about skin cancer, its prevention by means of sun protection, the need for early detection, and prompt, effective treatment.  It is the only international organization devoted solely to combating the world's most common cancer, now occurring at epidemic levels.

A press engagement will be held prior to the show at The Jefferson, Washington DC on Friday, March 4th from 1:00 pm to 3:00 pm with aforementioned hosts, special guests, and designers.  Please register with us at Contact@misssinergy.com.


FEATURING:
Stephen Mikhail - stephenmikhail.com 
Dar Be Dar - darbedar.net/home
Daniella Kallmeyer - daniellakallmeyer.com
Vincent Licari - vincentlicari.com
Elizabeth St. John - Elizabethstjohn.com/
Tsyndyma –  www.tsyndymaonline.com
La Casa Hermosa lacasahermosa.com
Union of Angels unionofangels.com
Se Sens Serene sesensserene.com
Gemma Kahng gemmakahng.com
Timo Weiland timoweiland.com
Rolando Santana rolandosantana.com
House of Berardi houseofberardi.com
Digitalebas digitalebas.com
Alex Teih alexteih.com
Malan Breton malanbreton.com
Maggie Norris Couture maggienorriscouture.com

Fine Jewelry & Accessories 
Alberto Parada Fine Sustainable Jewelry - albertoparada.com/
Vivian Cavalieri Fine Jewelry - viviancavalieri.com/
Alex Soldier, Fine Jewelry - alexsoldier.com/
Ricki L. www.rickil.com/
Gabriel Jones LTD gabrieljonesltd.com
Queen Bee designs by Allison Priebe Brook - http://www.queenbeedesigns.com/
ID X-Change - idxchange.com
Swan Boutique - www.swanboutique.com
Liz O Studio - www.swanboutique.com
Standing Room Only: $25.00
Includes admission to the fashion show.
Includes guaranteed seating during the fashion show
Limited open bar by French Cognac sponsor, Comandon
Platinum VIP Tickets: $110.00
Photo op with models and designers
Premium open bar for duration of the fashion show
Invitation to exclusive afterparty at an undisclosed location
Swag bags with donated gifts from sponsors
Contact for sponsorship opportunity: (703) 533-8027 or email us at Contact@MissSinergy.com
Proceeds from this event will go to benefit the Skin Cancer Foundation, skincancer.org
www.MissSinergy.com
When & Where
4101 Reservoir Rd NW
Washington, 20007


Friday, March 4, 2011 from 7:00 PM to 10:00 PM (EST)
Add to my calendar
Organizer
Miss Sinergy is a woman empowerment program, founded in 2009 by The Sinergy Group, an umbrella corporation that provides marketing services like event coordination, promotion, and audio-visual services. The intent and purpose of Miss Sinergy is to applaud the coronation of an ambassador who raises awareness for social causes and philanthropy domestically and abroad.
During the past three fall seasons, the Miss Sinergy organization has brought together representation from over sixty countries in leaders, educators, as well as philanthropic enthusiasts, to crown the past three Miss Sinergy ambassadors. The competition itself benefits awareness for the leading killing cancer of women internationally, breast cancer.
Throughout the tenure of Miss Sinergy's reign, she is responsible to coordinate events throughout the year. In the past three years, we have worked with Susan G. Komen for the Cure, The Libby Ross Foundation, Becky's Fund, The Skin Cancer Foundation, USO, Calvary Women's Services, The Hope Lodge, and more.
During the 2012 competition, the Miss Sinergy organization partnered with the Libby Ross Foundation, a non-profit group dedicated to assisting those afflicted with and surviving breast cancer through the unique approach of yoga therapy, in order to raise money and awareness.
The first Miss Sinergy was held November 14th, 2009 at the House of Sweden on the Georgetown Waterfront. The event culminated in the coronation of Allyn Rose.
On October 16th, 2010, Allyn Rose crowned her successor, Megan McConville at the House of Sweden.
On October 22nd, 2011, Megan McConville crowned her successor, Lydia Hu at La Maison Francaise.