Description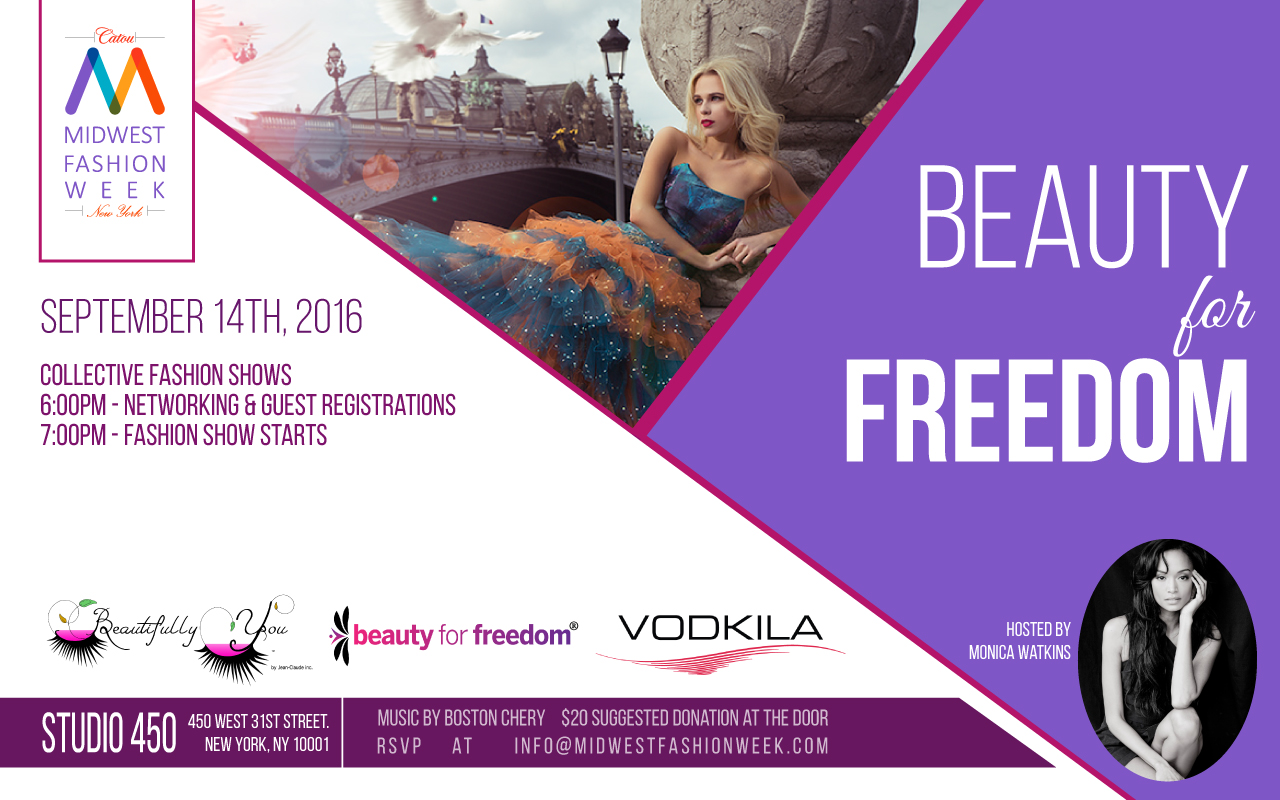 Beauty for Freedom Fashion Show
September 14TH, 2016
6pm Registration
Host: Monica Watkins


Location: Studio 450
450 West 31st Street.
New York, NY 10001
$20 suggested donation at the door
On Wednesday 14th September Midwest Fashion Week will present collections from Wonderful designers in runway shows during New York Fashion Week.
About Beauty for Freedom
Beauty for Freedom is an innovative, sustainable platform providing the industries of Beauty and Fashion with a means to raise awareness, accountability, and financial contributions for charitable foundations and non-profits who fight human trafficking globally.
Fall 2016, Beauty for Freedom will be producing a series of music, photography, jewelry-making and movement workshops in India meant to promote self-esteem and self-expression for survivors of sex-trafficking. Beauty for Freedom has been fierce in its mission to engage the industries of Beauty and Fashion as powerful allies in the fight to end human trafficking through public campaigns, workshops, and fundraising events.
Monica Watkins, successful Ford model, artist and philanthropist, combined her passion for helping others and an understanding of the power of art and created Art in Motion (AIM) in 2008. AIM serves as a platform to seek out and nurture young, disadvantaged youth, allowing them to reach their potential and enhance the world around them by setting an example of giving, hope and achievement. AIM emphasizes charity, social consciousness, artistic freedom and global harmony.
Through AIM, Monica has created art, music, fashion, and photography workshops to more than 1,300 children in Europe, Haiti, Asia, the Dominican Republic and America working with incredible organizations and programs. Over the past several years Monica has managed artists and created and hosted the Art in Motion TV/Radio Show at Urban Latino Radio. Additionally, Monica has shot and directed two documentary films, shot and art directed fashion and photography campaigns and organized/produced numerous charity events. Monica is also the Co-Founder and Executive Director of Beauty for Freedom, a New York City based anti-trafficking non-profit. Monica's vision and immense contribution to Beauty for Freedom stems from her passion of assisting those who require help most. As an integral part of the team, she is determined to eradicate the global tragedy that human trafficking has become.
Organizer of Beauty for Freedom Fashion Show
Midwest Fashion Week is dedicated to empowering the creative efforts of the clothing design community through events that connect people to take positive action for the common good while discovering new ways to express individuality through fashion.
Since it began, MFW has been committed to building a lasting relationship with the community. While we love fashion, it is our belief that empowerment and inspiration are vital to the development of strong communities. By partnering with not-for-profit organizations each year, the MFW invites people of all walks of life to find out how they can help. Over the years, the MFW has worked with organiz
ations including, United Way, Ambassador for Children, American Autism Society of Indiana, and CARA Charities which promotes community projects that benefit children's safety and well-being. The MFW has always been an event that empowers and strengthens communities, and the tradition continues .

MFW's producer, Berny Martin is passionate about giving back; whether it's through one-on-one support of emerging designers or by helping non-profits like Dress for Success of Indianapolis – MFW is about more than fashion. Using a combination of inspiration and experience new designers find a strong and supportive community from which to learn and grow that all starts with their involvement in the MFW. Friendly competitions among young designers and students support the development of real-world skills that lead to success in the fashion industry. Whether the beneficiary is a model, designer, photographer, or stylist – mentoring opportunities allow concepts to become reality. The lasting impact of how the MFW connects and empowers artists, designers, and the community is captured in three words that drive the mission of the Midwest Fashion Week, LLC

In 2006, Berny Martin founded the Midwest Fashion Week, to create a solid foundation from which new and established fashion designers, photographers, models, and stylists could build their lines. Berny knew many people believed the best talent was only to be found in major metropolitan cities; he also knew many people were mistaken. Born in Haiti , Berny's father was very supportive and often encouraged him to create his own business. Little did he or Berny know that while he was completing a Computer Engineering degree at Purdue University, a one-time opportunity to create an entire collection for a fashion show would be the spark that later developed into the Midwest Fashion Week, and launched his Catou clothing line.

With the MFW Berny's vision is to invite the world to discover a city full of talented fashion industry professionals, a city that just happens to be in the Midwest . Like diamonds in the rough he sets out twice a year to help artists and designers shine! Today the MFW attracts attention and interest from around the globe. With emerging talent shaping the future of fashion and established marquees furthering their passion and creativity, there is no better fashion event in the Midwest than the MFW. What makes the MFW so special is Berny's unique commitment to both sides of the fashion industry – from the creative process to the business imperatives that makes a successful line possible. Inspired by his grandparent's charity and giving, Berny is focused on education for young designers to discover how to take their creative energy and turn it into creative success. Through the MFW Berny is able to serve the community; using fashion as a vehicle for job creation, industry innovation, community outreach and cause awareness.