Description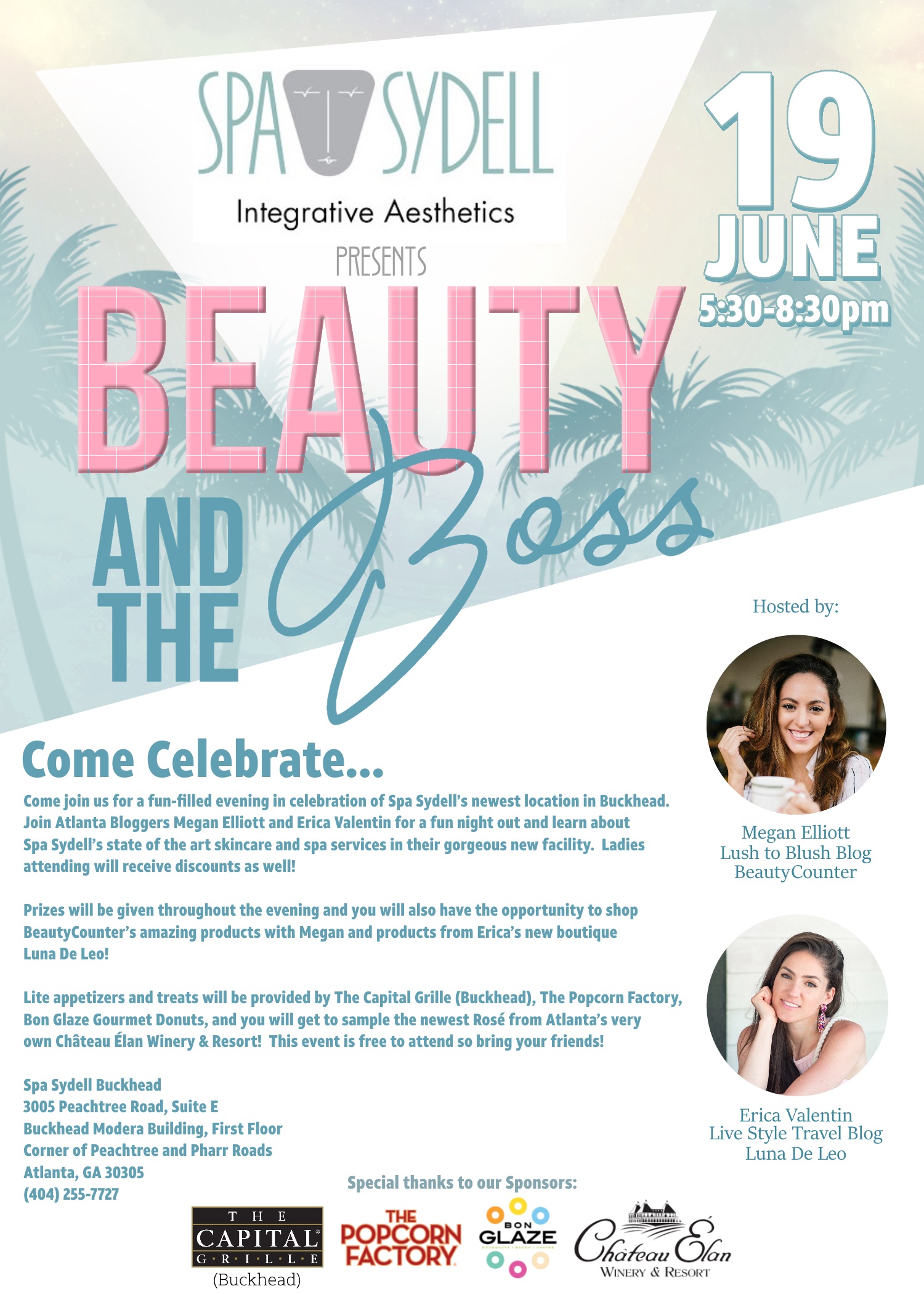 June 19th from 5:30-8:30 pm at Spa Sydell in Buckhead.
Come join us for a fun filled evening in celebration of Spa Sydell newest location in Buckhead. Join Atlanta bloggers Megan Elliott and Erica Valentin for a fun night out and learn about Spa Sydell's state of the art skin care and spa services in there gorgeous new facility. Ladies attending will receive exclusive discounts as well!
Even if you aren't a blogger or business-owner, maybe you have been thinking about skin rejuvenation, Botox or cool-sculpting lately. This event is the perfect time to come and speak to the amazing estheticians and doctors! During the event, staff at Spa Sydell will be providing education about all of their available products and services. You will also have the opportunity to speak to them one-on-one to see what services would benefit you the most. Since this event is also open to anyone you can bring as many friends as you like!
Ladies attending will receive exclusive discounts as well! Prizes will be given away throughout the evening and their will also be swag bags for the first 15 ladies through the door so make sure you get their early! The event is going to be co-hosted by my sweet friend Megan from Lush to Blush. She is also a BeautyCounter representative and will be sharing all of her available products and you will be able to also check out products from my boutique Luna De Leo! In addition we have several vendors sponsoring this event!
Appetizers will be provided by The Capital Grill (Buckhead), donuts from the amazing Bon Glaze, and gourmet popcorn from The Popcorn Factory! You will also be among the first to taste the newest Duncan Creek Rosè wine from Atlanta's very own Château Élan Winery & Resort.
If you would like to attend, the event will be held on June 19th, 2019 from 5:30-8:30pm at the Buckhead location below. Parking is available on site as well. This is going to be a great night out so we hope to see all of you ladies there! For more details you can also see the event on Facebook!
Spa Sydell Buckhead
3005 Peachtree Rd, Suite E
Buckhead Modera Building, First Floor
Corner of a Peachtree and Pharr Roads
Atlanta, GA 30305
(404) 255-7727