Beauty and the Beast the Play Tickets Monday, March 4th at 7:00pm

Monday, March 4, 2019 from 7:00 PM to 8:00 PM (MST)
Event Details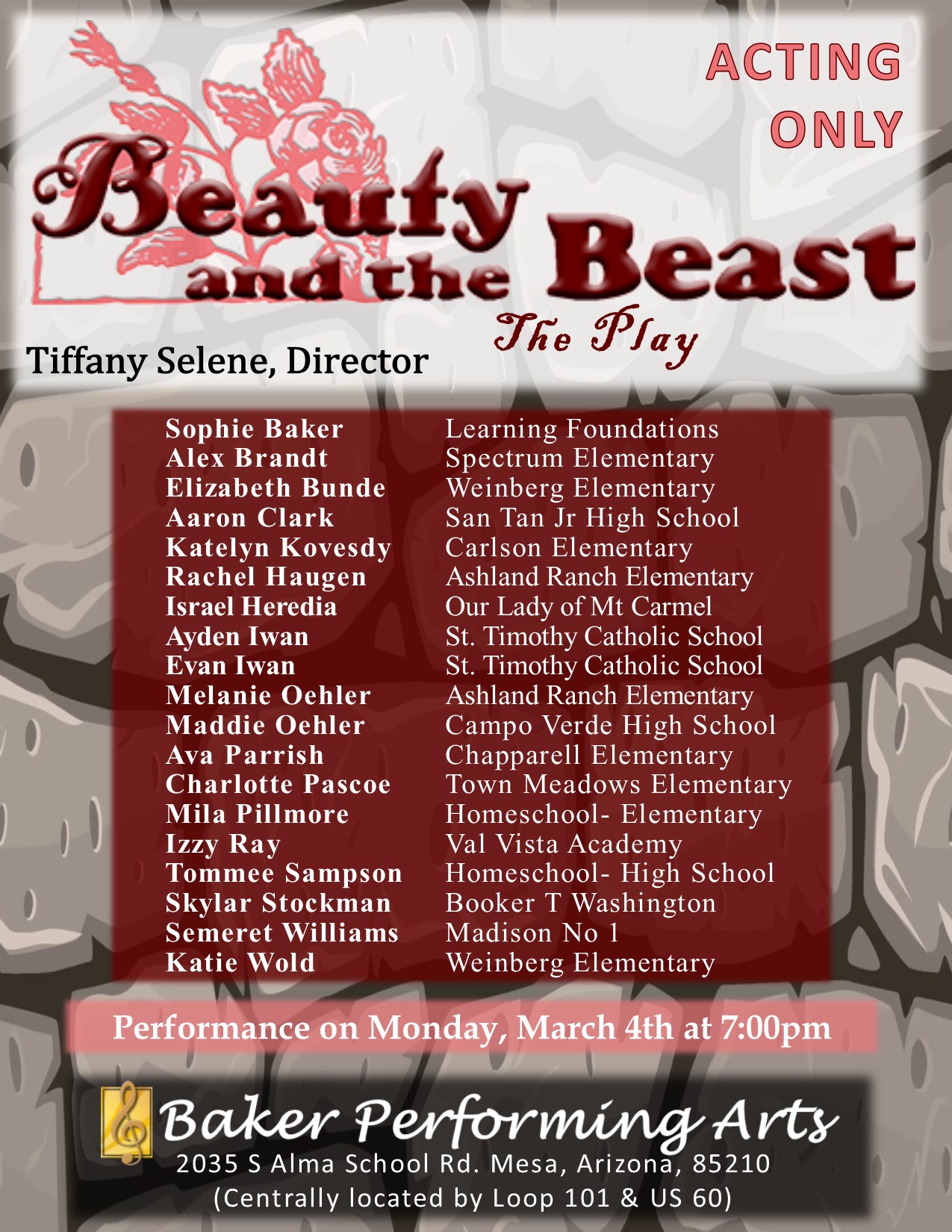 FULL SYNOPSIS
As punishment for rebuffing a powerful witch, a selfish prince becomes a true 'beast' until someone will love him for himself.  Many years later, a poor widow stumbles onto the castle and innocently plucks a forbidden rose.  The Beast sentences her to death, but first allows her to return home and bid farewell to her family.  There we meet her two unpleasant daughters, Isabel and Marguerite, and her nasty sons-in-law, Greedo and Graspo.  They hear her story and think she's insane.  But her third daughter, Beauty, agrees to go to the castle and stay with the Beast if her mother's life is spared.  When Beast kindly permits Beauty to return home briefly, Graspo and Greedo sneak into the castle, hoping to steal a treasure.  In a wildly funny and exciting scene, not only do they fight the Beast, they fight the furniture!  With the aid of an enchanted mirror, Beauty sees that Beast doubts her love for him and she returns to the castle.  Her love restores Beast to his true form and happiness reigns.
Venue map / Baker Performing Arts
101122925
Adult
1
#ffbc32
Save This Event
When & Where

Baker Performing Arts
2035 S. Alma School Road
Mesa, AZ 85210


Monday, March 4, 2019 from 7:00 PM to 8:00 PM (MST)
Add to my calendar
Organizer
Baker Performing Arts (Theatre, Events, Lessons & Store) located on the SE corner of Alma School Rd. and Baseline Rd. provides musical theatre productions shows as well as providing lessons in all instruments, voice and more!
We also have a store that has musical instruments for sale, music accessories, Casio Keyboards and more!