Location
Art Deco Museum
1001 Ocean Drive
Miami Beach, FL 33139
A Four-Part Lecture Series about Morris Lapidus and MiMo Architecture
About this event
Join us for Lecture 4 in a four part series highlighting Morris Lapidus, famed architect and subject of this year's special exhibition at the Art Deco Museum.
Allan Shulman, Jean-François Lejeune and Ira Giller will be joined by Deborah Desilets to discuss Lapidus' legacy and its impact on the MiMo (Miami Modern) design style.
Not to be missed!
Please note: Registration is free, but seating is limited. Seating will be available on a first-come, first-served basis. COVID-19 guidelines will be in place according to CDC guidance.
Speaker Bios: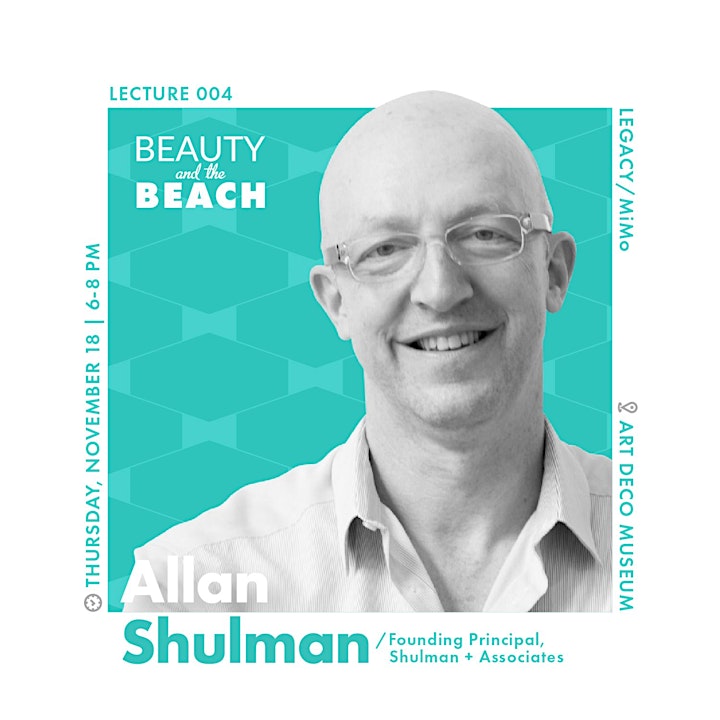 Allan Shulman
For the past 17 years, Shulman has explored the interrelationship between 20th century urban culture and architecture using the cities of Miami and Miami Beach as a laboratory. As a scholar, he has found in these modern cities ample material for investigations into regionalism, tropical architecture, and the cultural idea of tropicalism. These crucibles of urban transformation have also served as the inspiration for Shulman's formulation of a design principle that he calls "urban assemblage": the redevelopment of existing cities through the layering of artifacts of the contemporary landscape. The intersection of tropicalism with urbanization has opened multiple opportunities for funded research and publication. His academic activities also include exhibits, design competitions, charrettes, lectures, and panel discussions targeted to expanding understanding of South Florida's built environment. Shulman founded the architecture firm Shulman + Associates (S+A) in 1995.
Jean-Francois Lejeune
Jean-François Lejeune is Professor at the U-SoA, where he teaches architectural design, urban design, and history-theory. From June 2009 to December 2014 he was the Director of Graduate Studies. He taught at the Oregon School of Design (1985-87) and was Visiting Professor at the Universidade do Rio Grande du Sul (Brazil), the Università La Sapienza Roma, and the Universidad de Alcalá in Alcalá de Henares in Spain. In 2007 he was an Affiliated Fellow at the American Academy in Rome. Born in Belgium, he graduated from the University of Liège (Belgium) with the Diploma of Engineer-Architect. He is now a Ph.D. candidate and researcher at TU Delft, Netherlands, where he is completing his dissertation on Reciprocal Influences: Rural Utopia, Metropolis and Modernity in Franco's Spain.
In Europe, Lejeune collaborated on the design of the University of Liège Experimental Farm, and worked as urban designer for the Atelier de Recherche et d'Action Urbaines (Brussels) and for the Archives d'architecture moderne (AAM, Brussels). In Miami, he collaborated with various architecture offices like Duany Plater-Zyberk, Shulman and Associates, and Brillhart Architecture. His books include, among others, the three issues of the School of Architecture periodical The New City (1991, 1994, 1996), The Making of Miami Beach 1933-1942: The Architecture of Lawrence Murray Dixon (with Allan Shulman), Sitte, Hegemann, and the Metropolis (with Charles Bohl), Modern Architecture and the Mediterranean: Vernacular Dialogues and Contested Identities (with Michelangelo Sabatino, commended for the 2011 CICA Bruno Zevi Book Award) whose Italian version was issued in 2016. He has published essays in Rassegna, Stadtbauwelt, Architektur Aktuell, Clog, The Journal of Decorative and Propaganda Arts, Journal of Architectural Education, Bollettino del CE.S.A.R., and in various exhibition catalogues and books.
Lejeune's research has also focused on Latin America and Miami and he is a founding member and secretary of DoCOMOMO-US/Florida. He curated in Brussels the exhibition Cruelty and Utopia: Cities and Landscapes of Latin America whose catalogue won the Julius Posener CICA Award for Best Architecture Catalogue in 2005. Other exhibitions include Cuban Architects at Home and in Exile: the Modernist Generation (2016-17, with Victor Deupi), The Florida Home: Modern Living in Miami, 1945-65 (Miami-Tallahassee, 2004-5, with Allan Shulman), Interama: Miami and the Pan-American Dream (Miami, 2008, with Allan Shulman).
He is currently at work on two monographs: Loos and Schinkel: The Metropolis between the Individual and the Collective (Routledge) and The Modern Village: Rural Utopia and Modernity in Franco's Spain (DOM, Berlin).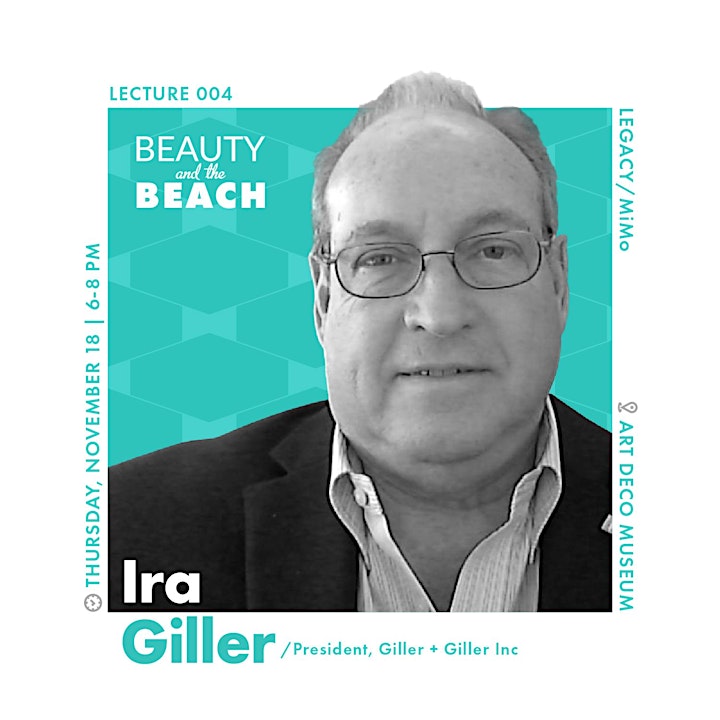 Ira Giller
Ira D. Giller, A.I.A. is the president of Giller & Giller, Inc., Miami Beach's oldest architectural firm. He has led the firm originally founded by his late father, Norman m. Giller, FAIA for the past 40 years. He owns the Giller Building, a noted icon on Arthur Godfrey Rd and listed on the National Register of Historic Places. Ira has been a civic leader in Miami Beach as President of the Chamber of Commerce, Mount Sinai Young Presidents, Kiwanis, and the Jewish Museum of Florida. He currently is a board member of the Florida International University Foundation.
His work includes a variety of building types including public facilities, health care facilities, detention centers, educational facilities, housing, commercial centers, office buildings and adaptive re‑use/ historic preservation projects throughout Florida. He has been an early advocate and practitioner of architect-led design-build project delivery.
Ira knew Morris Lapidus as a contemporary of his father, Norman, as well as an architect for renovations to Lapidus buildings in Miami Beach. As Kiwanians, Ira and Norman shared lunch together with Morris Lapidus and other civic leaders for many years.
Curator Bio:
Deborah Desilets
Deborah Desilets, an architect and artist, was Morris Lapidus's last collaborator. She first met Lapidus in 1993 when she was the marketing director for the Miami-based architectural firm Arquitectonica, after founding their computer lab in 1988. Soon after, Desilets left to create her own firm where subsequently she was able to work with Lapidus on a number of design projects which explored each of his illustrious career's building types. Desilets has lectured extensively nationally and internationally on Lapidus body of work and is the author of "Morris Lapidus: The Architecture of Joy," published by Rizzoli. In 2012, Desilets gifted the archive left to her by Morris Lapidus to Syracuse University; the repository of Lapidus work since the 1960's. Desilets is the owner of the Morris Lapidus trademark and continues production under that mark.