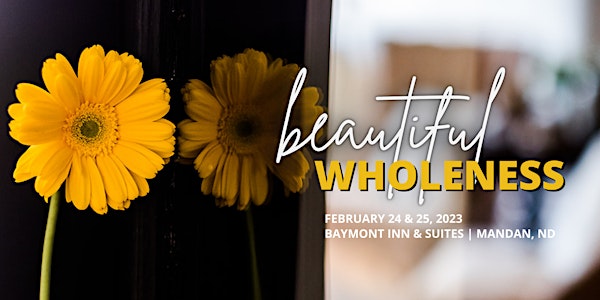 Beautiful Wholeness 2023 Retreat
Join us for North Dakota's Exclusive Life & Leadership Coaching Retreat for Women!
When and where
Location
Baymont Inn & Suites Mandan Bismarck Area 2611 Old Red Trail Mandan, ND 58554
About this event
Brough to you by RAYMA Team Co-Founders and Certified Coaches: Mandy B. Anderson and Raychel Perman
Beautiful Wholeness is the place for you if you fit any of these categories:
The Hopeful Woman - You, dear friend, are the brave Overcomer that is ready to live and lead well, no matter what it takes. You've had some Big. Life. Changes. And you're ready to find meaning from the mess. Whether you come alone - or you bring your mom, daughter, or friend - we can't wait to meet you!
The Corporate Executive, Manager, Director, Entrepreneur, or Business Owner - You know you need personal growth and development to succeed, but you don't always make the time for it. This experience is exactly what you need to brush up on your leadership skills so you can level up.
The Team Members - Whether you are co-workers in business, ministry, or another organization, you'll feel right at home with us. The Beautiful Wholeness environment is one that fosters connection and team work, guaranteeing that you walk away with the skills you need to become a stronger team.
---
Event Schedule:
Session times are approximate and subject to change per the audience's needs throughout the day.
Friday, February 24th:
6:30 PM - Doors Open for Registration
7:00 PM - Welcome
7:15 PM - Coaching Session 1: It Starts with a Choice - As women we hope for a lot of things - we hope for our circumstances to change and to be successful in our careers. We hope for our families to be safe and happy, and we even hope for our health to be healed. But when the storms of life happen, we get discouraged and feel like giving up. In this session you'll discover what it takes to keep your hope alive, how to better understand the broken pieces of your life, and how to make your disappointments matter.
8:15 PM - Group Networking Session and Beauty & Dignity Drive - A group session to get to know the women you will be spending the weekend with. This is also when we will do the Beauty & Dignity Drive - a philanthropic opportunity to support the Abused Adult Resource Center in Bismarck, ND.
Friday night is schedule to end between 9pm - 9:30pm.
Saturday, February 25th:
9:00 AM - Doors Open and Networking Time
10:00 AM - Coaching Session 2: Lies & Labels - A unique, raw, personal, and life-changing session on the labels we wear and the lies we believe. You'll discover how to identify the mindsets that keep you stuck and how to let go of them consistently.
12:00 PM - Lunch on your own and Bookstore Open
1:30 PM - Coaching Session 3: Sowing the Seeds of Rockstar Leadership - A unique spin on personality training that helps you identify your leadership style as a woman in the world - both the strengths and what trips you up when stress and overwhelm show up. You'll learn how different personality traits function in stress and overwhelm, as well, and how to find harmony in the midst of varying personality types.
3:30 PM - RAYMA Foundations Program Details and Quick Break
3:50 PM - Coaching Session 4: No Such Thing As A Stupid Question - This is your chance to get your questions answered during a Spotlight Coaching Session that is an audience favorite.
4:30 PM - Closing Session: Dear Female Leader - Discover what it takes to be a respected female leader who leads well in both your life and career. You'll identify how the fear of being disrespected sabotages your life and career, along with what to do about it after leaving this retreat.
5:00 PM - Retreat ends. The bookstore will be open and Mandy and Raychel will be available for book signings!
*All Sales Are Final for Events, Coaching Programs, and Coaching Services.
*This event is an in-person event only.
---
Beauty & Dignity Drive Details
All attendees are encouraged to bring new makeup, hair products, or personal hygiene items to donate to the brave women leaving abusive situations in the BisMan Community for hopes of a new and better life. These women often flee horrific situations with nothing to their name except the clothes on their backs. Our mission is to help them feel beautiful and confident so they can step into their new lives with boldness and dignity!
Ideas for items to donate include:
Deodorant
Shampoo and Conditioner
Razors and shave gel
Toothbrush and toothpaste
Period Products
Bath bombs or epsom salt
Mascara and other misc. eye makeup
Lotion or body oil
A variety of Lipstick colors
Fun nail colors or Color Street nail strips
Monetary Donations should be written out to: AARC
*Fragrances can be triggers for women coming out of abusive situations so keep your items fragrance free or pick something more calming such as vanilla or lavender.
---
Testimonials from Past Attendees:
"What an awesome day! My fire has been lit!"
~Karen, 2016 BW Attendee
"This conference is a great start to resetting beliefs you have about yourself!"
~Casey Rae Sorch, 2019 and 2022 BW Attendee
"Beautiful Wholeness has helped me identify my positive and negative characteristics and helped me grow into a stronger leader."
~Anonymous, 2022 BW Attendee
"Today was beautiful. So many golden moments. This event was full of emotion, encouragement, truth, vulnerability, and hope!"
~Jodi Wilson, 2022 BW Attendee
"I recommend Beautiful Wholeness and RAYMA Team to all my friends and women in my family."
~Anonymous, 2022 BW Attendee
"Relatable and fun, down to earth."
~Jenni B., 2017 and 2022 BW Attendee