Description
Eryca Freemantle Presents...
E.A.T.O.W
Embracing All Tones of Women
In Partnership with Shades of Beauty LIVE
A one day masterclass aimed at women who wish to remind themselves of how wonderful they are. Many of us are stuck in a rut and do the same kind of skincare and makeup regime all the time. This is a great way of meeting new people, an opportunity to network and make new friends and build your confidence and self-esteem.
Eryca Freemantle shares with you her vast industry secrets about how to be a beautiful woman inside and out.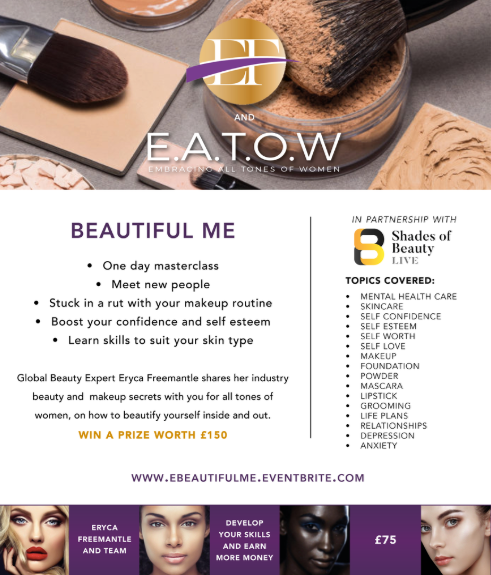 Topics covered:
Demonstration and Practical

Mental Health Care

Skincare

Self Confidence

Self Esteem

Self Worth

Self Love

Makeup

Foundation

Powder

Mascara

Lipstick

Grooming

Life Plans

Relationships

Depression

Anxiety



Bring pens and note pads
Attendance certificate awarded
Secret Central London Location
Limited spaces
Date and Time
Refund Policy