Description
BEAUTIFUL ME MASTERCLASS - CHRISTMAS SPARKLE LAUNCH EDITION
---
Taught by Eryca Freemantle | Supported by Urban Decay
---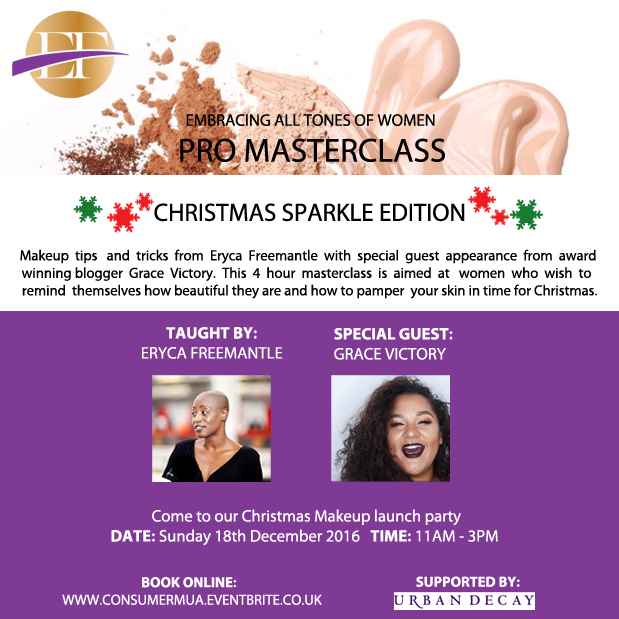 This is an exciting new 4 hour makeup masterclass aimed at women who wish to remind themselves how wonderful they are. Many of us are stuck in a rut and do the same type of skincare and makeup regime all the time. This is a great way of meeting new people with the opportunity to network and make new friends using makeup. Eryca Freemantle shares with you her vast industry secrets including her beauty tips and makeup tricks.
It is recommended that attendees bring to the class the products & brushes they use. However all attendees will leave the masterclass knowing which products work best for them. All participants will receive a voucher redeemable from our makeup partner Urban Decay Cosmetics.
There will be a special guest appearance from award winning blogger Grace Victory who will be sharing her experiences and journey so far.
10 lucky individuals will also receive a special makeup prize on the day.
This masterclass will cover;
- What is confidence, self esteem and self worth?
- How to create a new you, sparkle with confidence and love yourself
- Eyebrows
- Psychology of makeup
- Eyeshadow
- Skin types
- Mascara
- Powders
- Lipstick
- Foundations
- Concealer
- Blusher
- Demonstration and Practical
---
Eryca Freemantle
British-born Eryca Freemantle is well-known in the global circles of health, beauty and makeup, particularly for her campaign for the beauty industry to take a broader and more inclusive strategic position by 'Embracing all Tones of Women'.
As an ambassador for Professional Beauty GCC and international contributor to Professional Beauty and Scratch magazines she is in demand across the globe and was recently featured in Forbes magazine. Eryca has presented at many international events, including Professional Beauty UK, UAE and South Africa, Olympia Beauty UK, Beauty World UAE and Beauty Africa. For more information visit: www.erycafreemantle.com.
For more information, please email: info@erycafreemantle.com