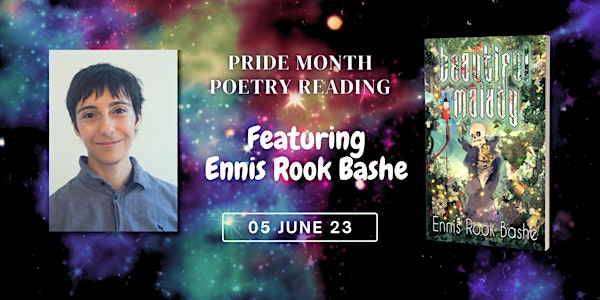 Beautiful Malady Book Launch and Pride Month Reading!
Join Interstellar Flight Press for a reading of speculative poetry by queer writers to celebrate Pride Month & BEAUTIFUL MALADY
By Interstellar Flight Press
Date and time
Monday, June 5 · 4 - 5pm PDT
About this event
Beautiful Malady Book Launch and Pride Month Reading!
Join Interstellar Flight Press as we celebrate the publication of BEAUTIFUL MALADY by Ennis Rook Bashe with a pride month reading featuring queer poets! With readings by Ennis Rook Bashe, Gretchen Rockwell, J.C. Rodriguez, R. Thursday, Toby MacNutt, Silvatiicus Riddle, Rain Vega, T.C. Long, Angel Leal,
Event Details:
Date: June 5, 2023, 6:00pm CST
Online via Zoom
BEAUTIFUL MALADY
by Ennis Rook Bashe
A siren song of queerness, disability, and myth, these poems reinvent love, life, and death. BEAUTIFUL MALADY is an exploration of pain, weaving speculative poems about fairy tales, folklore, fantasy, and the supernatural with the reality of chronic illness and disability. Ennis Rook Bashe deftly creates a world where the broken body is beautiful.
About the Author
Ennis Rook Bashe is a queer romance novelist and poet whose work has appeared in Strange Horizons, Cricket, and Liminality Magazine. Their debut chapbook, Glitter Blood, was an Elgin Award nominee. If you enjoyed the disability-related themes in this chapbook, you may also enjoy their fantasy romance series Hunters of the Cairn, set in a world where only disabled and chronically ill people can become monster hunters. Find more Ennis at https://linktr.ee/ennisrookbashe.
Featured Readers
Maxwell I. Gold is a multiple award nominated author who writes prose poetry and short stories in weird and cosmic fiction. His work has appeared in numerous anthologies and magazines including Weirdbook Magazine, Space and Time Magazine, Startling Stories, Strange Horizons, Tales from OmniPark Anthology, Shadow Atlas: Dark Landscapes of the Americas and more. He's the author of Oblivion in Flux: A Collection of Cyber Prose from Crystal Lake Publishing.Maxwell's forthcoming books include a collaborative book of poems titled Mobius Lyrics with Bram Stoker Award winner Angela Yuriko Smith to be released in 2022, and Bleeding Rainbows and Other Broken Spectrums from Hex Publishers to be released in 2023. He lives in Columbus, Ohio with his partner and two dogs Marshall and Otto, and currently serves on the Board of Trustees for the Horror Writers Association as the organization's Treasurer.
Gretchen Rockwell is a queer poet who can frequently be found writing about gender, science, space, and unusual connections. Xe is the author of the chapbooks body in motion (perhappened press) and Lexicon of Future Selves (Vegetarian Alcoholic Press) and two microchapbooks; xer work has appeared in AGNI, Cotton Xenomorph, Whale Road Review, Palette Poetry, and elsewhere. Find xer at www.gretchenrockwell.com or on Twitter at @daft_rockwell.
J.C. Rodriguez is a writer from Long Island, NY. His work has appeared in places like Phoebe, Barrelhouse, Waxwing, & Meow Meow Pow Pow. A previous recipient of fellowships from Brooklyn Poets & The Watering Hole, he is currently an MFA candidate at Syracuse University & a proud slush adventurer for Interstellar Flight Press. Find him online at https://brownmoon.rip
R. Thursday (they/them) is an educator, historian, writer, and all-around nerd. When not subverting Middle School Curricula, they can be found reading, watching cartoons, playing video games, cooking spicy dishes, or writing about vampires, wizards in space, queerness, mushrooms, mental health, and on a very good day, all of the above. They live in South King County, Washington, with the world's most copacetic cat.
Toby MacNutt is a nonbinary trans, disabled & autistic author, artist, and teacher based in northern Vermont. Their work engages themes of embodiment, space and relationship from a queer and disabled perspective. Toby's debut poetry and short story collection If Not Skin was published by Aqueduct Press in 2018; more recently their work has appeared in or is forthcoming from magazines such as Kaleidotrope, Strange Horizons, and The Future Fire, and as a self-published chapbook, "what cannot be held". Find out more at www.tobymacnutt.com
Silvatiicus Riddle (He/They) is a Queer, Disabled, Neurodivergent, Rhysling-Nominated Dark Fantasy & Speculative Fiction Short Story Writer and Poet living in New York City with his husband and a menagerie of cats. He has been published by Abyss & Apex, Dreams & Nightmares, Enchanted Living, Liquid Imagination, and Spectral Realms, among others. He is currently putting together his first chapbook, expected to be released later this year.
Rain Vega (they/them) is a Latinx, bi-racial, disabled, non-binary writer living with a permanent stoma after a total colectomy. Their work explores disability through the lens of witchcraft and Mexican folklore.Their previous work has appeared in the Sagebrush Review.
T.C. Long (he/him) is a queer, trans disabled writer of literary fantasy from Upstate NY. He received his B.A. in Anthropology and English and spent several years in children's publishing before transitioning to nonprofit work. A journalism contributor for the Trans Advocacy & Care Team (TACT) and an ESL tutor for migrant and refugee youth, he is also the founder of CALAMITOUS, a queer sci-fi and fantasy writing group. He is a devoted knitter and loves nothing more than a walk by the sea.
Angel Leal (they/them) is a Latinx, trans/nonbinary poet from Texas. Their work has been nominated for the Pushcart Prize, the Rhysling Award, and has appeared in Strange Horizons, Anathema: Spec from the Margins, Fantasy Magazine, Solarpunk Magazine, the Club Q Benefit Anthology "We Apologize For The Inconvenience" published by Beyond The Veil Press, and elsewhere. They are also a co-admin of CALAMITOUS, a queer sci-fi and fantasy writing group.You can reach them at their website: https://www.angel-leal.com/ or on twitter @orbiting_angel