About this Event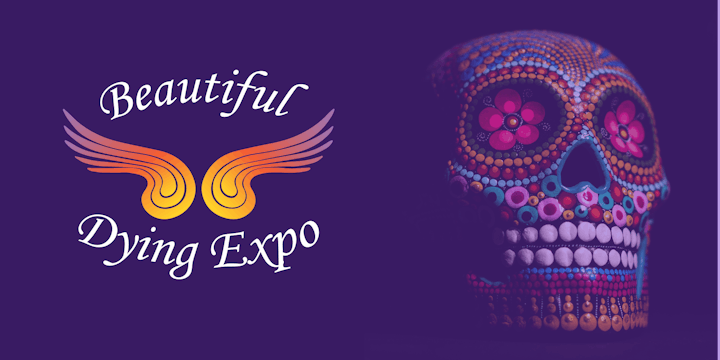 Join us for FREE this Day of the Dead weekend for a celebration of life! This expo runs from 9:30 am to 5:30 pm. Get educated! Information is constantly changing in the End-of-Life Industry. Ensure that your final wishes are met and your end-of-life celebration is truly that of a life well lived! Ask your questions, get informed, and share your stories with those who are exhibiting and presenting. We are here for YOU!
During the day there will be two panel discussions and ten interactive workshops! Hosted by Dr. Karen Wyatt the morning panel discussion will focus on Comfort Measures and Care for the Dying, with experts involved in different forms of Palliative Care. The afternoon panel will discuss End-of-Life Choices and Planning.
The workshops are interactive and designed to give you concrete and practical perspectives on End-of-This-Life practices and options. They range in subject from Advance Health Care Planning to Pet Euthanasia, from the importance of Music at End-of-Life to Green Burials, this expo will be your stepping stone into discovering new and innovative tools and resources.
Walk to the Gaslamp District for a bite to eat after the conclusion of the Expo, and join us back at the Convention Center for a very special evening event with Stephen Jenkinson from 8:00pm-10:00pm. Doors open at 7:30pm.
For those of you who do not know Stephen Jenkinson, MTS, MSW, he is a Harvard Educated Theologian, Culture Activist, founder of The Orphan Wisdom School. He is the author of Die Wise: A Manifesto for Sanity and Soul, the award-winning book about grief, and dying, and the great love of life. He is the subject of a National Film Board of Canada documentary, Griefwalker. He brings teachings of the ramshackling kind, about honour and grace under pressure, about how we might learn our darkening times. His new book, Come of Age: The Case of Elderhood in a Time of Trouble , wonders about elderhood in an age of age-intolerance, and about the withering of the World Tree. With Gregory Hoskins and band, Stephen has offered Nights of Grief & Mystery to sold out houses on three continents. This year they are at again for the 2019 North American Nights of Grief & Mystery Tour.
See you November 2nd!
Access to Mezzanine Level
Mezzanine Level is accessible in three ways:
1. From Cityside Ground Level Lobby West to Upper Level, across Upper Level, then down to Mezzanine Level via elevator, escalator or stairs
2. From Bayside Exterior Ground Level via exterior elevator or stairs
3. From Ground Level Bayside Lobby, for Exhibit Halls B & C licensees, via interior elevator, escalator or stairs