About this Event
Metro Detroit artist Jen Stefanek will showcase her new exhibit, "Beautiful Blooms," at The Detroit Writing Room. This collection of floral paintings will help you shake off any winter blahs and vibrantly usher in spring.
Join us for a reception 7-8:30 p.m. on Thursday, April 23, 2020 to meet Jen and view her beautiful flowers while enjoying Champagne.
Jennifer Stefanek received her BFA from the University of Michigan and is an artist and graphic designer living and creating in her home studio in Novi. Her focus is primarily vibrant floral paintings using oil paint mixed with cold wax medium. Toeing the line between real and imagined flowers painted in an abstracted representational way, she becomes a floral arranger on paper with her lively arrangements focusing on color, composition and texture. She paints using palette knives, silicone wedges and silicone paint pushers — no brushes — building up layers and scraping away, continually adding and subtracting every step of the way in her multi-layered process. Through this process she also incorporates her love of drawing and adds a strong linear element to the paintings by drawing in to the layers with the tip of her palette knife. Her pieces are lush, vibrant and textural.
Paintings from her exhibition will be available to view and purchase at The Detroit Writing Room April through May.
The reception cover charge is $10. All proceeds will benefit the 501(c)(3) nonprofit arm of the DWR called Coaching Detroit Forward. This summer, Coaching Detroit Forward will be offering free photography camps for Detroit high school students. Your ticket will help us buy cameras for the students!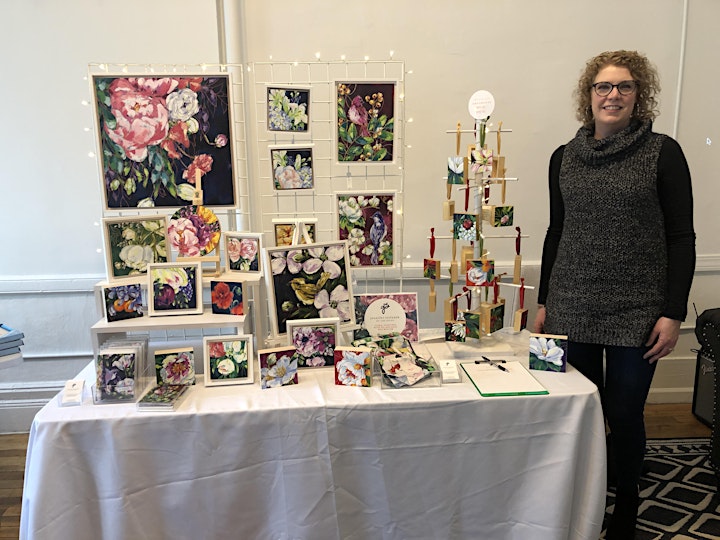 About The Detroit Writing Room
The Detroit Writing Room is an event and co-working space to work and write. Whether you're working on the next Great American novel or a business plan, the DWR has over 25 professional writing coaches to help with all your writing needs. We also host book talks, writing workshops, open mic nights and private events. Visit detroitwritingroom.com to sign up for coaching, memberships, events and more.