Description
LAST REMAINING TICKETS! No tickets sold at the door. Check-in anytime between 6 and 10PM. So far close to 160 attendees have purchased their ticket... do not miss this annual food & wine extravaganza!

Rediscover Beaujolais! Le Petit Paris and Los Angeles Wine Tasting cordially invite you to an exclusive evening pairing wine, food, music and great vibes.

Rendez-vous in DTLA's Historic District on the entrance level of the El Dorado building (1913), previously the Stowell hotel lobby and home of Charlie Chaplin. Enter through the custom made iron doors, walk up the early 19th century grand staircase and join us, by yourself or with friends, on the breathtaking mezzanine level, for an exploratory tasting of selected wines, before we sit down for a wine pairing dinner. Bring your palate and get ready to experience a relaxing Parisian getaway!

Live Jazz by Dan Olivo & his band... a jazz standards group that hearkens back to the golden age of the jet set. With a smooth, warm voice that echoes Frank Sinatra, Dean Martin, Tony Bennett and Bobby Darin, Dan Olivo croons the Great American Songbook, backed by some of LA's finest & seasoned jazz musicians.
CHECK OUT THE PHOTOS OF OUR PAST EVENTS.
JOIN OUR GROUP ON FACEBOOK FOR THE LATEST UPDATES.
Not only taste the famous Beaujolais Nouveau celebrating the very recent harvest this year but also some top-notch crus from the Beaujolais region!

Access to reception & optional dinner on upper floor (mezzanine) RESERVED TO EVENTBRITE TICKET HOLDERS (see below what your ticket includes). As you purchase your ticket on eventbrite you will be guided through the reservation process. You don't have to stay for dinner... just hang out by the bar & keep the mingling going!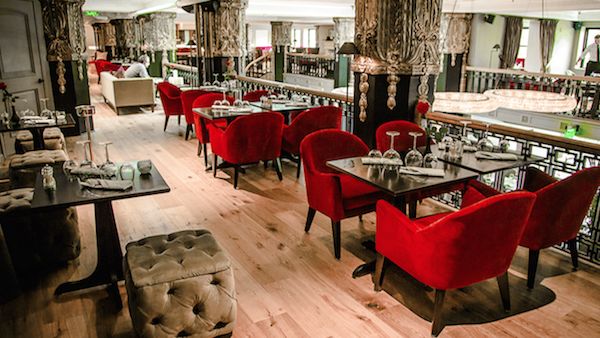 Le Petit Paris made its grand début just a few years ago. After creating their first restaurant in Cannes in Southern France 15+ years ago, owners Fanny and David Rolland, who really know how to execute French Brasserie cuisine with attentive service, opened their Parisian brasserie (restaurant and lounge bar) here in Los Angeles.
EVENTBRITE Ticket Holders will:
- have access to the BEAUJOLAIS WINE reception (and more! see what your ticket includes down below)

- be able to reserve seats for the special DINNER created by Le Petit Paris

Check out LePetitParisLA.com for more details about this absolutely unique Parisian getaway! Check also this video
___________
FIRST PART - BEAUJOLAIS WINE RECEPTION (on private Mezzanine level)

anytime between 6PM - 11PM (wine tasting until 8PM)


Indulge in wines from France from the Burgundy (Macon) and Beaujolais regions. Did you know the official release date of Beaujolais Nouveau was the 3rd Thursday of November? Get the opportunity to taste the 2017 Nouveau but also explore TOP-NOTCH Crus from Beaujolais.
EACH EVENTBRITE TICKET INCLUDES:
- Upper floor/mezzanine exclusive access for our group from 6 to 11PM

- DJ lounge music vibes & live jazz by Dan Olivo

- Complimentary tray-passed amuse-bouches the first hour between 6-7PM
- Special prices on drinks & appetizers/small plates
- Access to dinner on upper floor

- Perfect mingling & networking atmosphere with other Angelenos
- $25 of free ride credit with Lyft (new users only - use code LAWINE2).
PLEASE NOTE: EVENTBRITE TICKETS DO NOT INCLUDE WINE, DRINKS OR DINNER. Wine tasting tickets, wines by the glass, specialty cocktails, beers, soft drinks, gourmet appetizers and prix-fixe or à-la-carte dinner can be purchased at the event. You will be individually charged by Le Petit Paris.
WINE TASTING TICKETS (not included in Eventbrite tickets): on sale at the bar upstairs (mezzanine) for $20 including the tasting of 4 different wines, including top-notch Beaujolais crus:
- Moillard, Macon-Village, Burgundy - white (chardonnay): Appellation covering white wines produced in very selected 43 villages, hamlets and communes of the Maconnais wine area of southern Burgundy. Soil is rich in limestone making nose bright and delicate with floral notes. Fermentation in stainless steel tank to bring out the zesty fruit flavors of apple, melon, and a hint of citrus with classic limestones minerals and a clean and refreshing finish! Read more...

- George Duboeuf, Beaujolais Nouveau, 2017 - red (gamay): Beaujolais Nouveau is produced using a winemaking technique called carbonic maceration that results in a fresh and vibrant wine with very low tannins. Vibrant red fruits such as strawberries and currants on the palate and an intense perfume make this wine a perfect accompaniment for cheese, charcuterie and traditional holiday fare. Read more...

- Stéphane Aviron, Beaujolais Villages, 2015 - red (gamay): Sourced from 50+ year-old vines in a lieu-dit named "Les Monthieux", located in the commune of Lantignie, considered one of the finest in Beaujolais villages. The terroir is composed of clay and limestone soils with a favorable southwest exposure. Read more...

- Domaine Pierre Vessigaud, Saint Amour, 2014 - red (gamay): "I want to produce wines with always more précision, given by time, patience and fine aging in good barrels. I am looking for freshness, crispness and minerality in my wines. I want them very powerful and drinkable at the same time." Read more...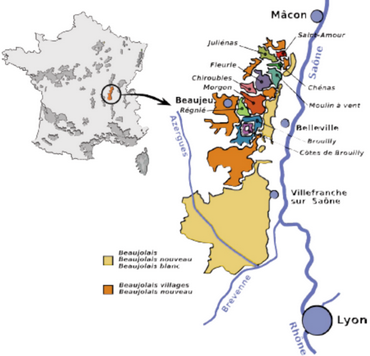 ___________
2ND PART - BEAUJOLAIS PAIRING DINNER (on private Mezzanine level)

Seatings at 7pm and 8:30pm
You will be able to RSVP for DINNER on Eventbrite as you are purchasing a ticket for the first part. ACCESS TO SOIREE & DINNER in upper floor/mezzanine (our space dedicated for the soirée) is strictly reserved to Eventbrite ticket holders.
--> ORDER "A LA CARTE" FROM DINNER MENU
--> OR BEAUJOLAIS NOUVEAU DISH "BEEF BOURGUIGNON" FOR $26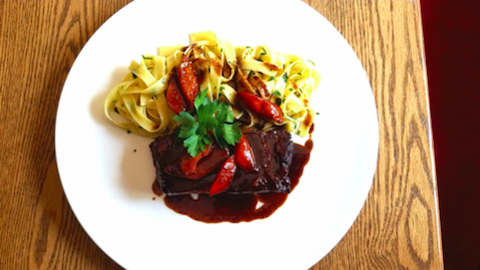 --> OR ORDER THE $49 (++) PRIX-FIXE THREE-COURSE MENU BELOW:

- APPETIZER: Rosette de Lyon, homemade pâté, rillette, cornichons & grilled baguette
OR Arugula, dates, candied walnut, red apples, country bread warm goat cheese & walnut vinaigrette
- ENTRÉE: Beef Bourguignon, wine red sauce, carrots & Tagliatelle
OR Roasted Atlantic salmon with red wine sauce, sautéed carrots & mushrooms

- DESSERT: Spiced poached pear in red wine sauce, homemade chantilly and streuzel

Vegetarian dishes accommodated upon request. Wine pairings, sales tax & gratuity are not included. You will be billed directly by Le Petit Paris for beverages and food ordered during the event. Tickets for the first part of course do not include sit-down dinner.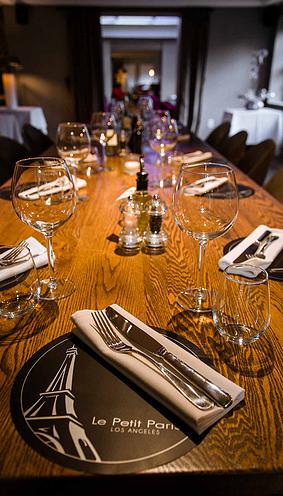 ___________
DRESS CODE - Important: Business/Upscale Casual, Cocktail Chic. NO T-Shirts. NO Sneakers. Jacket Recommended for Men. Dress Shoes.
Must be 21 and Over to Attend. Every Guest's ID will be carefully verified upon Check-in. Please Enjoy Responsibly.
Ticket Policy: All sales are final. No credit. No refunds. A name change however can be done anytime until the event starts.
Question? email at info@lawinetasting.com