Multiple Dates
BeatStreet Poetry Live (Best Sunday Social and Open Mic in Dallas)
BeatStreet Poetry Live Best Sunday Social - Distancing Open Mic
About this event
Experience the hottest Sunday Social (Distancing) Event in Dallas.  Experience live drumming with African and Caribbean rhythms.  Experience Poetry. Experience a DJ playing all of your favorite hits to set the tone for the evening.  This is an interactive experience loaded with good vibes and tons of fun, and you can enjoy live and in person or from the comfort of your home. Featuring and hosted by National Poet from TVone's Verses and Flow Verb.  Featuring Frank Moka (Percussionist for Erykah Badu and the Drumheads), and Marcus Jones (Voted Best Drummer in Dallas by Dallas Observer), and Good Vibes!
****************************VERY IMPORTANT INFO AND UPDATES**********************
To enjoy this event in person with the new social distancing policies in place, you MUST wear a mask or face covering in order to enter. You can purchase a table which includes admission for up to 4 people in advance on Verb Kulture's Website...Tables can only be purchased at www.verbkultureevents.com.
Tables are very limited and setup to provide a social distancing fun atmosphere and will sell out quickly. It is highly recommended that you visit www.verbkultureevents.com to purchase your tables ASAP. Venue sells the best Cajun Cuisine in Dallas and has a full bar and beautiful patio area!
Follow Verb_Kulture on Instagram and Join BeatStreet Poetry Live Group on Facebook.  Show will stream live on all social media pages. 
If you would like to tip the band or offer a donation, you can do so at Cashapp $4verb Venmo @payverb or visit our website and click the donation button at www.verbkultureevents.com 
Open Mic will be limited to 5 artists. Artists must signup in advance to participate in open mic by texting your name and Date of Show to 972-815-3724. You will receive a response with details and confirmation. All mics will be sanitized after each artists. If you have your own mic, you are welcome to bring it for your performance.
There is a $10 admission fee to be paid at the door. This is NOT a free event. Eventbrite is used for keep track of number of attendees expected. To guarantee entry, you can pay for your ticket in advance at www.verbkultureevents.com
For questions, please text 972 815 3724.
This is a challenging time for us all and live entertainment has suffered greatly but we promise to bring you the best energy and performances that we can offer.  Thank you for your continued support! We can still interact and have a fun social distancing experience.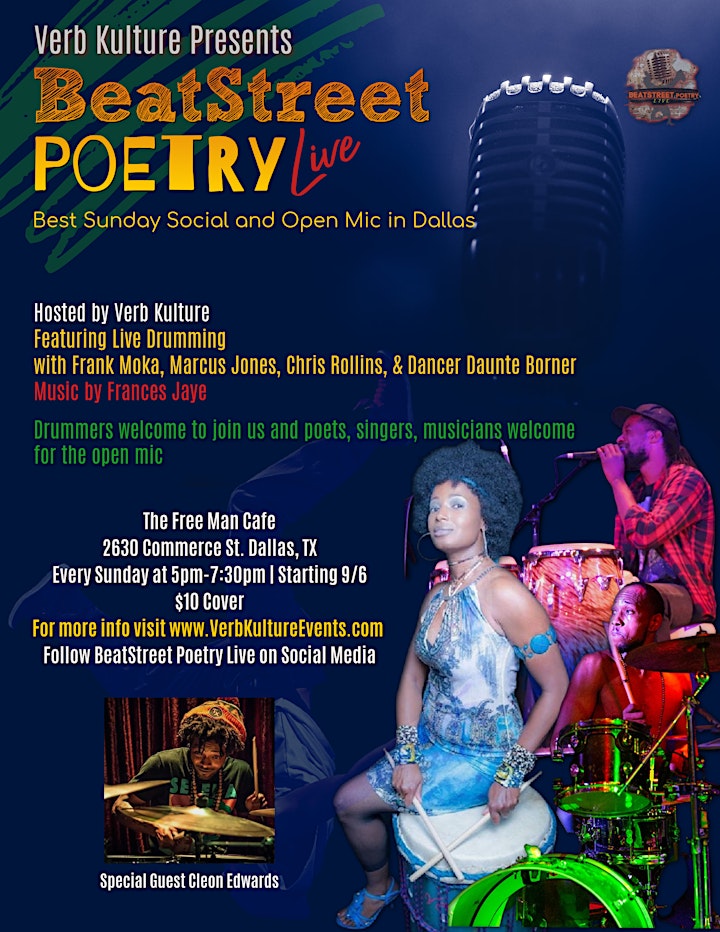 Organizer of BeatStreet Poetry Live (Best Sunday Social and Open Mic in Dallas)
Event producer in Texas that creates socially interactive events that focus on the arts, community, and awareness.  We have are the producers of some of the most successful shows produced in Dallas which including the Annual Changing Faces Masquerade Ball, The Annual Harlem Renaissance Fest, The Annual Boogie Nights 70s Soul Suite, Words over Wine, Poetry's Love Affair with Music and more.