Beats n Bars Festival 2021 will return to Durham, NC starting Thursday June 24th-Saturday June 26th sponsored by WUNC Music!
About this event
"Building Stronger Communities through the influence of Urban Culture and Music'
The art of MCing, Breakdancing, DJing and graffiti all are integral elements that are culturally represented in our community. Through Beats n Bars, The Underground Collective is committed to sustaining the hip-hop sensibilities in NC.
Festival goers can expect to be actively engaged and increase their understanding of new ways to display and celebrate hip-hop. With craft and love of the culture, the Beats n Bars experience includes art display fixtures, panel discussions on culture relations and community impact, exposure to real hip hop music and an introduction to break out artists.
Join Us!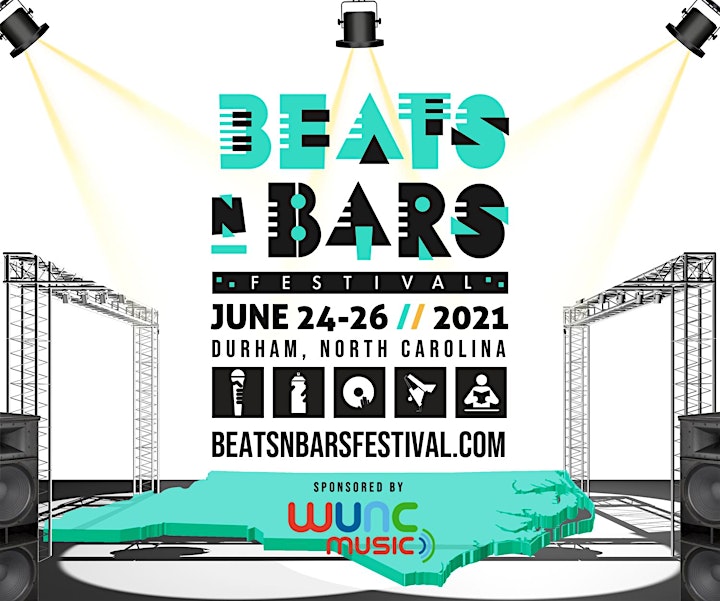 Organizer of Beats n Bars Festival 2021
BNB IS NORTH CAROLINA'S PLATFORM DEDICATED TO CULTIVATING THE FOUNDING ELEMENTS OF HIP HOP CULTURE.  
Beats n Bars' mission is to build stronger community through the influence of urban culture and music. In order to meet this goal and place NC Hip Hop, and Durham specifically, in national conversations related to Hip Hop, BnB aims to establish relationships, build partnerships, and foster collaboration with individuals and businesses for support.
BnBl intends to become the premier place for artists, producers, creatives and others who love Hip Hop to dive deeper into the world of STEM learning.
Oftentimes, specific stereotypes have been placed on hard sciences or technical fields and hip hop culture that make them seem at odds with one another.  Hip Hop is viewed as cool, exciting, communal, and rebellious.  STEM is often looked at as nerdy, boring, dry, and traditional.  The truth is that they both are very closely related and there are a number of exciting possibilities that can come from bringing the two together. Beats n Bars Festival seeks to establish itself as a space that fosters a broader glance into and understanding of how science, technology, education and music intersect with Hip Hop culture.  There's more than enough to engage and enlighten admirers, makers, and creatives. Beats n Bars Festival is dedicated to providing that opportunity for the community.
BnB curates a diverse mix of performances from some of the best artists in Hip Hop locally and nationally. The music lineup represents a variety of styles and showcases the the dynamic range of Hip Hop music. The festival showcases are both a recognition of artists making their mark and a celebration of the contributions from established trailblazers. 
For more information, click here to visit our page