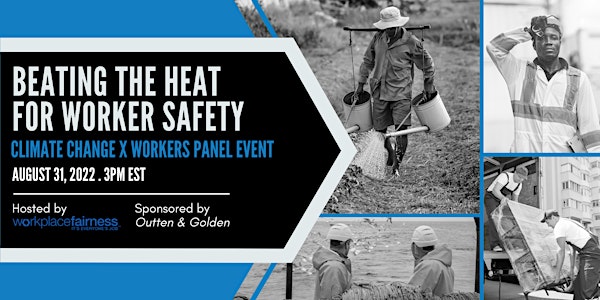 Beating the Heat for Worker Safety: Climate Change x Workers Panel Event
The climate crisis' impact is widespread and workers are feeling the heat. Learn about its effects and disparities at our upcoming panel.
About this event
As we continue to experience record-breaking heatwaves and ever-rising temperatures this summer, the conversation surrounding heat and environmental safety for workers is more important than ever. Join Workplace Fairness on August 31st for a virtual pre-Labor Day panel discussion with industry experts and advocates on climate change's impact on employees and the workplace, as well as the disproportionate effect it has on low wage workers and workers of color.
Panelists include Derrick Figures from the Sierra Club, Juley Fulcher from Public Citizen and Mayra Reiter from Farmworker Justice. The event's host will be Holly Wittenberg from Diversity Works.
Access to the live virtual panel will be sent via email to registrants prior to the event.
Donations from this event will support Workplace Fairness' work in developing free and accessible employee rights and legal resources for all workers. Thank you for your support!
This event is sponsored by Outten & Golden, LLP