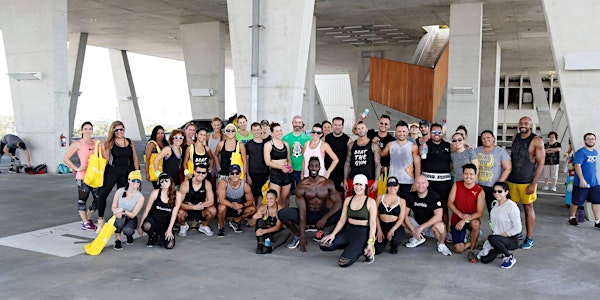 Multiple dates
Beat The Gym with Tony Thomas
Join Tony Thomas Sports and his Beat The Gym family for a FREE bootcamp EVERY Saturday at 1111 Lincoln Road!
Date and time
September 24, 2022 · 9am - December 30 · 1pm EDT
Location
1111 Garage 1111 Lincoln Road 4th Floor Miami Beach, FL 33139
About this event
Beat The Gym Bootcamp with Tony Thomas
Get ready for a morning packed with epic workouts, good vibes, and community. Grab a friend and prepare to sweat.
9:00 a.m. -- Beat The Gym Full Body Bootcamp
Challenge your body in this strength and conditioning class that will push your mental and physical stamina. Core training, balance and flexibility are all included to create a total well rounded program. This class combines intense cardio and core exercises for maximum fat and calorie burn and helps build muscle quickly.
Noon -- Beat The Gym HIIT + Boxing
Intense shadowboxing paired with elements of interval training and body weight exercises, promise a grueling full body workout. Enjoy this intense workout that involves running drills, mobility exercises, and core exercises! Wash it all down with a stretch and mobility session for recovery!
Come join us for a day of fitness, fun and BEAT THE GYM!
Still not convinced? Just watch these videos.
Book more classes on the BEAT THE GYM App!
Android: http://bit.ly/BTGAndroid
Iphone: http://bit.ly/BeatTheGymiOS
By attending this event your agree to the following:
I, BEING OF LEGAL AGE OF 18 YEARS OR OLDER ("RELEASOR"), DO HEREBY RELEASE AND FOREVER HOLD HARMLESS THE CITY OF MIAMI BEACH, THE LINCOLN ROAD BUSINESS IMPROVEMENT DISTRICT, 1111 LINCOLN, LLC, CBRE GI GLOBAL INVESTORS, LLC, AND BY AND THROUGH ITS MANAGING AGENT, COLLIERS INTERNATIONAL REMS US, LLC, AND ITS EMPLOYEES, ADMINISTRATORS AND AGENTS ALONG WITH THEIR HEIRS, EXECUTORS AND ASSIGNS ("RELEASEES"), FROM ANY AND ALL LIABILITY, CLAIMS, AND DEMANDS OF WHATEVER KIND OR NATURE, EITHER IN LAW OR IN EQUITY, WHICH ARISE OR MAY HEREAFTER ARISE FROM RELEASOR'S PARTICIPATION IN FITNESS INSTRUCTIONS ("SERVICES") RENDERED BY THE FITNESS INSTRUCTOR ("INSTRUCTOR"), ON THE DATE LISTED ABOVE, AT LINCOLN ROAD, MIAMI BEACH, FLORIDA 33139 AT NO COST TO RELEASOR. THE RELEASOR UNDERSTANDS AND ACKNOWLEDGES THAT THIS RELEASE AND WAIVER OF LIABILITY ("RELEASE") DISCHARGES RELEASEES FROM ANY AND ALL LIABILITY OR CLAIMS THAT THE RELEASOR MAY HAVE AGAINST RELEASEES WITH RESPECT TO ANY BODILY INJURY, PERSONAL INJURY, ILLNESS, AIRBORNE VIRUS TRANSMISSIONS, CORONAVIRUS DISEASE (COVID-19), INFECTIOUS DISEASE TRANSMISSIONS WHETHER DIRECT OR INDIRECT, DEATH, OR PROPERTY DAMAGE THAT MAY RESULT FROM THE USE OF THE LOCATION, WHETHER CAUSED BY THE NEGLIGENCE OF RELEASEES, OR THEIR OFFICERS, DIRECTORS, EMPLOYEES, OR AGENTS OR OTHERWISE. RELEASOR ALSO UNDERSTANDS THAT RELEASEES DO NOT ASSUME ANY RESPONSIBILITY OR OBLIGATION TO PROVIDE FINANCIAL ASSISTANCE OR OTHER ASSISTANCE, INCLUDING BUT NOT LIMITED TO MEDICAL, HEALTH OR DISABILITY INSURANCE, IN THE EVENT OF INJURY OR ILLNESS ASSOCIATED AT NO COST TO RELEASOR, WITH THE PROVISION OF SERVICES.
Images and videos may be captured during our events. By participating in our events, you agree that photos & videos of you may be published online: on our Facebook page, website, Instagram account or other media and publicity material.
About the organizer
Lincoln Road is a world-renowned, outdoor pedestrian promenade in the heart of Miami Beach, featuring over 200 shops, cafés & galleries, public art, culture, happenings and more. All Lincoln Road BID events are free and open to the public. When space is limited, registration is required.