About this Event
This event will show case artist and talent in our community and bring together a social gathering on location and online via Face Book. To promote and brand and market .
Diamond Jim's
PLATINUM PLATFORM
PER: BEATSHOP PRODUCTIONS & UTOPIAN UMBRELLA
Hostess-Corliss Chandler
Promoter-Jarvis Gandy
Project Manager-Timothy McClure
Overview
1.Project Background and Description
The "DIAMOND JIM'S PLATINUM PLATFORM" is designed to give talent platinum packages to help them go platinum. The "PLATINUM PLATFORM" concept is a project created by Timothy McClure with the help of Jarvis Gandy(GP)and Corliss Chandler focused on the local San Diego talent pool. The idea is to give San Diego talent a platform that will put them before millions and help them go platinum in album sales. This project will be designed to give San Diego talent a platform on a monthly and then weekly basis that we can eventually turn into a TV show. This project will offer new and old businesses the opportunity to get their names and/or products and services out their they would like to promote or market.
The "PLATINUM PLATFORM" is a project where local talent can network with each other as well as local businesses that may be looking to sponsor talent with some new products they would like to market. UTOPIAN UMBRELLA would like to take advantage and utilize this as an opportunity to promote and market upcoming projects and events available to be taken advantage of.
Promote event online
Provide Talent Development
Distribute music
Manufacture CDS
Print Press T-Shirts
Book talent
Book DJ
Provide Food
Provide Door Person
Provide Decorations
Help with flyer design
2.Project Scope
Talent from all over San Diego will be called from all genres and skill sets to put on showcase with a mixture of talent. We will be hosting networking events each week before the show to draw people to the venue and help with bar sales. The bar keeps all sales from the networking event which is also free at the door. Doors will open for the event at 8pm and end at Midnight.
3.MISSION
Our mission is give local talent resources to go platinum, highlight businesses that offer quality services and products and focus on women empowerment and immigration. DIAMOND JIM'S is the perfect location for this mission being that DIAMOND JIM'S is in Chula Vista which is a "Sanctuary City" the American government is at war with. Our mission is the stand with women and non-resident citizens to get them the citizenship status they need being that the UTOPIAN UMBRELLA has the network resources we would like to utilize DIAMOND JIM'S to promote and market to the public.
VIP PARKING & SEATING
FACEBOOK & YOUTUBE Live Performances
Vending Options
Neglect and abuse issues are the overall focus of the UTOPIAN UMBRELLA in which women issues and immigration are hot topics not being solved. Women empowerment and providing Non-resident citizens and opportunity to be citizens will all be provided at the "DIAMOND JIM'S PLATINUM PLATFORM" alongside other benefits, opportunities and resources for the community, businesses and talent.
$10 TICKET=VIP ENTRANCE
$50 TICKET= 4 VIP ENTRANCE & 4(FOUR) 3 ITEM PLATES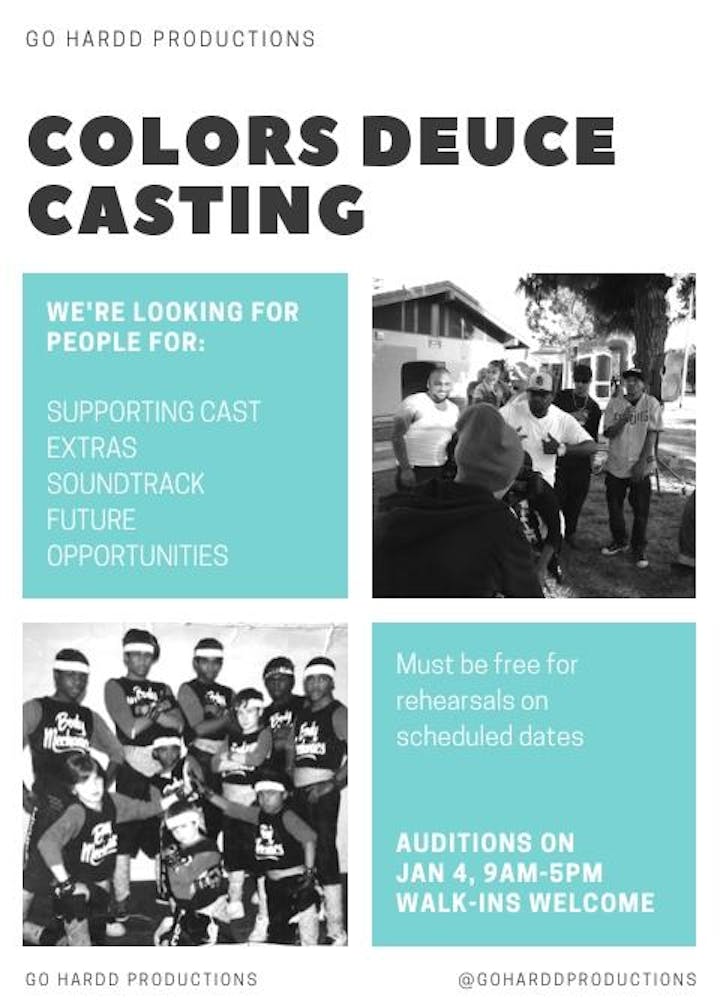 UTOPIAN UMBRELLA
300 Sunshine Ave. El Cajon Ca. 92020
UTOPIANUMBRELLA.COM
619.576.5718
UTOPIAN UMBRELLA
CASTING FOR COLORS
Go Hard Productions has selected UTOPIAN UMBRELLA for its marketingservices of the film COLORS DEUCE the movie. UTOPIAN UMBRELLAmarketing services for the film includes PR, promotions, marketing, casting event cordination and management. UTOPIAN UMBRELLA has set up casting calls, events, radio stations and teams on the East Coast, West Coast, Detroit and the UK ready to do casting, help promote and market the movie. UTOPIAN UMBRELLA has a cast of legendary, celebrity and aspiring artists. UTOPIAN UMBRELLA plans to assure the film has global appeal by utlizing our talents in Afghanistan, India and Africa in parts of the film. UTOPIAN UMBRELLA has GRAMMY AWARDS and platinum selling engineers and artists wanting to be part of the soundtrack and soundscore. UTOPIAN UMBRELLA has scriptwriters, directors and movie studios in place ready to start casting and post-post production.
PLAN OF IMPLEMENTATION:
EAST COAST Team- Dj Voltron, Santeea, Vaugh
WEST COAST Team- Marshon Kincy, Lashaun Turner, Timothy McClure, Shelley Hernandez, John T. Moss, Tony Washington.
Detroit Team- Matthew Luckie, International Hip Hip
UNITED KINGDOM Team- Mark Rowe, SOUL CENTRAL
Director- Tony Washington, Bonita Entertainment
Movie Studio- 4CAST TV
Sound Engineer- Dj N.O. Joe, UGK RECORDS, TRILL ENT. RAP-A-LOT RECORDS.
Sound Score- Paul Thomas, UMEG
INTERNATIONAL APPEAL:
Based upon the story line of the movie being about how politicians use gangs to get elected UTOPIAN UMBRELLA has talents in and/or Afghanistan, Africa and India ready to be part of the production. Casting will be done on the EAST COAST and WEST COAST for actors, actresses and music for the film. Other cities are able to sign on to do casting if there is a high demand. Talent within the network have first dibs on all the opportunities. Magazine placement in the world's top online and physical hip hop magazines are ready as well as radio play. All or most of the film can be filmed and edited at 4CAST TV movie studio to lower overhead dramatically. John T. Moss is a mortgage broker for the Native American tribes offering UTOPIAN its 501 c3 status for tax write-offs while seeking sponsors, getting monetary, products and venues donated. Thank you for this opportunity, your time and consideration. Blessings to you and yours.
Cordially,
Timothy McClure, UTOPIAN UMBRELLA-CEO