Description
Join us Sunday July 9th BJIOS from 3-5pm for a special members only Workshop with the one and only DJ Trayze! Come thru and learn some of Trayze's tricks and techniques that helped him become the 2016 Redbull Threestyle US Champ!
This is a BJIOS MEMBERS ONLY event! You must be a member or purchase a day pass to attend. General Public can attend with purchase via eventbrite. RSVP is required as space is limited.
BJIOS Members can enroll via their profile similar to enrolling in a class.

Snacks available and provided by: D.R.E.A.M Donut Truck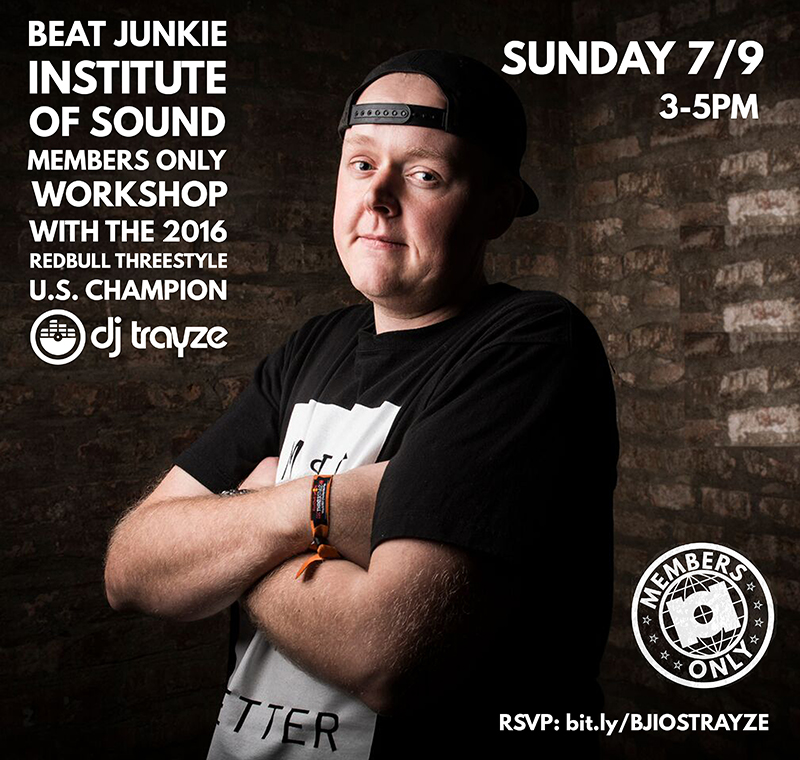 More about DJ Trayze:
When he's not in the studio cranking out hit remixes and edits, or teaching Ableton Live at the world renowned Beat Refinery in
Washington, DC, you can probably catch Trayze rocking crowds at some of the hottest nightclubs and party spots from coast to coast, and across the world! Between weekly radio mixshows, touring nightclub dates, festival performances, and winning DJ battles, Trayze stiill finds time to create original music and remixes. He has official music releases on various imprints, including Universal Republic, Interscope, Tommy Boy, Atlantic, Elektra, Fort Knox Recordings, Warner Music, and many others. With original releases acclaimed by the Smithsonian Institution and collaborative efforts with countless other artists, Trayze is a force in the studio and on the turntables.
He is the 2016 Red Bull 3Style US DJ Champion and World Finalist, and also 2014 Red Bull Thre3Style "Lucky Bastid" winner and World Finalis, proving he can rock any crowd with skill and finesse, exciting audiences with his technical ability as well as impeccable selection and timing. Discover more at
www.djtrayze.com