About this Event
Beartooth
Beartooth began as an emotional exorcism. Conceived, constructed, and unleashed by one man in a basement studio. Now, even as the band has grown to become a headlining festival act; cracked Billboard's Top 25; lit up SiriusXM radio; and were crowned Breakthrough Band at both the Metal Hammer Golden Gods Awards and Loudwire Music Awards, Beartooth's music and message remain intensely personal.
The fierce dedication to honesty, authenticity, and raw fury demonstrated by Caleb Shomo is at the center of everything Beartooth represents. The music he's crafted in his darkest hours transcends, connecting with the broken hearted and isolated around the globe. Songs like "In Between," "Hated," "The Lines," and "Sick of Me" have been streamed hundreds of millions of times. These are anthems for the downtrodden and disconnected, celebrated with sing-alongs on international tours; supporting Slipknot, Bring Me The Horizon, or Pierce The Veil; on the Kerrang! Tour with Don Broco in the UK; at major festivals like Download and Rock on the Range.
What began as artistic self-medication for a single multi-instrumentalist and producer, with no career aspirations or grand plans, quickly caught fire. The Sick EP (2013), Disgusting (2014), and the sophomore-slump shattering Aggressive (2016) comprise a blunt audio journal, chronicling Shomo's battles with his own demons. As Beartooth became a fully functioning band, bringing these intimate musings to the masses, that purity remained, via a consistently isolated creative methodology.
The stark look inward further intensified with September 28, 2018's Disease.
The third full-length album from Beartooth is a painstaking, riff-driven examination of the unshakeable throes of depression. While there are moments of positivity, this isn't the sound of triumph. This is music about survival.
"The album is a whirlwind of emotion," Shomo explains. "Crazy highs, crazy lows, and lots of intensity. This record isn't about winning anything. It's about trying to even begin to learn how to deal with things. It's hard to process just how dark you can get, what you can really put yourself through with expectations. It's like starting from the beginning all over again. At the end of the day, it is a very dark album."
Even as Shomo and his bandmates played to sold-out crowds across Europe, the battle against mental illness and childhood issues returned, and the seed for Disease was planted. The title track was the first song written for it, setting the overall tone.
As always, Shomo recorded vocals, guitars, bass, and drums, and mixed the album himself with assistance from an engineer, now with executive producer (and Grammy winner) Nick Raskulinecz, who has worked with Foo Fighters and Rush. To further enhance the emotional realism Beartooth champions, the third full-length album was tracked in a brand new environment, with an old-school urgency. After crafting the songs in his usual basement domain, Shomo made the trip from the familiar comfort of his equipment and isolation in Ohio to Blackbird in Nashville.
"When I make a record at home, I feel really safe there," Shomo confesses. "Going into Blackbird, there was a lot of fear. Thankfully, going into that environment just brought out the best. It made the songs feel even more real. It was all worth it."
The famous recording studio was the birthplace of pivotal work from a massive list of legends, tastemakers, and up-and-comers; like Alice In Chains, Taylor Swift, and Greta Van Fleet. Determined to challenge himself in new ways, Shomo kicked aside his drum samples and digital guitar tones in favor of rich analog vibes, banging out take after take, to capture the feel of classic favorites like AC/DC and Motörhead.
Ten to twelve hour days, six days per week, sweating and screaming through performances, resulted in gargantuan surefire Beartooth bangers like "Used and Abused," "Manipulation," and "Enemy," easily among the strongest songs in the catalog. "You Never Know" was written in collaboration with producer and songwriter Drew Fulk (Fit For A King, As I Lay Dying), after several hours of conversation in a coffee shop. The album closer, "Clever," was written in an afternoon at the studio, a fittingly sorrowful bookend to Beartooth's darkest album.
"Depression is something that's just 'in your head,' there's no reason for it, so it 'should' be easy enough to just get over, but I can never do it. It's something unshakeable. I can't make it work," Shomo says. "I wanted to write an album about that. Disease really encompasses everything emotionally that I wanted to convey."
Shomo's commitment to raw and personal truth will always define Beartooth. "It's very important that I stay honest with every song that I write. I didn't even mean to start this band. I wrote a couple songs and I felt way better afterward. Especially with this record, there are no compromises. It is exactly what I wanted to make."
With Beartooth, what begins each time as the personal expression of one man is shared with his bandmates, then through the power of musical inspiration and connection, is given to the world then returns to its creator, to begin the cycle anew.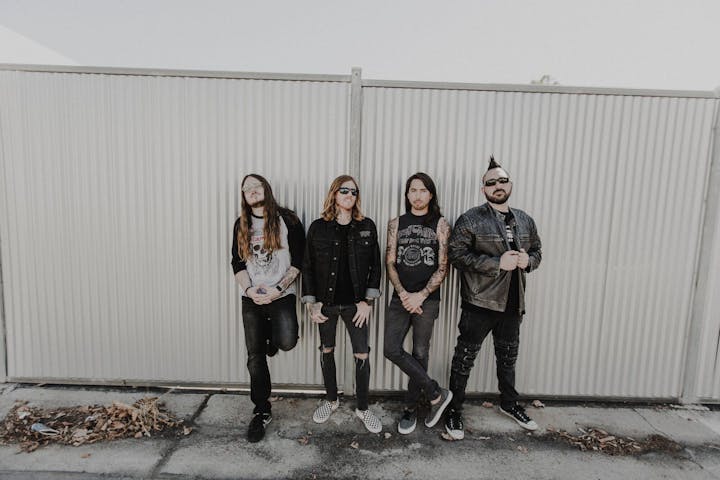 Of Mice & Men
They've hit No. 1 on Billboard's Rock and Independent Charts and No. 4 on the genre-spanning Top 200. They've racked up over 153 million Spotify streams, 20 million YouTube views and close to 5 million social media followers. They've shared stages with artists such as Metallica, Linkin Park and Queens of the Stone Age and not only held their own, but won over new fans in the process. They've played hundreds of shows for packed-house-crowds around the world, released three studio albums to critical acclaim, and recorded tracks that have blanketed rock radio airwaves. Their sound has broken through obstacles of language, distance and culture. For most bands, such achievements usually mark the summation of a long career– if they're lucky.
But Of Mice & Men have accomplished all that and more over the course of a mere five years. And while those feats make for one helluva resume, what makes this band really matter is that they've never stopped pushing themselves to go further. As a result they continue to reach dizzying new heights, the latest being Cold World, an album that raises the stakes of what a modern day heavy rock band is supposed to sound like.
The band's most bravely vulnerable album to date, Cold World marks the first time vocalist Austin Carlile has ever written candidly about his experience with Marfan syndrome, a rare connective tissue disorder can affect everything from the heart and blood vessels to bones and joints.
The condition demanded Carlile undergo three major surgeries in the past year—an ordeal he followed up by quitting all pain-relieving and mood-stabilizing medications in the midst of making the new album. "It was one of the most difficult things I've ever gone through in my life," Carlile says. "But when I came out the other side, I had such clarity and energy and spirit, it opened up a whole new world. It made the album mean that much more to me."
The Southern California-based quintet (Carlile, vocalist/bassist Aaron Pauley, guitarist Alan Ashby, drummer Valentino Arteaga and guitarist Phil Manansala) recorded Cold World with producer David Bendeth, who they worked with on 2014's Restoring Force, which hit No. 4 on the Billboard Top 200 Album Chart and No. 1 on both the Billboard Top Independent and Top Rock Albums Charts.
Working in Bendeth's studio, the band began recording while Carlile was still recovering from his recent surgeries—including reconstructive hip surgery, the removal of cartilage from his rib cage, and "having a dural sac in my brain repaired because fluid from my head was leaking into my spine." To their credit, the band held it together, not just surviving, but thriving in the studio as they channeled their emotions into a sound that cut through the darkness like a light on the road ahead.
"Writing the album, there were a lot of days when we'd jam for seven or eight cathartic hours," recalls Pauley. "There was a sense of getting back to what music felt like when we were kids and falling in love with that all over again."
On Cold World's first track "Pain"—whose beautifully twisted video instantly generated more than 2 million YouTube views upon posting—Of Mice & Men merge blistering riffs and barbed rhythms with the brutal reality of Carlile's condition. "People who have Marfan syndrome and similar disorders—it's a very painful beast for them," says the vocalist. Adding that "everyone you come in contact with is going through some type of pain," Carlile asserts that "Pain" is meant to encourage compassion and empathy. "The next time you feel yourself judging someone, remember that person could be going through something worse than you," he says of the song's message. "Instead of being hateful or projecting something negative, maybe you can think about doing something to help them."
Another intensely personal track, "Like a Ghost" finds Carlile and Pauley trading off vocals in a soulful exploration of desperation and redemption. "Whether it's because of addiction, depression or something else, there are a lot of people in this world today who don't know how to take love," says Pauley. "The song's about how important it is not to give up on those people, and to remind them that it's okay to feel loved." With its ethereal guitar tones and graceful melody, "Real" reflects on what Pauley refers to as "staying strong when people are trying to turn you into something you're not."
At the album's emotional core is "The Lie," which features an appearance by Cassy, a 14-year-old fan diagnosed with brain cancer. The band first connected with Cassy through the Living the Dream Foundation, and arranged for a visit upon hearing the news that her condition had worsened. They spent the day with Cassy and her family, then brought her to the studio for a preview of the new album (she was the first person outside of the band, producer and engineer to hear the record). They asked if they could record her handclaps and added them to "The Lie," an epic track that finds Carlile venting his frustrations about the medical system and "calling out the 1% for not taking care of the people they should be," he explains. "Now Cassy's name and the sound of her clapping hands are on the record," says Carlile. "It's something that captures that moment and that relationship forever. When we think about everything we went through to make this record, that's something that we'll never forget."
When it came time to select album art for Cold World, drummer Tino Arteaga came across the stunning black and white imagery of 68-year-old Italian photographer Roberto Kusterle and in particular, a stark, hypnotic image of stone-like bodies huddled together. Within days, the band was granted permission to use the photo. "I was studying the image and realized there was a third person in it, who you can barely see because the other two are sheltering him (or her)," says Pauley. "That's really what this record is all about—that we live in a cold world, but we can find warmth by sheltering each other."
The band shares an intense bond with their fans, which they chalk up to an insistence on bringing straight-from-the-gut honesty to each and every track. "There's a magic element to music that you can't ever gauge or quantify but that everyone can understand," says Pauley. "Even the most extreme music will bring people together." And with Carlile's "becoming so sober and getting to the point of feeling everything" during the production of Cold World, the band ended up creating their most uncompromising and ultimately most cathartic album yet.
"It's hard to feel these things, and it sucks waking up in pain every day, and it sucks when the only energy you have all day is to play a show," says Carlile. "But I prefer it that way. I'd rather feel the pain than feel nothing at all."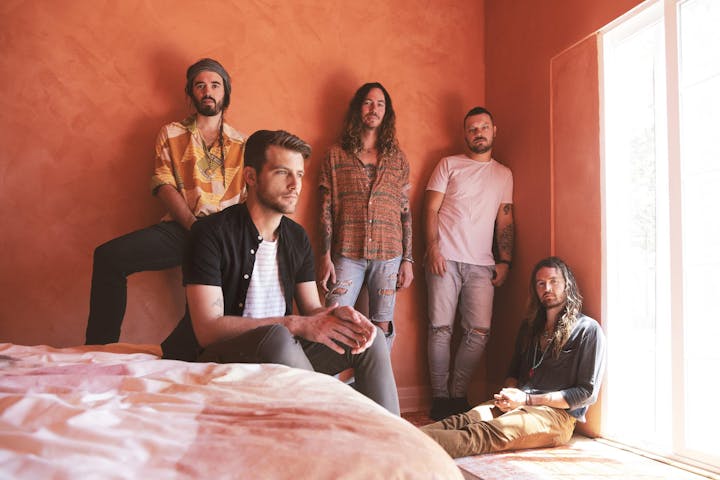 Hands Like Houses
Riding high from their most successful two-and-a-half years together yet, Hands Like Houses return with -Anon., their most determined release to date.
-Anon. takes the unique sound Hands Like Houses have been cultivating over the past 10 years and injects it with a big dose of fresh, modern rock'n'roll. The most charismatic album of their career, their fourth record marries who Hands Like Houses are as individuals into an assured yet fun collection of songs that begs the audience to take a deeper listen.
Recorded at Steakhouse Studios in Hollywood with producer Colin Brittain (5 Seconds of Summer / All Time Low), conceptually "-Anon." is a statement on the duality of the creative process - the idea that music can be shared or heard in passing and can still resonate with people even when the artist is unknown to the listener..
"I think our strength is in parallel values of art. There's what we create, and there's us," says Frontman Trenton Woodley. "When people know who we are, it adds an extra layer of meaning and significance to the concept, but when they don't, the song still stands up on its own."
Like an anonymous poem with no author, it doesn't matter who created it, as its strength lies in its relatability. -Anon. is Hands Like Houses giving a lyrical voice to other people's stories and musically creating atmosphere and emotions within the listener to be shared for years to come.
"Separating from my sense of self to create something that could stand on its own was the thought process that planted the seed for '-Anon.'s title and concept explains Woodley. "I still take my role as a storyteller seriously, so each day we wrote, we sat down and talked about different people, different experiences, different ideas - then we chose one of those threads and followed it down the rabbit hole."
"We had the most time off the road since writing our first album" adds guitarist Alex Pearson, "so we didn't feel restricted or pressured to make the album sound a certain way. We had time to experiment and expand on what did and didn't define us as a band and create something unique.'
The band felt a freedom of responsibility that allowed each song to have its own atmosphere and story - there's fatalism and optimism, self-reflection, realism and fantasy, politics and personal journey. In the context of the album, each is its own anonymous piece to relate to - each is built around a shared human experience or perspective.
Born and bred in Canberra, Australia, Hands Like Houses – comprising of Trenton Woodley (vocals), Alexander Pearson (guitar), Joel Tyrrell (bass), Matthew Parkitny (drums) & Matt "Coops" Cooper (guitar) – are one of Australia's biggest rock exports. The band has sold an impressive 100k+ record sales worldwide, boasts 85 million combined worldwide streams, and embarked on 15 full US and nine UK tours on the books, and three back-to-back sold out headline tours across Australia. Their critically acclaimed third album Dissonants impressively debuted in the Top 10 Billboard Independent Albums, Hard Music Albums, Alternative Albums and Rock Albums charts and #7 on the ARIA Chart (Australia).
During their decade together, the band have spent their time thrilling epic crowds at home, playing packed arenas with Bring Me The Horizon and A Day To Remember, and as one of the headliners on UNIFY 2018. Meanwhile, on the other side of the world, Hands Like Houses have played to tens of thousands of people across Download Festival, Rock on the Range, Carolina Rebellion and Northern Invasion, alongside legendary acts The Red Hot Chili Peppers, Deftones, Alice Cooper and Disturbed.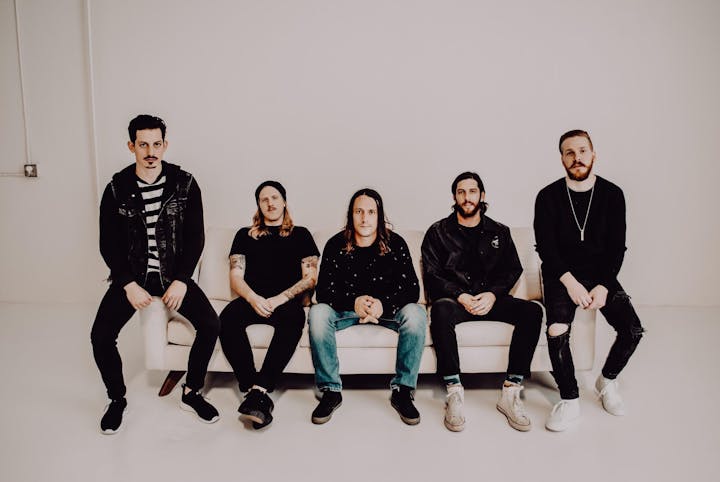 Dead American
Dead American was born out of timing, patience, and waiting for the right moment. In the wake of his departure from Saosin, Cove Reber ventured into a slower paced lifestyle in order to both deconstruct and then rebuild into a new normal. Though the desire to write and create never dissipated, the opportune sign needed to present itself in order to regain the needed passion to commit to the process again.
In 2016, Cove was introduced to Chad Jordan through a mutual friend. At the time, Chad had a lot touring experience as a drummer and guitarist for numerous bands, but was looking to put to use some instrumental compositions he had written throughout his musical career that needed to be completed with vocals. Chad began sending these self-recorded demos to Cove through email, which resulted in Cove tracking vocals to them due to feeling a connection to the nostalgic sensibility of the songs.
Songs from "The Shape Of Punk Is Dumb" began to take form in the coming year, with the duo heading into Rigby Road Studios in Salt Lake City with producer and engineer Joel Pack in the winter of 2017. Amongst busy schedules and slowly chipping away at the songs over time, the record was completed and mastered in the middle of 2018. Within conversations and dreaming up the concept of the band, the duo decided to leave their current residences in Utah and move to familiar Southern California where they both individually grew up.
During this transition, the need for a bassist was present, resulting in Chad connecting with Josh Latham. Chad and Josh were long-time high school friends who had written countless songs together throughout their adolescence – Josh had years of knowledge in recording and playing music, and was looking for a change from his current life pattern, so the decision was made to relocate from the state of Washington and move in with Chad and Cove to pursue this project together.
As the trio made progress, the next undertaking was searching for a guitarist. While names had been thrown on the table, Chad suggested teaming up with Jamey Price who was previously in a band called Sleep For Sleepers with him. Chad and Jamey had written together and toured the country in the past, so being productive in the creative process was of familiarity. Jamey had also been playing a role in the project since its conception through designing artwork and suggesting the band name, so the vision was caught early on when officially joining.
Performers
Date and Time
Location
Refund Policy