Bearing Witness, Creating Hope: 10 years of rabble.ca

Wednesday, April 27, 2011 at 7:00 PM

-

Friday, May 27, 2011 at 12:00 AM (EDT)
Event Details
Bearing Witness, Creating Hope
rabble.ca invites you to join us in celebrating 10 years of rabble.ca, April 18th at the Gladstone Hotel in Toronto!
Doors open 7PM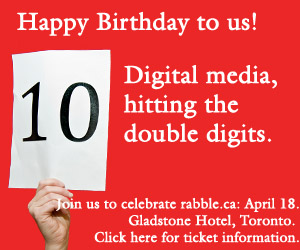 Join moderator and rabble founder Judy Rebick, and special guests Olivia Nuamah (Atkinson Foundation), Ben Powless (journalist), Mark Surman (Mozilla) and Cathryn Atkinson (rabble news and features editor) for a panel discussion on the state of Canadian left politics, historical memory, and the upcoming federal election, and stay on after for a reception and party featuring Toronto's criticaly acclaimed LAL and dancing with DJ b#!

Ten years ago, in April 2001 at the Summit of the Americas, the security walls came down in Quebec City as one of the largest gatherings of the anti-globalization movement showed its power in the fight against capitalist globalization and trade liberalization. 
The independent, progressive news website, rabble.ca, was born out of this sense of outrage - as well as hope for a different path, and for the potential the open internet to change the way news was reported and shared.
A decade later, in an increasingly militarized Canada and concentrated media environment,  rabble.ca was out front covering the G8/G20 in Toronto. When the police charged as the protesters sang Oh Canada, rabble.ca was there.  Today, over 125,000 Canadians log in to rabble every month to read stories, listen to the podcasts, watch videos, and debate the future of Canada (and more) with each other via our forum, babble. 
With rabble.ca you've travelled with Code Pink to Gaza and Tahrir Square in Cairo, read Margaret Atwood in rabble's Book Lounge, and interacted in live-streamed significant Canadian events that are ignored by the mainstream. From union gatherings, to the G20 Shout Out for Global Justice, to left-inspired fundraisers, music, poetry, and laughter, rabble has been a part of it all.
Help rabble party its way forward to the next 10 years, in this first in a series of events to be held across the country as part rabble's 10th anniversary celebrations.

When & Where

The Gladstone Hotel
1214 Queen Street West
Toronto, Ontario
Canada

Wednesday, April 27, 2011 at 7:00 PM

-

Friday, May 27, 2011 at 12:00 AM (EDT)
Add to my calendar