Description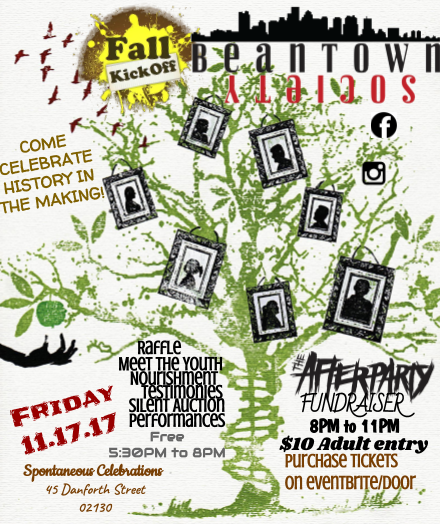 "We work together to bring peace to the community and social justice to teens all over the city of Boston. the meaning of Beantown is bringing peace to the city and hopefully the world between teens."
This Fall Kick Off We will be celebrating the rich history of Beantown Society through testimonies and art! We will introduce the new staff, thank our founders, and enjoy the after party of performances, food, great vibes!
The program's mission is to unite youth across race, class, culture, and neighborhood to end youth violence by transforming young people's oppression, rejection, neglection, and depression into youth power. It addresses the oppression that breeds violence – especially racism, classism, sexism, heterosexism, adultism, and the connections between these systems of oppression – by supporting transformation at the individual, community, and societal levels.