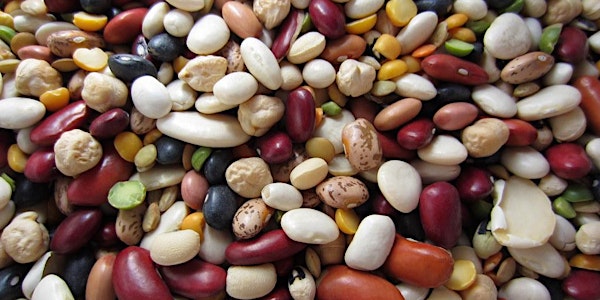 Beans and Lentils 101
Can one food improve heart health, moderate blood sugar, lower body weight, prevent Type 2 diabetes, and increase your lifespan? Beans can!
Refund Policy
Contact the organizer to request a refund.
Eventbrite's fee is nonrefundable.
About this event
Are you looking for a food that is deeply satisfying, health-promoting, economical, and versatile enough to add variety to your meal routines? You can't go wrong with beans and lentils!
Legumes are fiber-rich, high in protein and healthy carbs, and loaded with B-vitamins and minerals. They are also naturally low in fat. In addition to an excellent nutritional profile, beans and lentils lend themselves to an endless variety of tasty dishes.
Legumes; So many ways to enjoy your food!
In this interactive online class, Rev. Chef Beth Love will provide guidance and techniques for preparing beans and lentils for great flavor and optimum nutrition. Expect to leave the class feeling inspired and empowered to incorporate loads of delicious beans and lentils into your diet!
In This Class, You Will:
Gain information about the health benefits of incorporating legumes into your diet,
Learn several methods for preparing beans and lentils that are easy to digest and maximally healthy,
Discover techniques for creating delicious legume dishes without reliance on added salt, sugar, or fats,
Obtain recipes for several tasty dishes,
Get inspiration,
Enjoy connecting in community, and
Have a chance to get your questions answered.
Class Offered on a Donation Basis.
Choose the ticket price that is right for you, or choose the donation ticket to indicate an alternate donation of any amount.
All Proceeds Benefit Eat for the Earth.
Rev. Chef Beth Love of Tastes Like Love is offering a series of online food and nutrition classes for Eat for the Earth. In this series, you will learn to prepare food that is healthy for your body, environmentally sustainable, and compassionately produced. Each interactive class provides instructions, demonstrations, techniques, tips, and more! All foods created in the classes are delicious and nourishing Whole Food Plant-Based, and SOS-Free (free of added salts, oils, and sugars).

About Rev. Chef Beth Love:
Rev. Chef Beth Love is the author of the Tastes Like Love book series. A gifted speaker, facilitator, teacher, and ordained New Thought minister, Beth has motivated and educated people in diverse contexts such as nonprofit organizations, schools, churches, businesses, and the California State Prison system. She has inspired large and small audiences, in-person and through radio and television, from local community TV to the Oprah show.
Rev. Chef Love delights in helping people to create amazingly delicious and deeply satisfying foods that please the palate, nourish the body, demonstrate compassion for animals, and have a light footprint on the earth. Due to her concern about the contribution of animal agriculture to climate change and other environmental issues, she started Eat for the Earth, a movement that partners with institutions to adopt policies and practices that make it easier for people to eat more plants and less animal products to sustain all life on earth. Learn more and find out how you can get involved at EatForTheEarth.org.