Beading and Self-Love from an Indigenous Perspective
A space for creativity + self-development. Learn how to single or double-needle BEAD + about SELF-LOVE from and Indigenous perspective.
About this event
For the most up-to-date information, please visit:
@IndigeneityUWPG on Facebook
OR
@Indigeneity_uwpg on Instagram
Self-Love
The values of a society + the influences from folks around us often help guide how we treat ourselves, how we see ourselves, and how we treat the others.
Based on this, along with our unique identities, we will view ourselves and the world around us in certain ways.
An Indigenous perspective honours that we are unique individuals who are related to one another and to all life. It honours that we have different paths to walk and allows us to walk them in ways that relate to who we are. We are not bound to the identities of others; only the identity of ourselves.
An Indigenous perspective respects and expects our differences. There is no expectation for sameness. It means understanding that we have our own experiences and ways of interpreting them.
An Indigenous perspective does not limit the life of self or of others.
**See weekly topics below
Beading
Materials Needed:
Materials to bead (felt, jean, cloth) (Recommended to put felt on back)
String and 1-2 needles
Seed beads (2+ colours)
Scissors
If you are in need of materials, broad cloth, needles, beads, and more can be bought at B'ESSeeze Leather & Beads Etc at 1562 Arlington Street, Winnipeg MB.
General Information
All are welcome to attend. You may learn to bead, bring your own bead project or project of any sort, or come to learn about self-love.
This is a safe space where you can be you in the way that is most comfortable.
Schedule
September 13 - Self-love and "colonialism"
September 20 - False truths we hold onto
October 4 - Letting love + guidance in
October 25 - Changing our minds (affirmations)
November 1 - Learning is part of the journey
November 8 - The importance of hope
November 22 - When we know we are enough + worthy
November 29 - Being our truest self
December 6 - Keeping self-love alive
**Please note, the schedule dates and topics may have changes.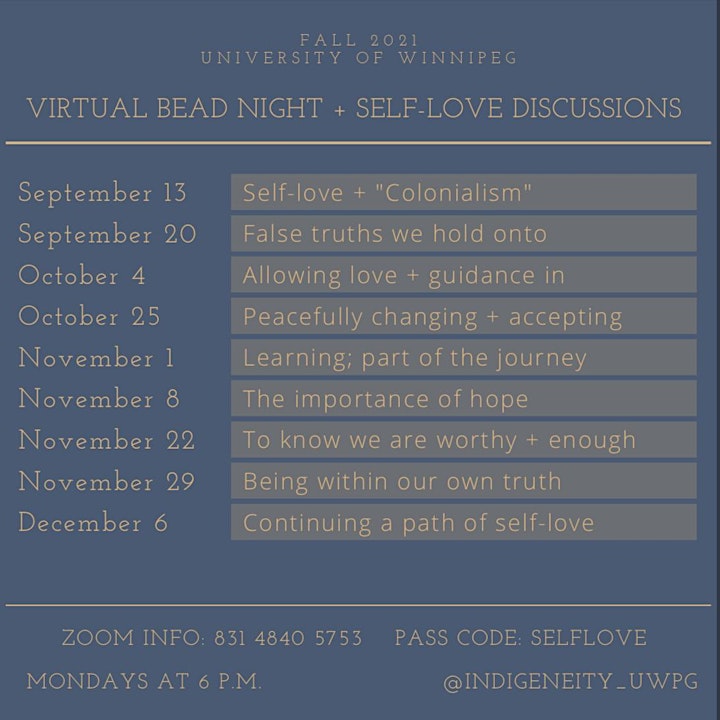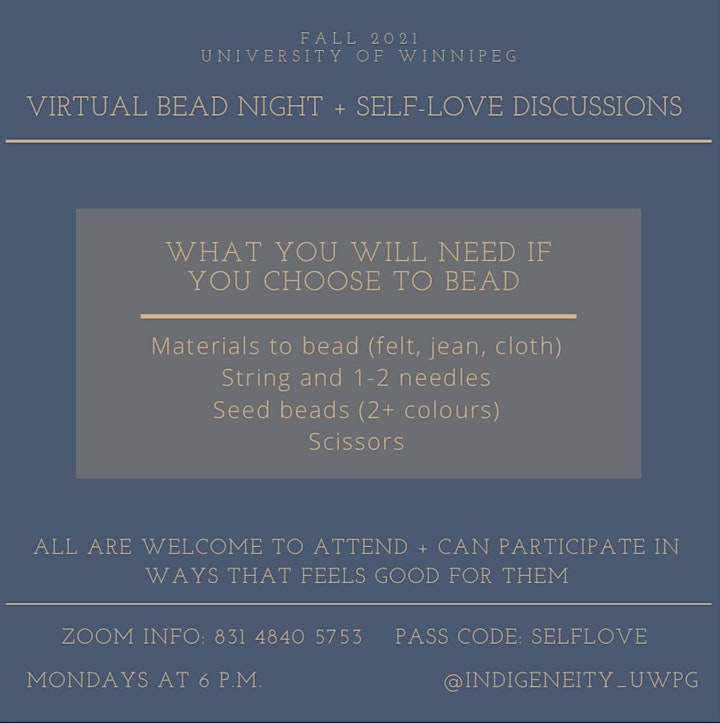 Organizer of Beading and Self-Love from an Indigenous Perspective