Description
***PLEASE NOTE THAT THIS PROGRAM HAS BEEN POSTPONED AND WILL NOW START ON SEPT 26TH AND END ON NOV 14TH 2017***
PLEASE NOTE TO REGISTER FOR THIS PROGRAM - ONLINE PAYMENT ONLY IS AVAILABLE TO SECURE YOUR PLAYER'S SPOT
PLEASE NOTE THIS PROGRAM IS ONLY AVAILABLE TO CHILDREN THAT ATTEND BEACON COVE ELEMENTARY
BEACON COVE AFTER SCHOOL SOCCER PROGRAM - every Tuesday for 8 weeks - starts Sept 12th from 2.30pm to 3.30pm each week!!!

Please ensure your child wears shin guards for each session and if they do not have soccer cleats, sneakers will be fine. The should also wear comfortable clothing and have plenty of fluids to drink during the session each week!!!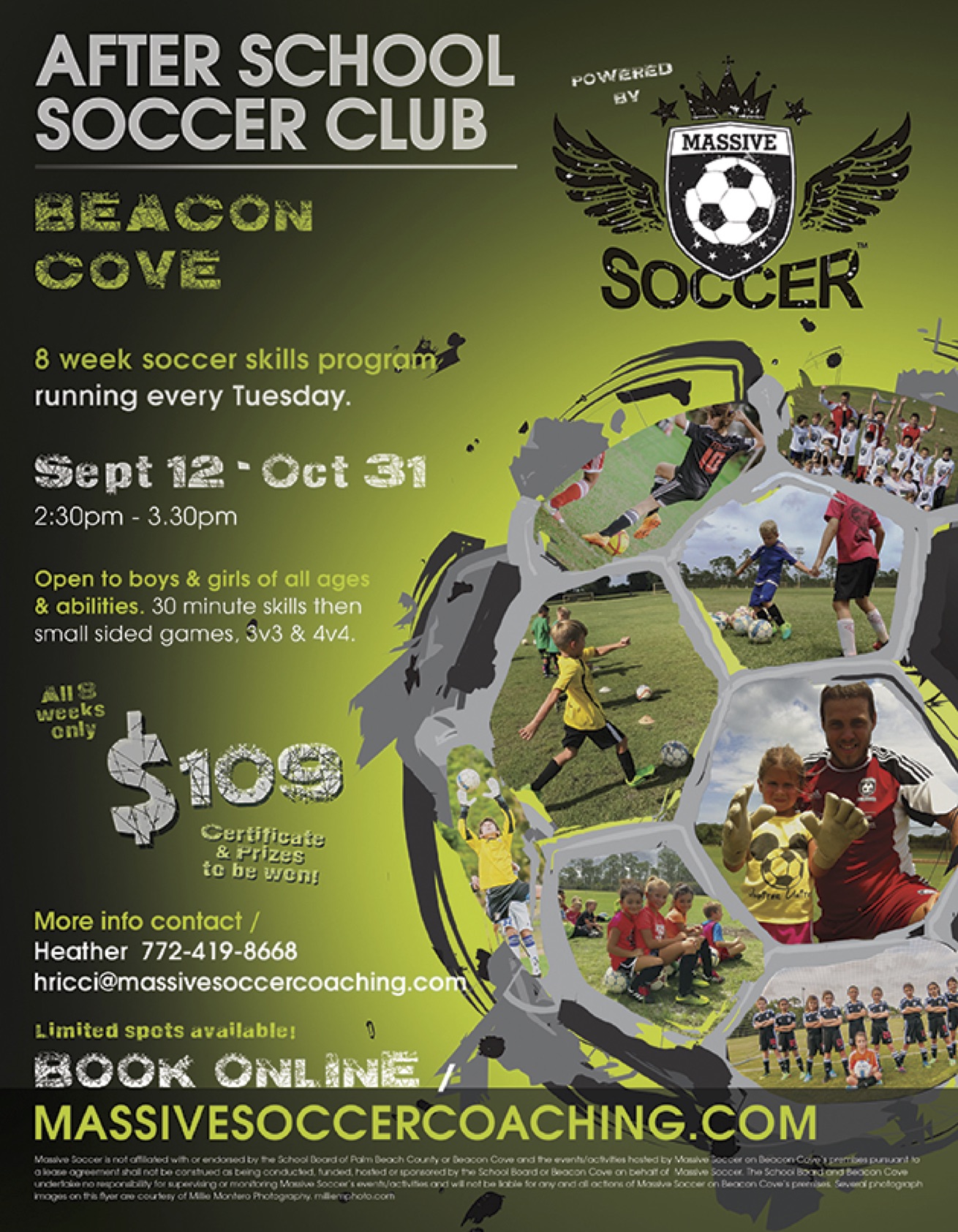 Massive Soccer is not affiliated with or endorsed by the School Board of Palm Beach County or Beacon Cove Elementary and the events/activities hosted by Massive Soccer on Beacon Cove Elementary's premises pursuant to a lease agreement shall not be construed as being conducted, funded, hosted, or sponsored by the School Board or Beacon Cove Elementary on behalf of Massive Soccer. The School Board and Beacon Cove Elementary undertake no responsibility for supervising or monitoring Massive Soccer's events/activities and will not be liable for any and all actions of Massive Soccer on Beacon Cove Elementary's premises.