For educators who want to rekindle their sense of energy, power, and purpose by reading joyful, important, contemporary YA novels together
About this event
Join Rebekah Shoaf, founder and CEO of Boogie Down Books and co-author of the forthcoming book Beating Teacher Burnout, for a summer reading series of inspiration, community, and discussion for past, present, and future educators.
Why this series?
Especially over the past couple of years, burnout has become a catch-all term to describe the malaise that educators feel as a result of the pandemic, but it actually has a clinical definition. The Mayo Clinic defines burnout as "a special type of work-related stress — a state of physical or emotional exhaustion that also involves a sense of reduced accomplishment and loss of personal identity." Obviously teachers experience all kinds of "work-related stress" (anyone who's tried to make copies on an ancient copy machine two minutes before class starts is intimately familiar with at least one type), but burnout refers to something very specific: a sense of having lost your energy, your power, and your purpose.
What's a beach read anyway?
While the term "beach read" was created as a marketing ploy and often carries sexist assumptions (see "chick lit"), we prefer Book Riot's definition: "escapes from reality, easy to read, captivating, and accessible to many readers." The four featured books in this series were especially selected for their joyful characters, compulsively readable plots and dialogue, irresistible romances, and centering of BIPOC and LGBTQIA+ experiences. And while we know that you can't beat true burnout with a teen read–no matter how great it is–we also know that building a vibrant, supportive community of likeminded educators is a powerful antidote to the loss of energy, power, and purpose that mark burnout.
What can participants expect?
This summer reading series is designed to help teachers combat burnout by joining an energizing, empowering, and inspiring reading community. Participants will read four joyful, important, contemporary YA novels independently and then come together monthly to discuss these books through the lenses of their own learning, takeaways, ideas, and responses. Participants will experience a rekindled sense of energy, power, and purpose through these communal reading and discussion experiences and will collaboratively build a network of ongoing support.
Who is this series for?
This reading community is for past, present, and future educators, leaders, and practitioners. While the four featured texts are intended for readers ages twelve and up, educators working with all ages, grades, and disciplines are welcome, including teacher educators, graduate students, and teacher candidates. Participants should expect to engage in a lively, interactive discussion experience designed around the assumption that all attendees have finished the scheduled book (spoiler alert!).
Is this PD?
PD shouldn't suck. At Boogie Down Books, we believe that professional development is any gathering where educators join together to learn, including this series, and we seek to challenge conventional thinking about what PD is and can be. Boogie Down Books is an approved New York State provider of CTLE hours, and qualifying NYS teachers will receive a certificate of completion for 1 continuing education hour for each session . (New York State-certified teachers must earn 100 CTLE hours per 5-year-period.)
How does it work?
This series will meet on the 3rd Thursday of the month, 7:30-8:30pm ET, from May through August 2022. The series consists of 4 virtual gatherings, all on Zoom. Participants can register for individual sessions or the full series. For Full Series Registration, select the next available date as your event date. For Single Session Registration, select the date you'd like to attend.
What do past participants say?
"These sessions remind me of why I went into teaching in the first place."
"Since I felt more like a learner than I have in years, I also felt more human."
"I've recommitted to bringing joy into the classroom. It's not just about getting the students to master certain skills (thought that is important), but about creating a joyful experience in which they'll want to learn. That means talking about the personal, instinctive response to literature as well as taking a literary critical stance."
"I would 1000% recommend this to my colleagues. It revitalized our curriculum."
"It feels like we've known each other for a lot longer and I feel valued and cared for."
Questions or need more information? Contact us at (347) 916-6234 or info@boogiedownbooks.com.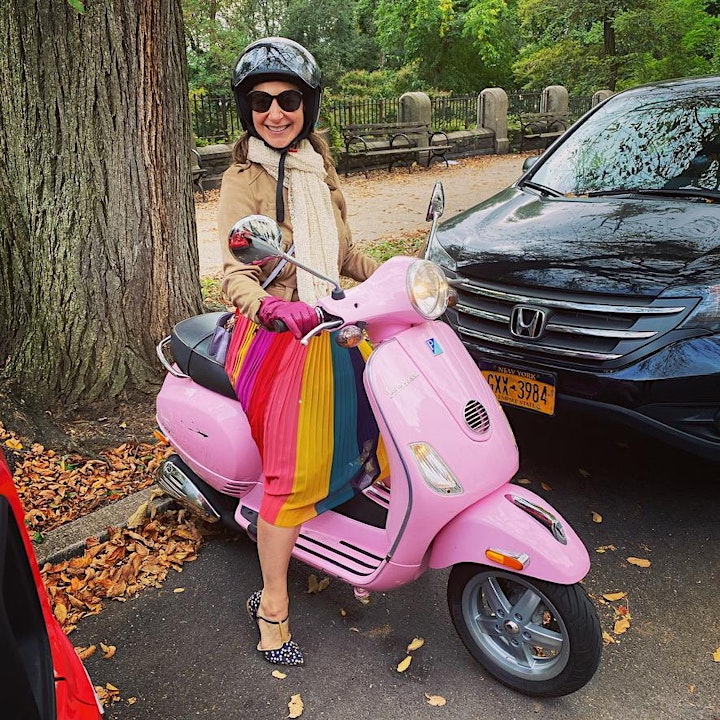 Rebekah Shoaf is a New York City-based educational consultant and the founder and owner of Boogie Down Books, a bookstore-without-walls® for kids, teens, families, and educators in the Bronx and beyond, and What If Schools™, an educational consultancy. Throughout her nineteen-year career in education she has served as a high school English teacher, founding faculty member of a small high school for architecture and design, and Lead Teacher in New York City public schools; a university instructor at Fordham University and Drew University; and a Teacher Development Coach with the NYC Department of Education, where she coached middle and high school teachers throughout New York City in promoting rigorous, student-centered instruction. She continues to work with a variety of local and national clients to promote educational justice through transformative professional learning experiences as an instructional and leadership coach, professional development facilitator, and curriculum designer for both adolescent and adult learning. A Miami native, Rebekah is a lifelong bookworm, a product of public and independent schools, a magna cum laude graduate of Harvard University, an alum of the Chef's Training Program at the Natural Gourmet Institute, and an aunt to six budding bibliophiles. She believes that empowering young people to read well and eat well can change the world.
CODE OF CONDUCT: Our event provides a harassment-free experience for everyone, regardless of gender, gender identity and expression, age, sexual orientation, disability, physical appearance, body size, race, ethnicity, religion (or lack thereof), or technology choices. We do not tolerate harassment in any form. Sexual language and imagery are not appropriate. Anyone violating these rules will be expelled from the event at the discretion of the organizers.
PHOTOS & RECORDING: Events may be recorded, and video and photos may be posted on our website, social media, and elsewhere. If you would prefer not to be visible, please ensure that your video is off.
PRIVACY: Registrants will be added to our mailing list. Your contact information will never be shared or sold. You may unsubscribe or update your subscription at any time.